20 donate blood at YMCA amidst national blood crisis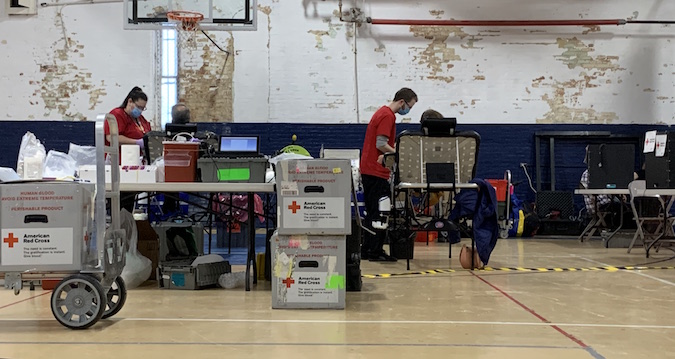 Photos by Tom Rivers
MEDINA – American Red Cross staff help volunteers give blood during a blood drive on Friday at the Orleans County YMCA.
About 20 donors gave blood during the drive which was sponsored by Orleans Community health and the Orleans County YMCA. More than 30 people made appointments, but many were no-shows on a tough weather day.
Kim Balcerzak of Medina was among the donors on Friday. She has been a regular blood donor the past 18 months, after not giving blood before that. She started giving blood in honor of her mother-in-law.
Balcerzak, 57, also said she is aware of the critical blood shortage.
"People need it," she said about the blood donations. "I hope there would be some for me if I ever need it."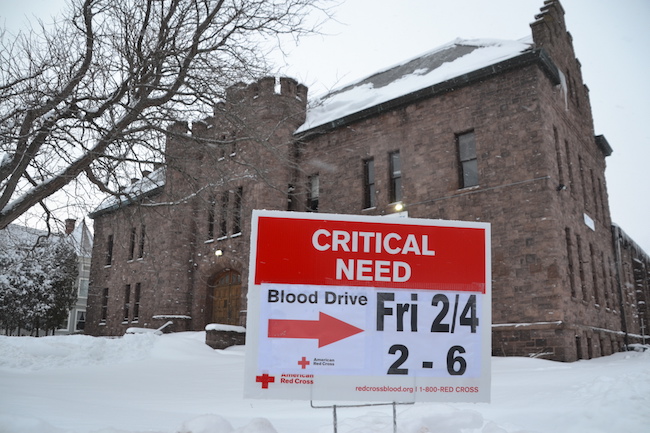 Orleans Community Health, parent organization of Medina Memorial Hospital, helped promote the blood drive, and highlighted the national blood crisis. The American Red Cross, for the first time in its history, has declared a national blood crisis.
Since March 2020, the American Red Cross has reported a 10% decline in overall donations. If donation levels do not return to normal soon, many patients in need of transfusions will not receive them, the Red Cross said.
The American Red Cross is facing a national blood crisis – its worst blood shortage in over a decade, posing a concerning risk to patient care. Amid this crisis, doctors have been forced to make difficult decisions about who receives blood transfusions and who will need to wait until more products become available. Blood and platelet donations are critically needed to help prevent further delays in vital medical treatments.
Some upcoming blood drives include:
Feb. 22, 2 to 7 p.m. at Sacred Heart Club in Medina
Feb. 24, noon to 5 p.m. at Elba Fire Hall
Feb. 25, 1 to 6 p.m. at Clarendon Fire Company
Feb. 28, 1 to 6 p.m. at Middleport Fire Hall
March 2, 9 a.m. to 2 p.m. at Elba High School
March 3, 10:30 a.m. to 3:30 p.m. at Kendall Jr.-Sr. High School
March 15, 12:30 to 7 p.m. at Albion Elks Lodge
To make an appointment or for more information, click here.