2 Murray firefighters, county dispatcher receive stork awards for baby delivery
CLARENDON – It was after 4 in the morning on Feb. 4 when Harris and Erin Reed responded to 911 dispatch message that a woman was about to give birth at home in Murray.
Harris, chief of the Murray Joint Fire District, and his wife Erin, an EMS lieutenant for Murray, headed out on snowy roads.
They made it to the pregnant woman's home at 4:25 a.m. and the baby wasn't waiting. There wasn't time to get to a hospital.
A dispatcher for the Orleans County 911 center, Jerry Bentley, was on the phone and offering instruction.
Mrs. Reed took the lead in delivering the baby at 4:35 a.m.  (The boy is now home and healthy.)
Harris and Erin Reed, and Bentley on Saturday were presented with stork awards during a banquet on Saturday honoring firefighter sin the Murray Joint Fire District. A stork award is given to first responders who actively participate in the out-of-hospital delivery of a newborn.
Mark Porter, chairman of the Murray board of fire commissioners, said it was an incredible response from the firefighters and the dispatcher, with a wonderful outcome.
"It was a really awesome job," Porter said at Saturday's banquet.
The delivery was a first for the fire chief, who has been responding to fire and emergency calls for 25 years. It was also a first for the new Murray Joint Fire District, which in 2021 combined Holley and Fancher-Hulberton-Murray.
Reed is grateful the firefighters were there in time to help with the delivery. Reed said he is proud of his wife for her actions that day. Mrs. Reed has been a volunteer firefighter for 10 years and an EMT for 3 years.
Not long after the baby was born, the Reeds reported to work for their day jobs: Mrs. Reed is a teacher's aide at Holley Central School and Mr. Reed works as a mechanic for the Gates Fire District.
It's the second stork award for Bentley, who was the dispatcher for another at-home delivery last year. Bentley has worked full-time as a dispatcher for 4 ½ years after 16 years with the Barre Highway Department. He said many dispatchers go full careers without helping with a baby delivery.
Bentley is a long-time volunteer firefighter. He followed emergency medical dispatcher cards (EMDs) to offer some instructions. He was on the phone for an hour for that call.
"Really I'm just a big cheerleader, a coach on the sidelines," Bentley said.
Other awards were presented on Saturday, which was the first fire department banquet in two years.
Harris Reed, the fire chief, said Murray firefighters responded to 755 calls – 414 for fire and 341 for EMS.
Reed presented the 2021 chief's award to Colton Tuttle for helping the fire district in many different ways, and always with an eagerness.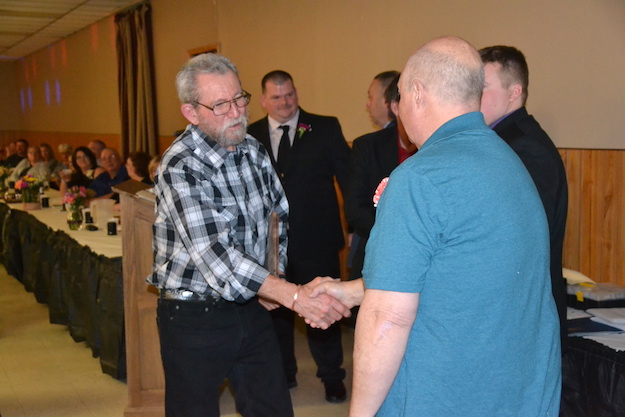 Richard Alvut receives the service award for Fire Police member of the year for 2021. He is shaking hands with Assistant Chief David Smith.
Fran Gaylord, president of the Holley Volunteer Fire Department, presented president's awards for 2020 to Chris Chilson and 2021 to Erin Reed.