2 more dogs complete training at Albion Correctional, ready to be adopted at PAWS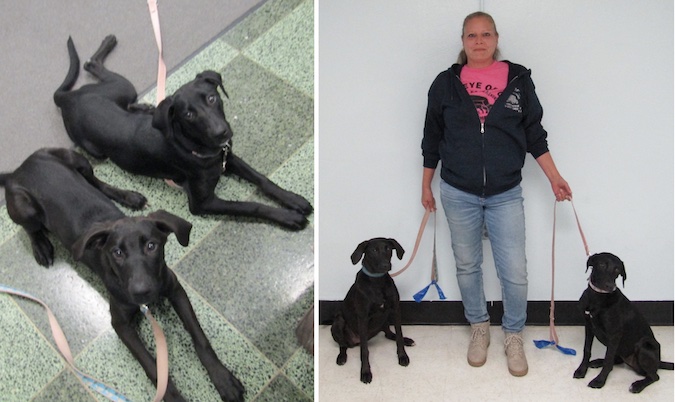 Provided photos
ALBION –  Two dogs, Thelma and Louise, completed a training program at Albion Correctional Facility.
Dawn Spencer (pictured with the two dogs) is owner of Eye of Oden K9 Training in Kent. She led the training as a volunteer. She has 25 years of experience in dog training.
The program is in collaboration with PAWS Animal Shelter and Albion Correctional Facility. The facility has allowed dogs and trainers since 2019.
Albion Correctional welcomed two rescue dogs, Thelma and Louise, on Aug. 31. Thelma and Louise are 7-month-old Labrador mixes.  They are sisters who are very intelligent and learned all the training and then some, said Krista Vasile, deputy superintendent for Program Services at Albion Correctional.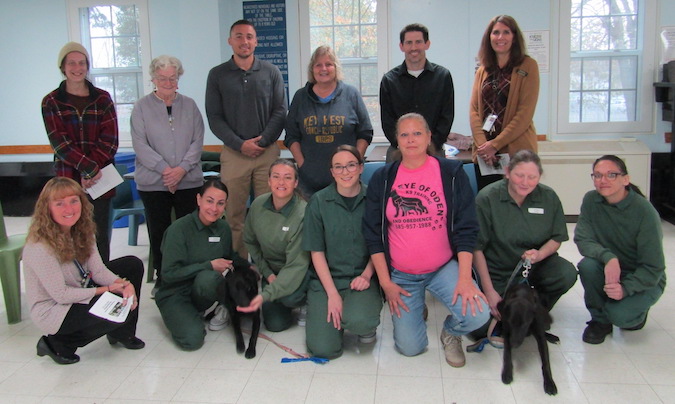 Throughout eight weeks, two teams of three incarcerated individuals served as handlers for the dogs. Spencer visited the facility once a week to put the puppies through the AKC S.T.A.R Puppy Program.
The S.T.A.R. stands for Socialization, Training, Activity and Responsible owner – the pillars of getting puppies off to a good start. Both dogs successfully completed the S.T.A.R. and graduated on Oct. 31.
They are currently available for adoption at PAWS on Gaines Basin Road in Albion. Adoption applications are available at paws14411.com.
The program not only helps the dogs, but it also provides secondary social/emotional benefits to the incarcerated individuals.