2 more confirmed cases of Covid-19 reported for Orleans County
Health Departments won't be reviewing business plans for reopening in phase one

Orleans County has two more confirmed cases of Covid-19, bringing the county's total to 134, the Genesee and Orleans County Health Departments is reporting this afternoon.
One of the new cases is a Ridgeway resident and the other is a resident of The Villages of Orleans Health and Rehabilitation Center in Albion. That nursing home has now had 73 of its residents test positive for Covid-19.
Of the two new positive cases, one person is in the 50s and the other is in the 90s.
Ten people are currently hospitalized from Orleans County with Covid-19.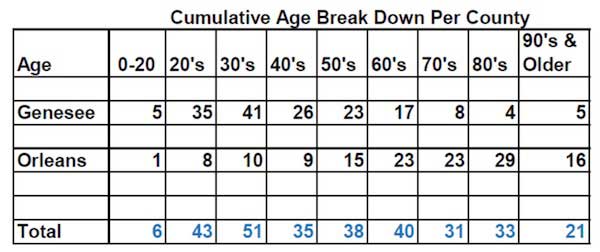 In Genesee County, there is one new confirmed case of Covid-19, a person from Batavia who is in the 30s. The newly positive individual was not on quarantine prior to becoming symptomatic.
Two more people have recovered from Covid-19 in Genesee, bringing the total recoveries to 93 in the community. (That doesn't count the 49 people who have recovered from Covid-19 at the federal detention center in Batavia).
There are five people from Genesee hospitalized with Covid-19. The Health Departments are also reporting that one "positive/recovered" individual was determined to be a false-positive result. Therefore, the total positive case number will be one less and has been adjusted in the data.
Click here to view an online map about confirmed cases in Orleans, Genesee and Wyoming counties.

The facility breakdown is only showing those facilities from where the Health Departments have received a positive swab for Covid-19. Facilities will be added if there is a positive case of Covid-19.
If a regulated facility from either of our counties is not listed, there are no positive cases of Covid-19. The local health departments do not have oversight with many regulated facilities, which may include nursing homes, correctional facilities and hospitals.
Additional information from the Genesee and Orleans County Health Departments
• REOPENING –  We are pleased to receive word of being included in the Finger Lakes Region to re-open New York's first phase beginning this Friday, May 15.
Be advised the local health departments are not the gatekeepers in these next steps. We are not reviewing /approving plans and we don't have the ability to make decisions on who is or isn't a part of the first phase nor have we been provided with guidance on interpreting who is and who isn't included. We have included several links to assist with planning and contact information for your reference on how to re-open for those slated to in phase one.
• In order to un-PAUSE safely, we need to continue to be intentional about social distancing, properly wearing face coverings, handwashing/sanitizing and limiting time in public.
Please click here for a re-opening guidance and fact sheet in response to Covid-19 developed by the Genesee and Orleans County Health Departments. For further information on the NYS Plans, click here and the phased plan to re-open New York (click here):
Priority Industries for Re-Opening:
Phase One: Construction; Manufacturing & wholesale supply chain; Select retail using curbside pickup only; Agriculture, Forestry, Fishing, and Hunting
Phase Two: Professional services; Finance & Insurance; Retail; Administrative support; Real Estate & Rental Leasing
Phase Three: Restaurants & Food Service; Hotels & Accommodations
Phase Four: Arts, Entertainment & Recreation; Education
• ROC COVID-19 Health Screener: This symptom tracker for the Greater Rochester region is a scientific study collected aggregate date by zip code to track hot spots of COVID-19. The data will potentially show how the virus may be spreading, identify areas that may be at risk and determine how our efforts are working to slow the spread.  You can participate by taking the daily survey whether you are having symptoms or are feeling healthy. It just takes a few seconds.  To learn more, click here.
• New York State is seeking contact tracers. If you are interested in this position, click here to apply to be a part of the NYS Contact Tracing team.  This is a moment of crisis and New York needs our help as soon as possible.