2 leaders in county government receive 'Special Recognition Award'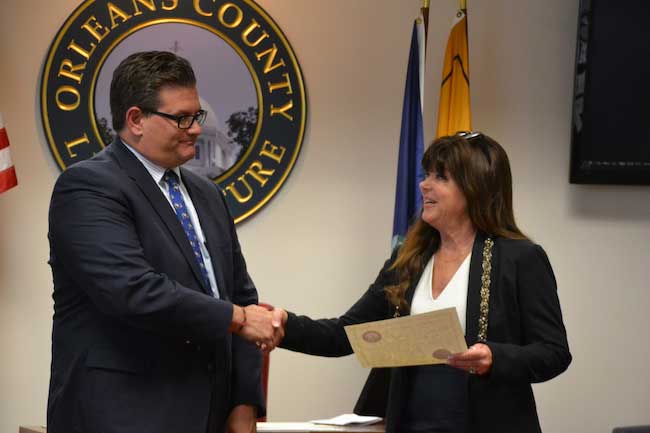 Photos by Tom Rivers
ALBION – Lynne Johnson, chairwoman of the Orleans County Legislature, shakes hands with Chuck Nesbitt while presenting him with a "Special Recognition Award."
Nesbitt, the county's chief administrative officer since 2005, was acknowledged on Wednesday, two days after he won the Public Service Excellence Award from the State Academy for Public Administration. Nesbitt is president of the New York State Association of Counties and served as president of the NYS Association of County Administrators and Managers from 2008 to 2018.
The State Academy for Public Administration cited Nesbitt's efforts to streamline county government, reducing costs while maintaining services to residents, in particular with public health services with Genesee County. The two counties share a public health director, Paul Pettit, and other staff and a board.
"The Orleans County Legislature does hereby commend you, and wishes to share our appreciation, for your commitment to continuously improve the operations of Orleans County and your dedication to lead a great team in delivering the best public services in Orleans County," states the award, which was signed by all seven members of the Legislature.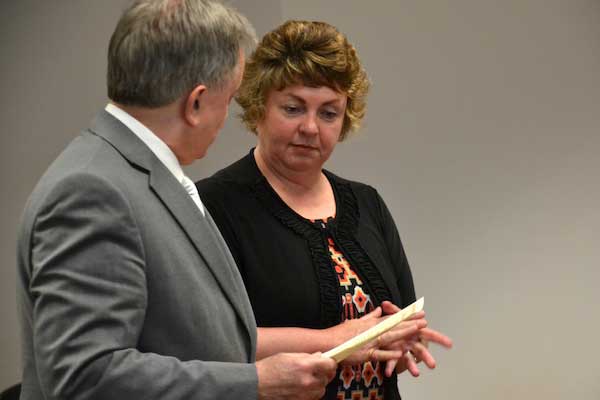 Luci Welch also was presented with a Special Recognition Award. She is shown accepting the award from County Legislator Don Allport.
She was congratulated by the Legislature for receiving the 2019 Outstanding Women in the Law Award on May 8. That honor was presented by the New York State Judicial Commission on Women in Courts, Gender & Racial Fairness Committee of the 8th Judicial District. Welch has been the county's probation director for abut 20 years.
"The Orleans County Legislature wishes to share our appreciation for your passion and dedication to the Orleans County Probation Department as our Director and does hereby commend you and your team in the services you provide Orleans County and beyond," the award states.