2 injured in Route 31 accident at Eagle Harbor Road intersection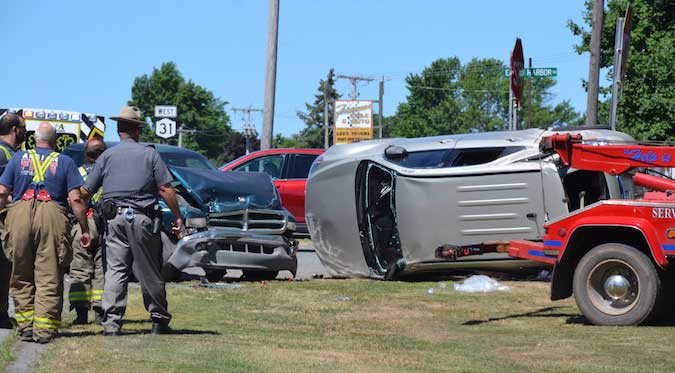 Photo by Tom Rivers
ALBION – Two elderly people were injured in an accident at about 10:30 this morning at the Route 31-Eagle Harbor Road intersection, a state trooper said. The injuries don't appear to be serious.
The elderly couple was traveling northbound on Eagle Harbor Road in the SUV, when the vehicle entered the intersection and was struck by a pickup truck. The driver and a passenger in the pickup declined medical treatment at the scene.
The elderly couple was taken by COVA Ambulance to Strong West in Brockport.
Frank's Auto was at the scene to remove the damaged vehicles. Albion firefighters also responded to the incident.
This is one of Orleans County's most notorious intersections, the site of many accidents. A neighbor said the state Department of Transportation should at least lower the speed limit from 55 to 45 on this section of Route 31. Stop signs on Eagle Harbor Road also could have flashing lights to better alert drivers, the neighbor said.