2 injured in Albion accident, transported by ambulance
New Hurst tools allow firefighters to make extrication in 7 minutes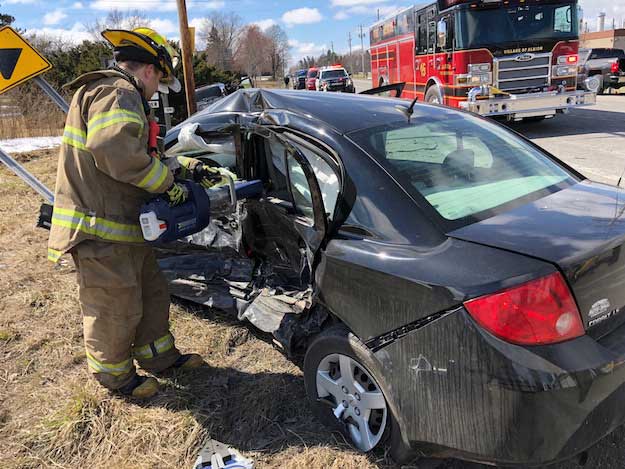 Provided photos
ALBION – Albion firefighter Jim Peruzzini uses a Hurst tool to cut a door in a car that was T-boned at the intersection of Route 31 and Butts Road today just after 2 p.m.
The driver of the car was taken by COVA ambulance to Strong Memorial Hospital in Rochester to be treated for injuries. The driver of the other vehicle also was injured and taken by Strong West in Brockport.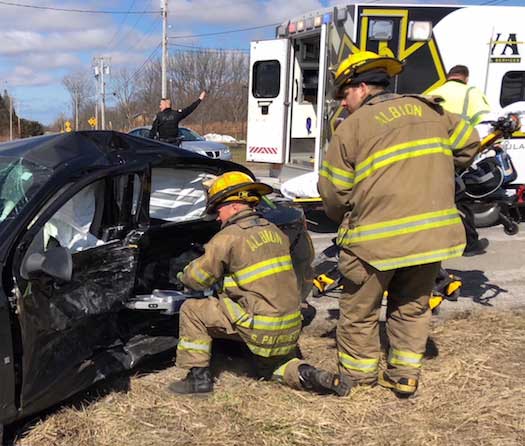 Peruzzini and Steven Papponetti, both lieutenants with the Albion Fire Department, used extrication tools that were put in service about a year ago. Harry Papponetti, the fire chief, said the tools allowed firefighters to have the driver extricated in seven minutes, which was about a third as fast as it used to take.
"It has greatly reduced the times with an extrication," Papponetti said.
The driver who was extricated was coming from Butts Road and entered Route 31 and was hit in the driver's rear door. Papponetti said side air bags helped prevent more serious injuries to the driver.
"She was very lucky," the fire chief said.
The driver who was extricated sent a message to Orleans Hub saying she stopped at the sign, and then pulled out into the intersection, but the other driver came on her very fast.
(Editor's Note: This story was updated at 7:22 a.m. on March 26.)