2 injured after delivery truck hits ditch on Kendall Road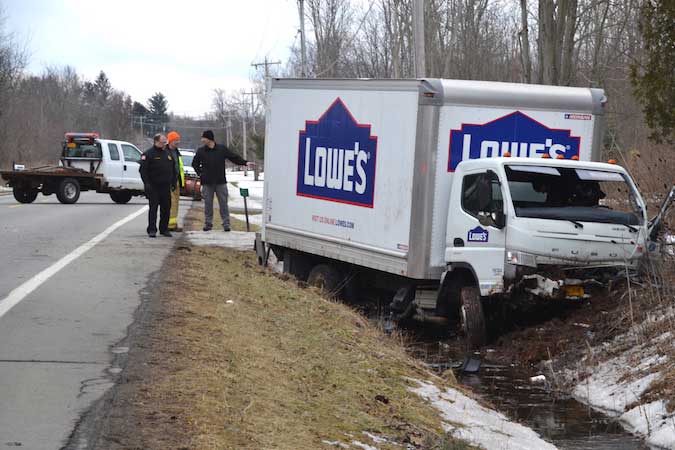 Photos by Tom Rivers
MURRAY – Two people were injured this afternoon when a Lowe's delivery truck went off Kendall Road and hit a ditch. The accident occurred at about 1:45, north of Ridge Road near the Kendall town line.
The Orleans County Sheriff's Office and firefighters from Fancher-Hulberton-Murray and Holley are on the scene. The top photo shows, from left: Undersheriff Chris Bourke, Holley firefighter Ron Meiers, and investigator Jeff Gifaldi of the Sheriff's Office.
The passenger of the vehicle was ejected through the windshield after the truck hit the ditch and a driveway. The passenger was ejected about 25 feet, said Undersheriff Chris Bourke.
The passenger and the driver both sustained injuries. They were conscious and were able to speak with first responders. They were taken by Monroe Ambulance to Strong Memorial Hospital in Rochester.
Bourke said a witness observed the truck, which was headed north on Kendall Road, drift off the road. Sheriff's investigators will interview the driver and passenger at the hospital to try to determine what caused the accident, Bourke said.