2 from Medina seriously injured in Genesee County crash this morning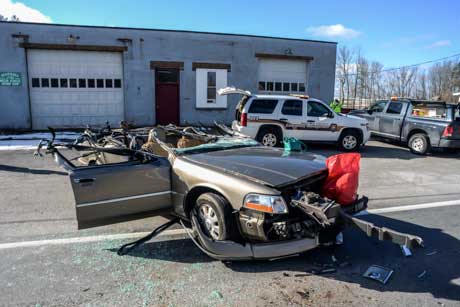 Photos courtesy of The Batavian
ALABAMA – Two people from Medina were seriously injured this morning when a 2004 Mercury driven by Donna L. Wolter, 69, of Medina, failed to stop at the Route 77 and Route 63 intersection, State Police said.
The vehicle went underneath the trailer of a semi, severing the roof on the car at 9:35 a.m., State Police reported.
Wolter suffered head injuries and the passenger, Purcil E. Buzard, 81, of Medina sustained severe injuries. Both were taken by Mercy Flight to Strong Memorial Hospital.
The Mercury ended up striking a building and a 2000 Ford before coming to rest.
The Bureau of Criminal Investigation, NYSP Collision Reconstruction and NYSP Commercial Vehicle Enforcement Unit responded. This is still an active investigation, the State Police said.