2 from Holley win state SkillsUSA competitions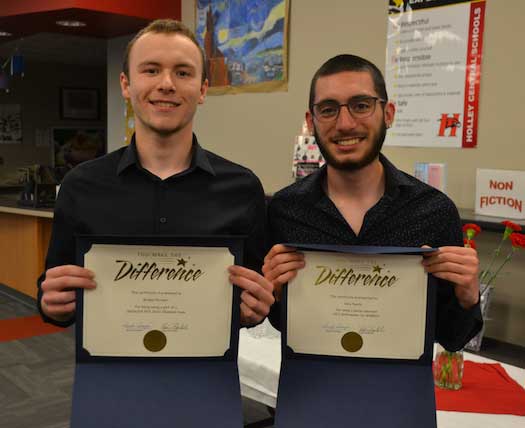 Photo by Tom Rivers
HOLLEY – Two Holley seniors won first place in the state-wide SkillsUSA competition last month in Syracuse.
Braden Ferranti, left, and Kory Puente advance to the next level of competition.
Ferranti was on the first place, four-member "Teamworks" group with other students from WeMoCo in Spencerport. Ferranti did the plumbing and electrical work on the team, while the other students did masonry and carpentry.
The team advances to nationals in Louisville, Kentucky, from June 24-29 for the National Leadership and Skills Conference, a showcase of career and technical education students.
This is Ferranti's second trip to nationals. He came in seventh out of more than 50 students at nationals last year in the plumbing competition. He said he is the first WeMoCo student to go to nationals in back to back years.
Puente won first in the dental assistant competition. He wants to be a dentist. The SkillsUSA competition put students through all the tasks a dental assistant needs to do, as well as answer questions about the occupation.
Puente advances to an international competition from June 19-23 at Disney in Orlando, Fla.