2 families light up Barre corner for holidays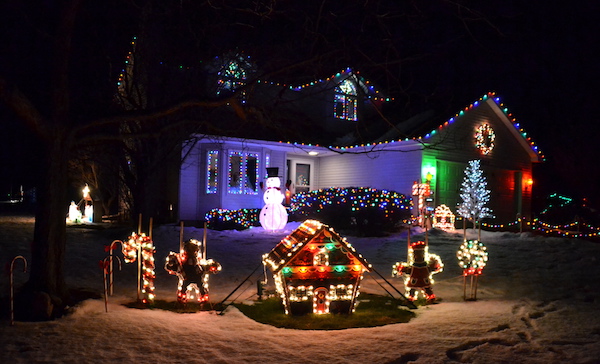 Photos by Tom Rivers
BARRE – The home of Kevin and Susan Brown at the corner of Route 98 and West Barre Road Extension is lit up for the holidays with several Christmas characters also on display.
The Browns and their neighbors, the Karas family, have been working together for about 25 years on the display.
The Browns put lights high on their house, and have several Christmas characters on their lawn.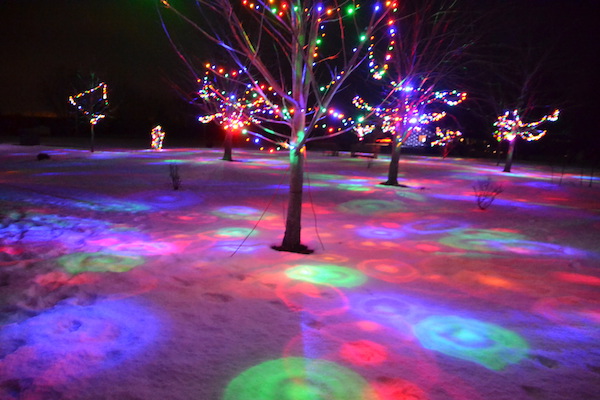 Steve Karas has about 15,000 lights in trees and bushes creating a park-like setting. Karas and his wife Debbie like how the lights give a glow in the snow.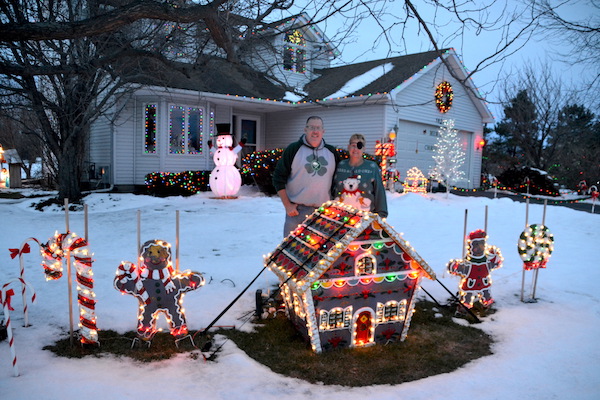 Kevin and Susan Brown are pictured late this afternoon with a display in front of their house. They moved to Barre in 1989. Mrs. Brown's father Ed McGrath of Depew strung lights on the house that first Christmas in Barre. McGrath has long loved to decorate his home for the holidays. His daughter and son-in-law have also embraced the annual challenge.
The Browns say people often pull up by their house to take pictures or to get a closer look. They added music by their garage this year to add to the annual spectacle.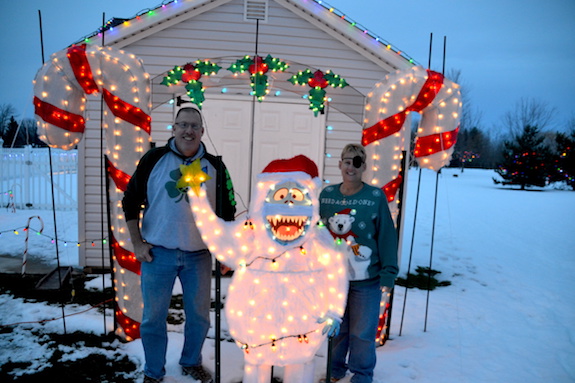 Mr. Brown, a deputy superintendent at the Wende Correctional Facility, and his wife, a retired corrections officer, keep a look out for holiday decorations throughout the year. They added the Abominable Snowman last year.
Mrs. Brown said it's become more difficult to find classic Christmas characters. She likes snowmen, a religious display of the Nativity scene, but doesn't want too many cartoon characters.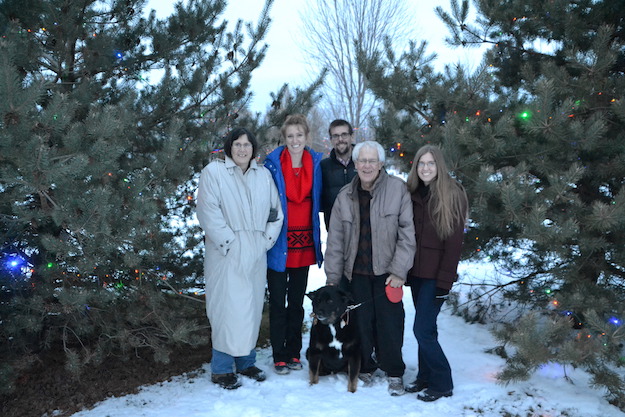 Debbie Karas, left, and her husband Steve, second from right, are pictured with their daughters Rachel, second from left, and Sarah, right. Rachel's boyfriend Jason Leach is in back. Remmie is the family's dog.
Rachel and Sarah grew up with the popular light display. Their father used to leave it out until after Valentine's Day but now tends to take them down soon after Christmas.
He uses about 3,000 feet of lights with many extension cords to pull off his display. After blowing a circuit breaker, he now has a circuit dedicated to the lighting display and has a power strip to turn them all on and off. On most school mornings in December, Karas will also turn on his lights on for the kids heading to school.
(The Browns use 17 timers for their lights.)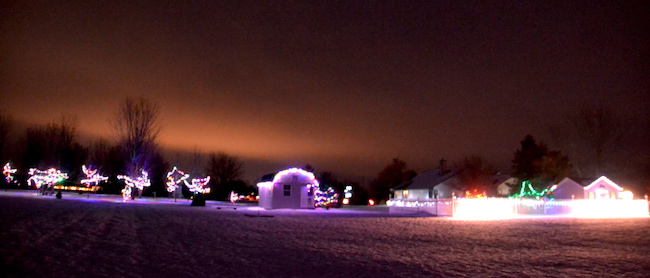 The lights are spread out in the "Barre Knoll" area. The Karas and Brown families have been working on the display for more than 25 years.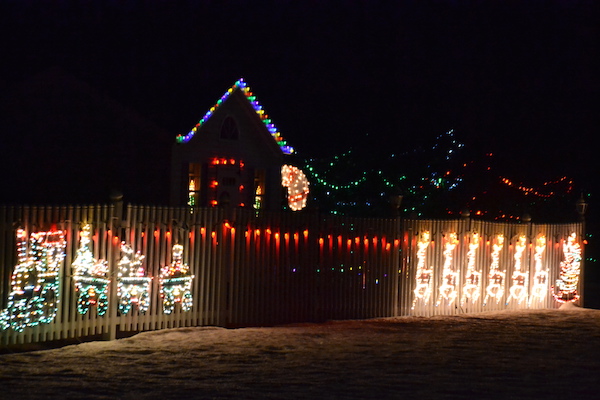 The Browns have the characters of a train, and Santa and his reindeer on this fence. Karas has the trees lit up in the background. The two families said LED lights have made it easier because the lights are cheaper and last longer. They don't have to swap out as many bulbs.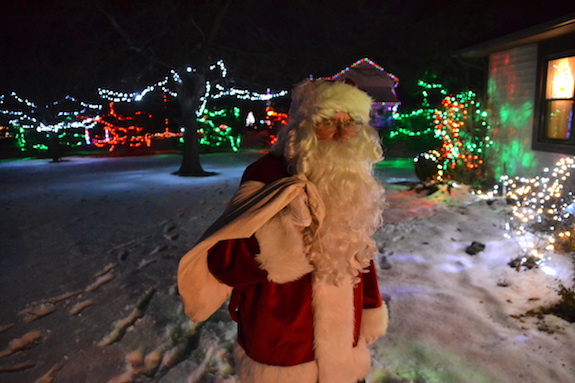 Karas also gets into Santa character and sometimes meets kids and their families at his property.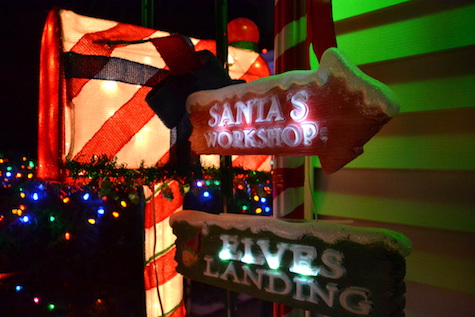 The Browns are always looking to add more details to their annual display. Mr. Brown tries to get the house lights on by Halloween and then works on the ground decorations in November.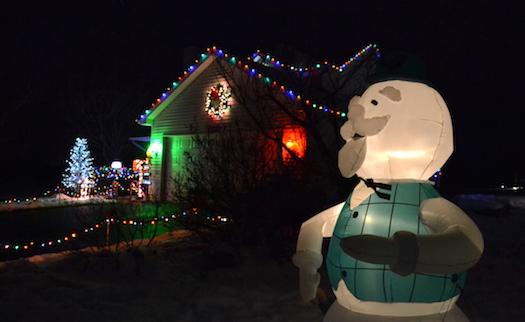 Brown said securing the characters can be a challenge because it's often windy in Barre. Sometimes he has to refasten the characters two or three times a week because they topple in the wind.
The Browns for about 20 years had a Grinch character but he started to fray and wouldn't stand up anymore. Mrs. Brown is looking for another Grinch.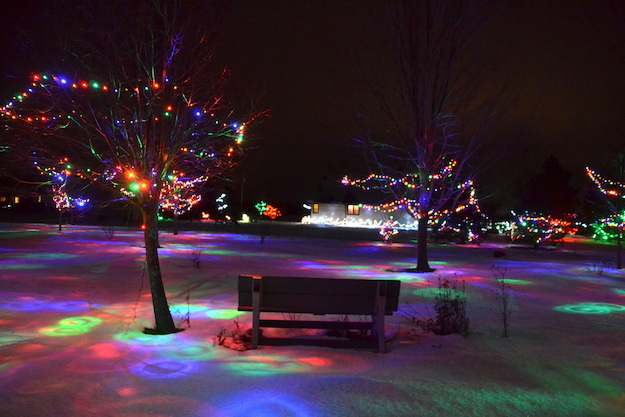 Karas, a retired Byron-Bergen teacher, has lived at his Barre home since 1986. He used to put lights on his house, but Karas doesn't like to get on a ladder, especially in the snow. He prefers spreading the lights out on trees. He uses a "telescoping rod" to string lights 30 feet or higher in trees.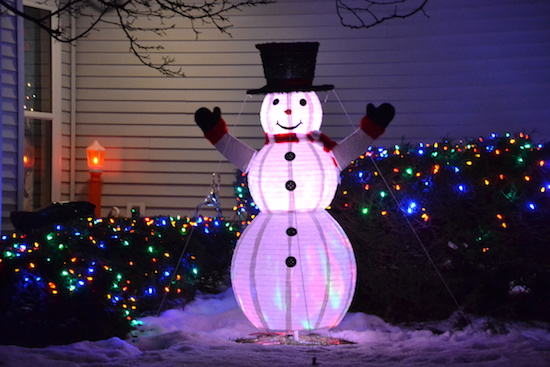 This snowman is part of the display at the Brown residence. The couple said they enjoy seeing people stop by their house to admire the decorations.
"We complement each other," Karas said. "They do the house and the figures, and I do the trees."