2 dogs killed in Medina fire on Fourth of July
Multiple fire departments work to put out blaze
Information courtesy of Steve Cooley, public information officer for Medina Fire Department
MEDINA – Firefighters were dispatched to a house fire in Medina on Wednesday morning at 104 East Oak Orchard St.
The Village of Medina Fire Department responded along with first alarm assistance from the Shelby and Lyndonville fire companies. Third Platoon firefighters under the direction of Captain Jonathan Higgins arrived on scene with Engine 11 and Ladder 40 to find flames coming from two windows on the East side of the structure.
As the crews made entry into the structure, Captain Higgins requested a second alarm be struck due to several other buildings being in close proximity to the house fire, as well as the high heat index.
Ridgeway firefighters were sent to the scene on the second alarm and units from the East Shelby and Middleport fire companies along with COVA EMS were sent to fill in at the Medina firehouse. Crews quickly extinguished the bulk of the flames in two rooms on the first floor and performed primary and secondary searches of this two-story structure.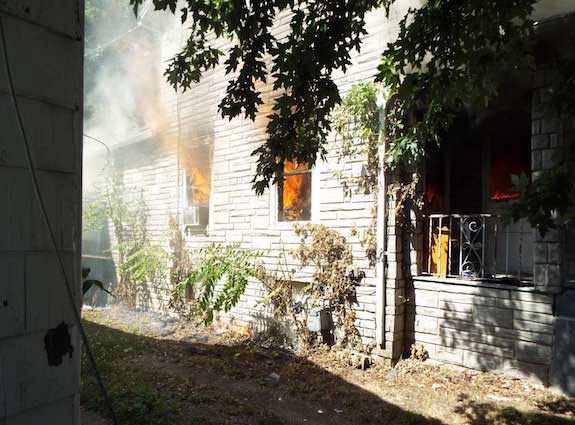 The fire had extended to a void area in a roof of a step down area in the rear of the structure. Extensive overhaul was required to make sure no other void areas contained fire. Severe fire damage was contained to the two rooms on the first floor with smoke and water damage to the rest of the first floor. The second floor suffered some smoke damage as well as some damage from overhaul that was necessary to access the void area in the back roof.
One minor injury was sustained by a firefighter and that firefighter remained on duty at the scene. No civilian injuries were reported. Two canines were found deceased and were recovered by firefighters.
A Medina Fire Department fire Investigator with assistance from a Fire Investigator from the Orleans County Emergency Management Office have the fire deemed accidental at this time. Friends and family of the occupant are assisting her at this time and the Red Cross was contacted.
Also assisting on scene was Deputy Fire Coordinator Hydock from the Orleans County Emergency Management Office and the Medina Police Department.
"We would like to thank all our public safety partners for assisting and that includes the multiple neighbors that came out with water and cold drinks for all responders on scene," said Steve Cooley, Medina firefighter and public information officer.
Also worth noting, four EMS calls were dispatched during this fire, the first EMS call during the fire was handled by COVA EMS who was already on stand-by, Cooley said. Three additional EMS calls then occurred at the Lyndonville Fourth of July celebration. Those calls were handled by MFD firefighters who assisted Lyndonville Fire/EMS. After this rush of EMS calls, the Barker FD was also placed on standby per Lyndonville FD.
"These events highlight the continued cooperation and communication between multiple local agencies to ensure the highest quality EMS care and fire response happen, no matter what other emergencies are occurring," Cooley said.