2 businesses team to share space in former Swan Library
Parlour is base for Marked by Janna and Tease hair salon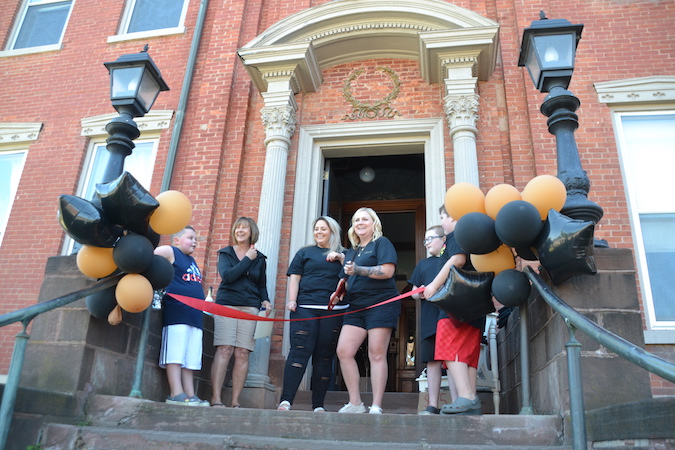 Photos by Tom Rivers
ALBION – Two business owners on Saturday celebrated the grand opening of The Parlour at the former Swan Library at 4 North Main St.
Janna Stirk (center right) of Marked by Janna Brow Artistry & Waxing Spa and Kylie Hughson (center left) of the Tease hair salon are sharing space at the former public library.
Pictured at the ribbon-cutting include from left: Brady (Kylie's son), Albion Mayor Eileen Banker, Kylie Hughson, Janna Stirk, Brody (Janna's son) and Troy McGaffick, a friend of the families.
Banker presented Stirk and Hughson with a certificate from the Albion Village Board for their investment in the community.
The business's logo includes an image of a swan wearing a crown.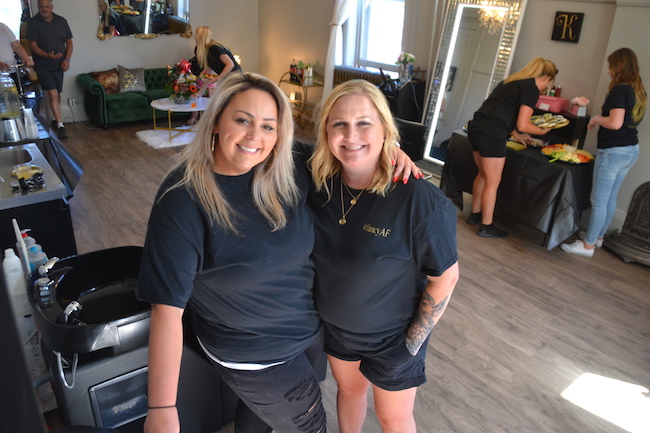 Kylie Hughson and Janna Stirk celebrate the opening of Parlour on Saturday. The two moved their businesses to the former library on May 1.
They praised building owner Chad Fabry for improvements to site, including installation of a salon and shampooing sink, a new bathroom (behind the former front desk area of the library) and other cosmetic changes.
Customers enter from the back door of the former library. Hughson and Stirk both said people enjoy being inside the building, which was constructed as a mansion in 1850. It served as Albion's public library from 1900 until the new Hoag Library opened in 2012.
"It's nostalgia for them," Stirk said about many customers.
They see a much changed atmosphere, with two chandeliers, comfortable couches and chairs, and many large mirrors and an overall updated look.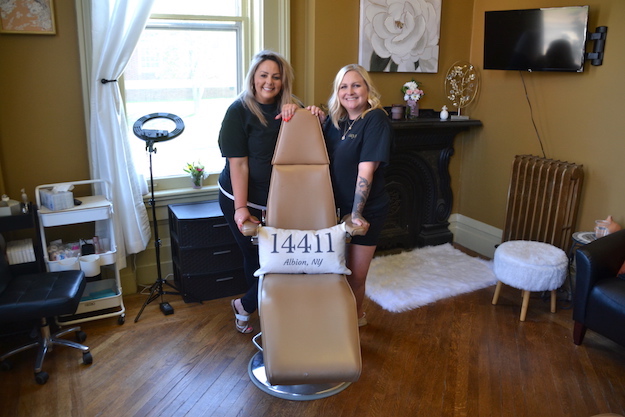 Kylie Hughson and Janna Stirk are shown by one of the two esthetician chairs in the front room facing Main and West State streets.
The two both had their businesses on East State Street before making the move to the former library.
The love the view of the Courthouse Square and all of the natural light pouring through the tall windows.
Stirk, 38, has run her microblading business for three years. With microblading she puts semi-permanent tattoos on eyebrows. She has customers driving more than an hour from Rochester and Buffalo.
Hughson, 32, opened Tease four years ago. It is a full-service salon. She also does eyelash extensions.
Stirk and Hughson have become very good friends as business neighbors on Bank Street and now with their joint venture at the former Swan Library. They said they have a lot of fun during the workday.
"It is definitely very entertaining here during the day," Stirk said.
The business is open Monday through Saturday, by appointment only. Call (585) 283-4033 for more information.