2 billboards added to Albion dance studio, cabaret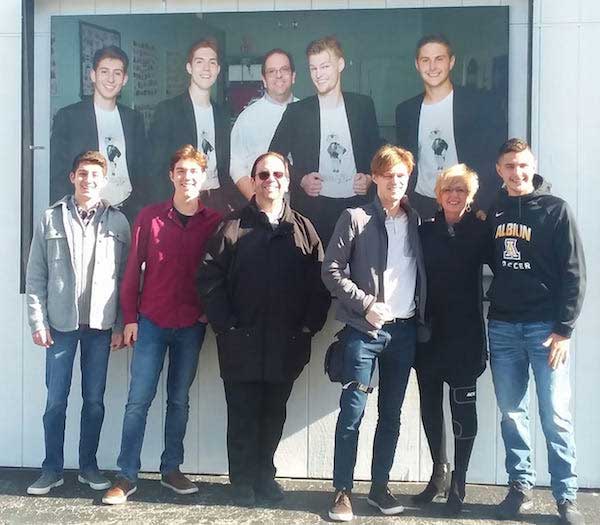 Provided photo
ALBION – Members of the Billies barbershop quartet got a surprise last Sunday when Amy Sidari, owner of Gotta Dance by Miss Amy and the Cabaret at Studio B, unveiled an 8-foot-long billboard of the four high school singers.
Pictured form left include Nate Grammatico, Jacob Ettinger, chorus teacher Gary Simboli, Enoch Martin, Amy Sidari and Evan VanAmeron.
Sidari has been upgrading the exterior of her building at the corner of Liberty and West Bank streets. The building has been the home of her studio for 21 years. She has replaced doors, awnings and repainted the building, and will be doing new signs and exterior lighting.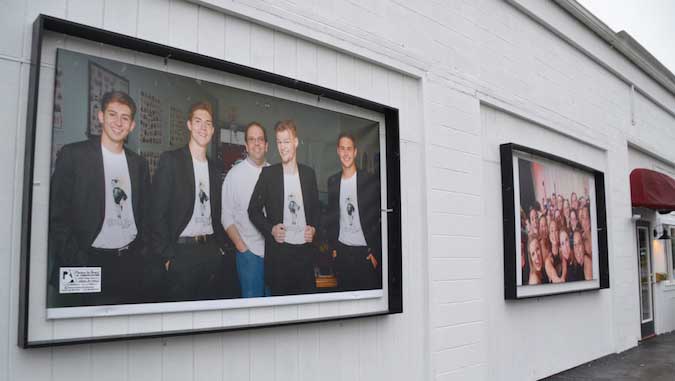 Photos by Tom Rivers
She wanted to add some pizzazz to the white wall on Liberty Street. She decided to add the billboards. The Cabaret at Studio B frequently hosts musicians and other entertainers. Sidari debated whether the 5-foot by 8-foot billboard should feature one of her professional performers. She decided to focus on the Billies and Simboli, the group's director. The photo was taken by Bruce Landis of Photos by Bruce.
"It's marketing what we are inside those doors," Sidari said today. " I also wanted to recognize Gary who resists any public recognition. He does so much for our community, the children and the families."
The two spots for the billboards used to be plain white. Those spots used to bays for a garage. Sidari ordered industrial vinyl images for the billboards and she her father, Ace Caldwell, made the black frames.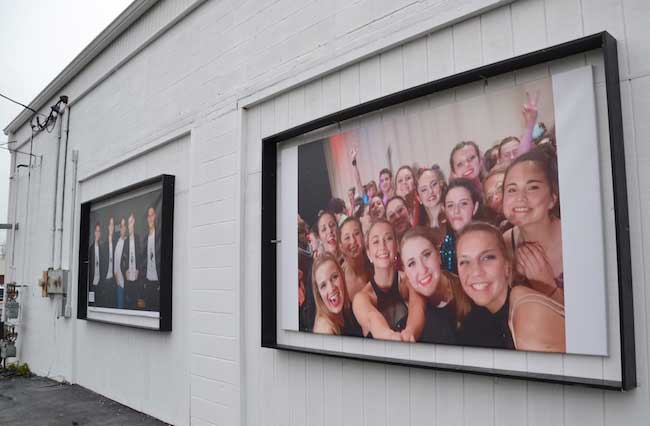 The other photo shows her senior high dancers at a recital. The photo was taken on a phone by Ally Page.
"It shows so much love and excitement," Sidari said.
She is pushing to have all of the exterior upgrades done by Nov. 24, when she is shooting a video on Bank Street in front of the studio. The street will be closed to traffic from Main to Liberty for the video which Sidari said she wants to use to promote Albion.
Many of her alumni dancers and other community members are coming for the video, from 10 a.m. to noon on Nov. 24.
Sidari said she will likely rotate images in the billboards. She said she has received good feedback about how the images enliven a section of Liberty Street.
"It is a spark," Sidari said. "It's just celebrating the great things that we do have."