2 Aqua Dams installed in Kendall to protect shoreline property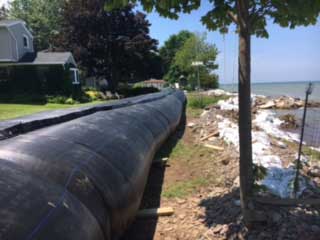 Photos courtesy of Dale Banker, director of the Orleans County Emergency Management Office
KENDALL – Two temporary, emergency dams were set up in Kendall today by the State Division of Homeland Security and Emergency Services.
One water-filled dam was placed along 250 feet of Knapp Shores with another one 600 feet long on the Ed Rose shoreline. The National Guard installed that Aqua Dam.
The dams were filled with lake water by the State Office of Fire Prevention and Control.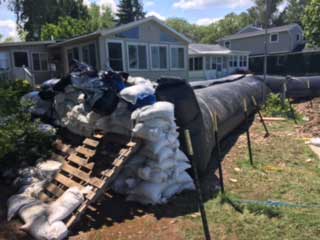 New York debuted the Aqua Dams to fight the Lake Ontario flooding and erosion on June 13 when the dams were installed in the Town of Greece in Monroe County and in the Village of Sodus Point in Wayne County.
The water-filled dams can be rolled quickly, effectively and at less cost than sandbags to protect property, Gov. Andrew Cuomo said on June 13 while viewing the dams.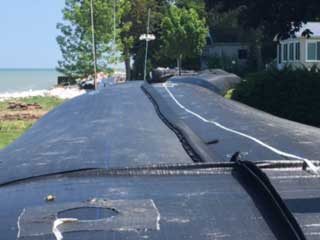 "These temporary dam systems are the latest step in that comprehensive effort, and we will continue to think out of the box to help the region prevent further damage and return to normal," Cuomo said on June 13.
State officials successfully tested these movable, emergency dam systems in several flood prone areas affected by rising Lake Ontario flood waters to ensure this technology properly conforms to the terrain, withstands waves, and holds back water.