2 Albion police officers honored with 'lifesaver' awards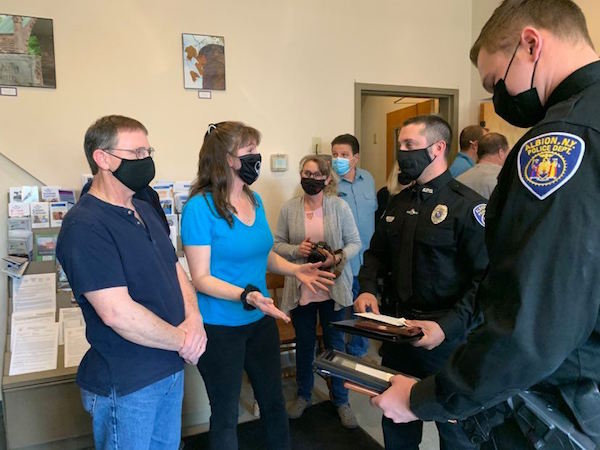 Photos by Tom Rivers
ALBION – Michael and Faith Smith thank Albion police officers Dillon Black, right, and Robert Wagner for their critical life-saving assistance of the night of March 21. They are shown outside the Village Board meeting room at the village office this evening.
Michael Smith, 58, and his wife were home on East Bank Street after a 7-mile walk.
The couple often walks along the village sidewalks and the canal towpath. They also are key volunteers at the Community Kitchen on Fridays at Christ Church. Mrs. Smith is the longtime coordinator at that site, and her husband is a cheerful presence and a hard worker at the kitchen.
The Smiths were home that night and Michael said he felt a warm feeling overwhelm him at about 10:30 p.m. It came out of nowhere, without any warning signs.
He tried to tell his wife he didn't feel well, but he fell forward.
His wife came to him, and he was the color blue. The family called 911 and Mrs. Smith tried to do CPR. Her husband's arms were in a locked position over his chest. She had to punch his arms out of the way to start compressions.
Within 2 minutes of the 911 call, Albion police officers arrived with a defibrillator. The Albion patrol vehicles all carry AEDs.
Robert Wagner and Dillon Black were able to get Smith's heart beating again after shocking him with the defibrillator. They also did CPR until a crew from COVA ambulance arrived and took Smith to Strong Memorial Hospital.
Smith was at Strong for three days and came home on March 24, a Wednesday. Two days later he was back at the Community Kitchen.
He didn't have a heart attack and his arteries are clear. He suffered sudden cardiac death or sudden cardiac arrest, which happens most frequently in adults in their mid-30s to mid-40s, causing 325,000 deaths in the U.S. each year, according to the Cleveland Clinic. Strong put in a biventricular defibrillator so if it ever happens again, Smith's heart will be shocked back to a normal rhythm.
"I want the world to know that police officers are more than just the person who comes to arrest you if you do something bad and pull you over for a traffic violation," Mrs. Smith said. "They are heroes to my family. Because of their quick response and determination my husband is alive and here with me today."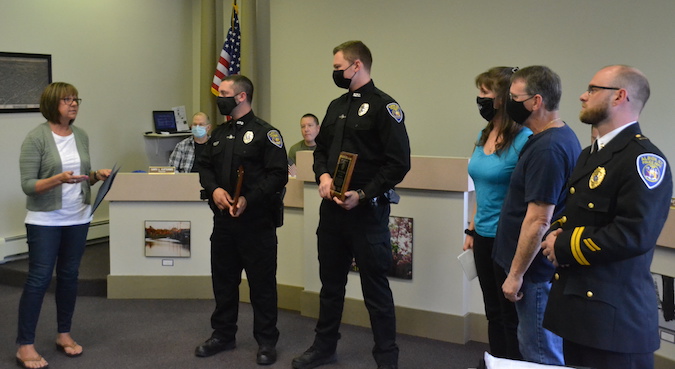 Albion Mayor Eileen Banker presents commendations from the Village Board to Robert Wagner and Dillon Black. Albion PD Lt. David Mogle is at far right.
Banker credited recently retired Police Chief Roland Nenni for pushing to have each patrol vehicle outfitted with an AED and for having all of the officers trained in using them. The Albion PD responds to ambulance calls, and is often first on the scene.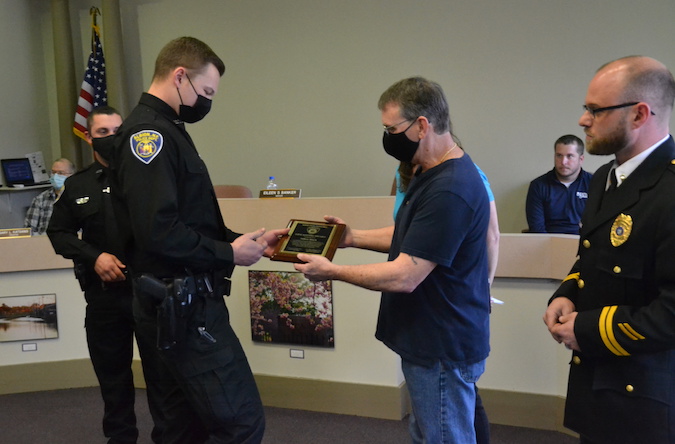 Dillon Blank, a member of the Albion PD for two years, receives the "lifesaver" award from Michael Smith, who was revived with a defibrillator on March 21.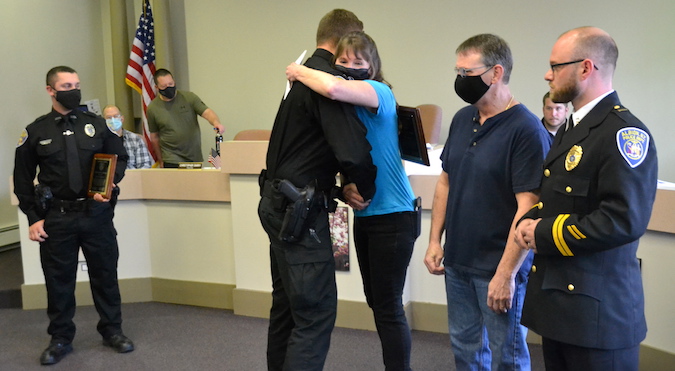 Faith Smith hugs Dillon Black during an awards presentation this evening at the Albion Village Board meeting.
"I thank you both for going above and beyond," Mrs. Smith told the officers. "I am so thankful my husband is here today because of you."