19 winter guard units perform in Medina, with many sending powerful messages
MEDINA – Medina hosted the "Colorburst 2023" winter guard competition on Saturday with 19 guard units performing in the high school gym.
About 450 people attended the competition.
Here are the results:
Exhibition: The Heritage Hurricanes is an all-abilities color guard comprised of members from the Heritage Christian Services and community members in the Rochester area. They were not scored.
Novice: Ventures, which are not scored.
Cadets: Victor in 1st with a score of 66.21; Medina in 2nd at 60.72; Jamestown in 3rd with 59.73; and Batavia in 4th with 58.13.
A1 class: Gates Chili in 1st with 71.47; Ventures in 2nd with 68.18
RA class: Corning Painted Post in 1st at 71.89; Gates Chili in 2nd with 71.47; Marcus Whitman in 3rd with 68.44; Corry in 4th at 66.46.
SA class: Orchard Park in 1st with 77.88; Victor in 2nd with 77.10; Lancaster in 3rd at 75.81; Jamestown in 4th with 73.32; and Medina in 5th at 71.71.
IA class: Gates Chili was the only competitor and came in 1st with 82.47.
Senior class: Luminosa earned 1st place with 85.41.
Medina's next competition is March 25 in Jamestown and the championships are April 1 in Gates Chili.
The benefits of the winter guard program for participants include teamwork, fitness, timing, planning, responsibility, coordination, and goal-setting, according to the official program for the competition.
Here are some photos of the teams in the A1 and SA classes: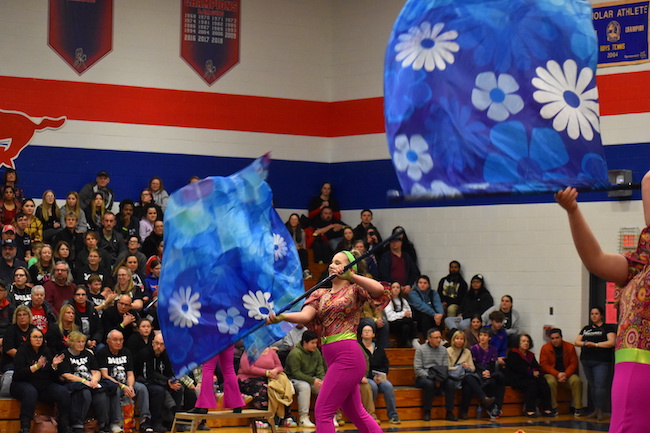 Ventures performed a program called "I'm a Believer." The group performed to versions of the song by The Monkees, Smash Mouth, Bailey Pelkman, Neil Diamond and Weezer.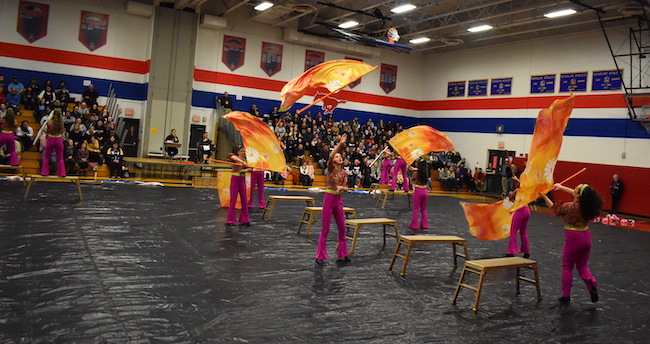 "It's a mixed bag of fun, fast and pretty," the Ventures said in describing the show.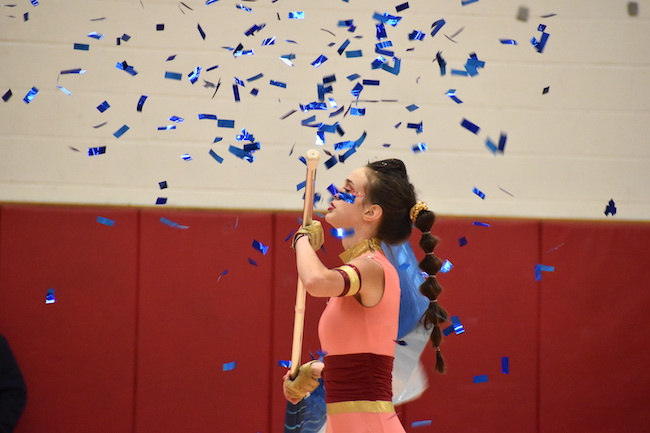 The Gates Chili winter guard presented a show called "Journey Through The Sand." The program featured a character who gets lost in the desert, and finds herself in a mirage of intrigue, fear and bliss. She finds herself longing for an oasis.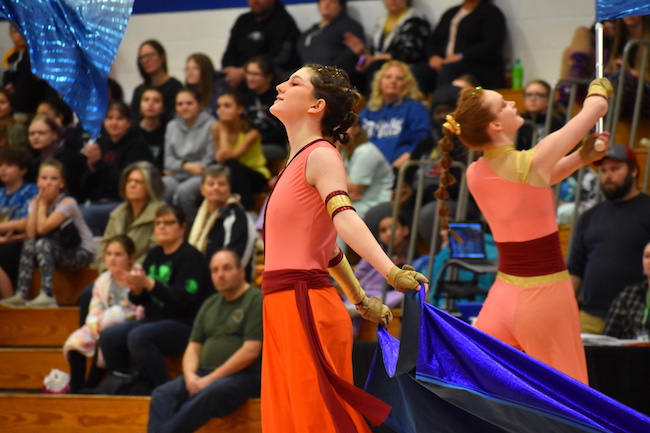 At the end of the program, the winter guard pulls on a long roll of blue to represent water.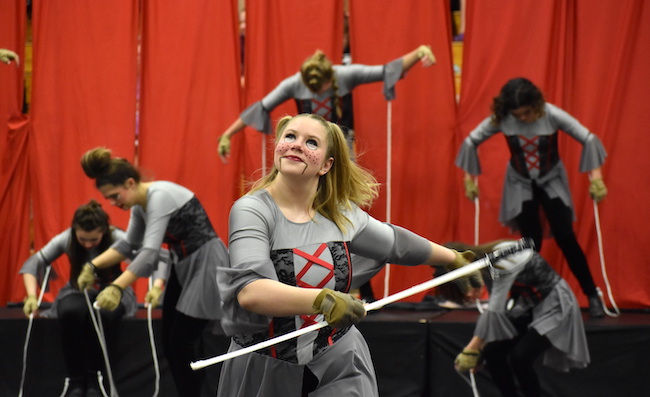 The Victor varsity winter guard presented a show entitled, "Strings." They performed songs from Pinnochio, and the Avengers: Age of Ultron.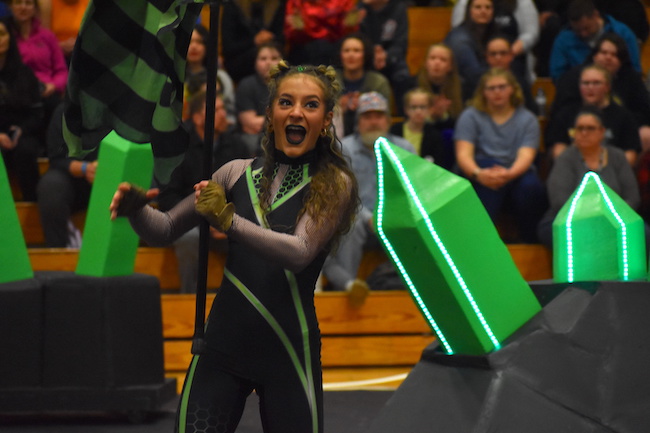 Lancaster's show for 2023 is called "Toxic," which the group says "is a production of not-so-pure intentions."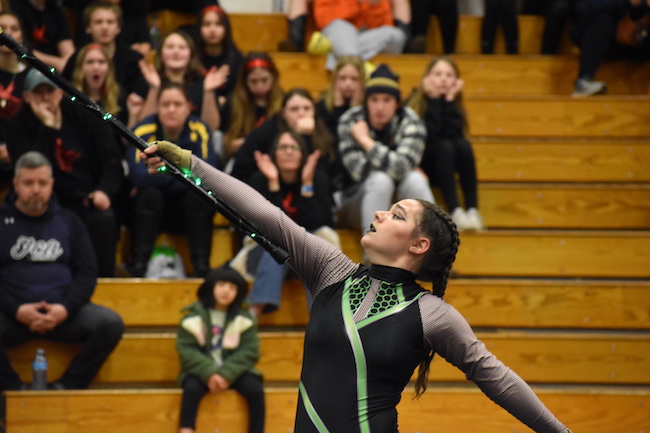 Lancaster concludes its program with a  flourish.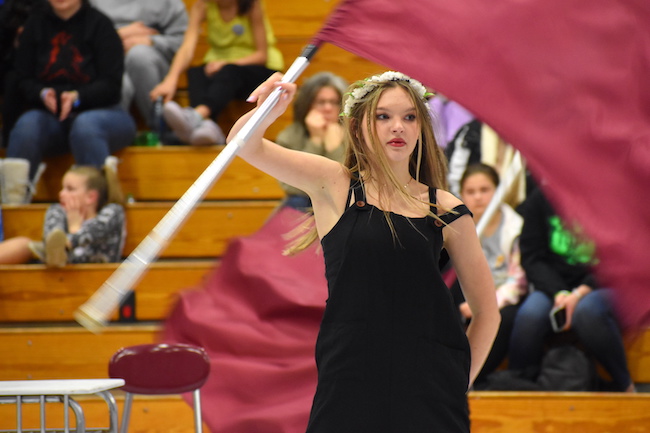 Orchard Park program is entitled "What About Us?" and speaks to the challenges facing students in an era of social media, school shootings, race riots, and a global pandemic.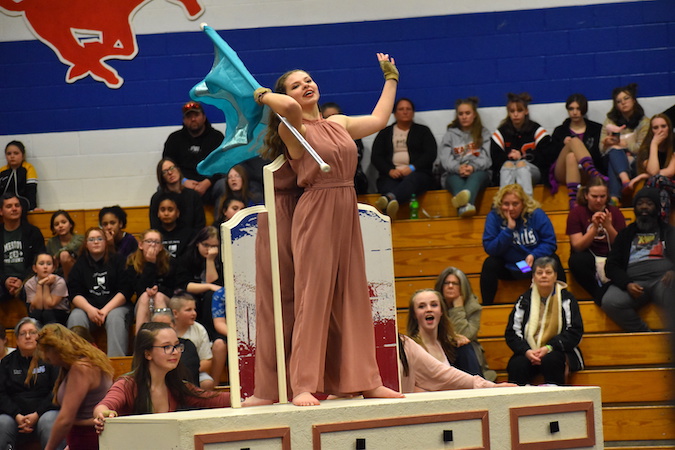 Jamestown's winter guard performed a program entitled, "Enough." It speaks to questions that people ask themselves, whether they are strong enough, whether they can be that independent and "Who am I?"
Jamestown's winter guard sent a message that people reach the conclusion: "I am strong," "I am caring," "I am confident" and "I am enough."
Medina performed a program entitled, "Mission: Graduate."
'No matter where life takes you or what path you choose, you will always meet challenges," the group states in its program. "That is the way life is. There are no guarantees, no matter how many things you do right or how many rules you follow, there will always be that fork in the road that makes you choose this way or that. Wherever you meet this place: Go into the world and do well. But more importantly, go into the world and do good."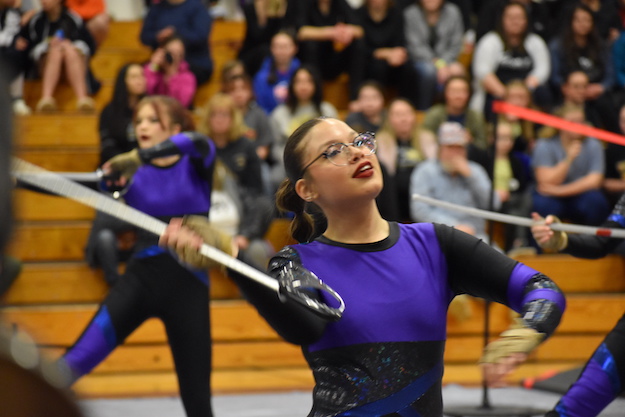 Gabbi Flores-Medina is a senior on the Medina winter guard team.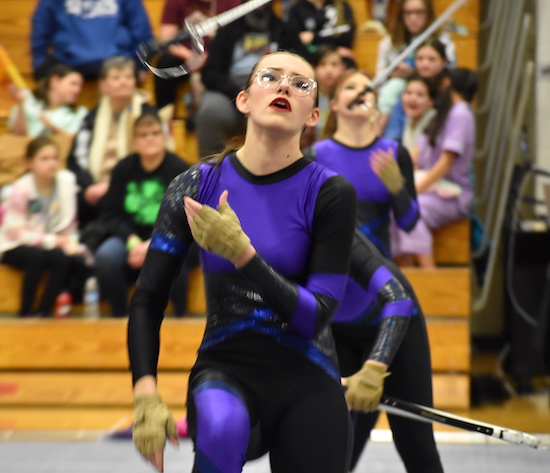 Lillian Wilson also is a senior for Medina's winter guard.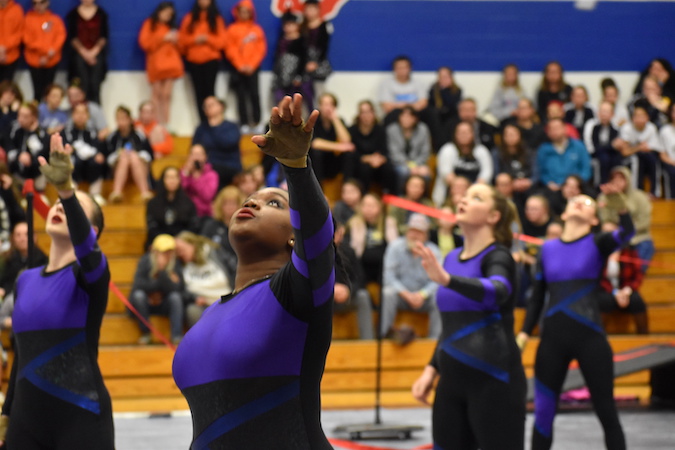 Kaiana Gardner and the other winter guard member eye sabres that were tossed high during Saturday's competition.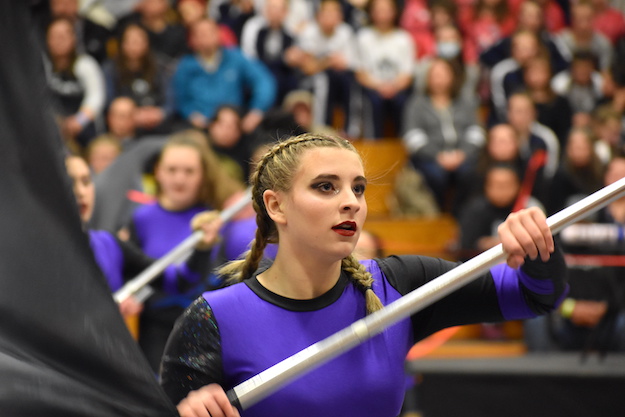 Malloree Rinker of Medina and the winter guard participants spun and caught colorful flags as part of the program.