18-year-old hits hole-in-one at Rotary golf tournament
Event raised funds for Leadership Orleans, Leon Sidari Memorial Fund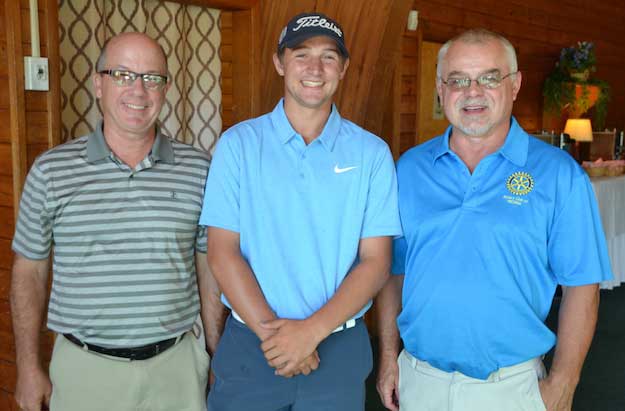 Photos by Tom Rivers
HOLLEY – The 25th annual Albion Rotary Club Golf Tournament on Thursday had a hole-in-one for the first time in the event's history.
Nic Whittaker, center, travelled from Ithaca to play in the tournament, which is named for the late Curtis Lyman. Whittaker had never played at Hickory Ridge Golf Course before. On hole 3, Whittaker hit the ball 135 yards. It landed 5 feet past the hole, and then spun back and went in.
Whittaker is pictured with Bill Downey, left, the hole sponsor and owner of Downey Signs, and Bill Bixler, co-owner of Albion Agencies which provided the insurance on three holes-in-one.
Whittaker won a new TV for the shot. Other par 3s with prizes included $10,000 and a new set of golf clubs.
Whittaker and his team also posted the lowest score of the day with a 59 on a par 72. Whittaker played in the tournament with his father, Randy Smith, and two friends, Ed Kirker and Rich Banks. They are friends with Nathan Lyman, a former Albion resident who now lives in Ithaca. Nathan is Curtis Lyman's son.
Whittaker just graduated from high school. He is going to a golf academy in South Carolina and hopes to be able to play for a college team in the future.

The tournament included about 100 golfers. The beneficiaries for the event included Leadership Orleans, a new program with 25 residents. They are learning about multiple facets of the community to better understand how local government, businesses and other sectors work. The class draws on a cross section of the community. The program picked residents who have demonstrated leadership abilities, interest in community affairs, and a commitment to Orleans County's future.
The other beneficiary is the Leon Sidari Memorial Fund, which formed in honor of Leon Sidari, who died from influenza this past Christmas at age 4. His parents are Tony Sidari and Laura (Lyman) Sidari. Laura is Nathan's daughter.
Tony and Laura are both physicians with the Air Force, based in San Antonio. The memorial fund in Leon's name will direct 100 percent of the funds to be given to help children with medical problems at Christmas time. In the first year, this will be focused on children of military parents, "but with your help this will grow in the years to come," Nathan Lyman states on a GoFundMe that has raised nearly $65,000 so far for the fund.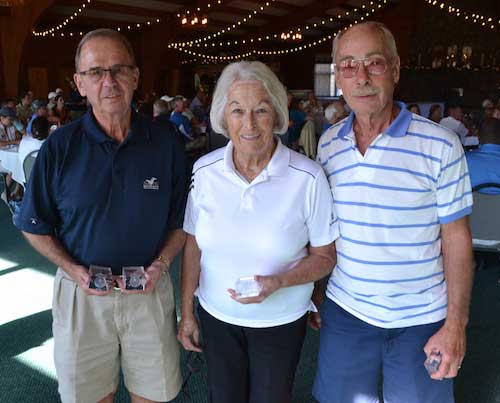 The first placed mixed team had a score of 69 and includes, from left: Richard Pilon, his wife Sibyl, and John Dale, who is Sibyl's brother. Richard and Sibyl's son, Mike Pilon, also played on the team.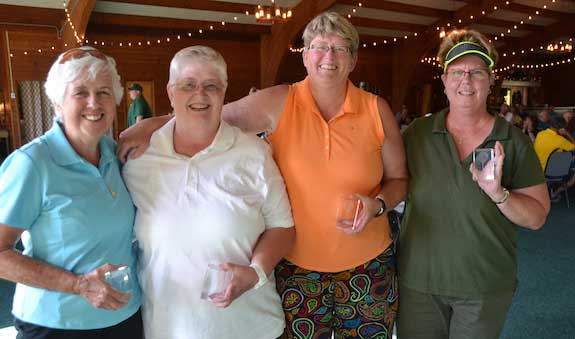 The first place women's team had a score of 70 and includes Mary Jane Schultz, Sharon Campfield, Shannon Perry and Chris Lukas. They are from Lockport.