1,659 new Covid cases in Genesee and Orleans the past 7 days, down from 2,703 previous week
The Genesee and Orleans County Health Departments reported 1,659 new Covid cases in the two counties the past week. That is the second most during the nearly two-year Covid-19 pandemic, but is down from the 2,703 the previous week.
Orleans County is reporting 645 new cases from Jan. 12-18, down from 855 the previous week, and Genesee has 1,014 new cases, down from 1,848 from Jan. 5-11.
Combined, the two weeks represent 4,362 cases or 4.4 percent of the combined population of 98,731 in the two counties – 40,343 in Orleans and 58,388 in Genesee.
The G-O Health Departments also said one Orleans County resident and three from Genesee County passed away due to Covid in the past week. All four were over age 65.
"We do not provide any further information to protect the privacy of these individuals and their families," G-O Health stated. "Our deepest condolences are extended to the families and friends of these individuals."
Genesee has now had 169 Covid-related deaths and Orleans has had 105 during the pandemic, G-O Health officials said.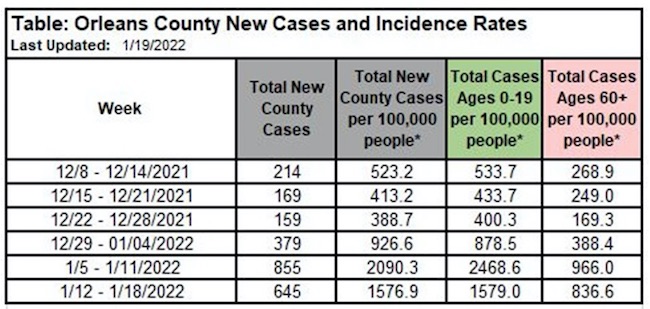 ---