150 attend art show in Albion featuring Brockport Artists Guild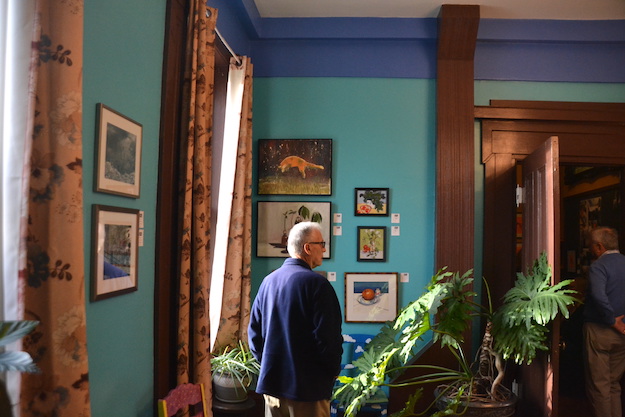 Photos by Tom Rivers
ALBION – Marti's on Main celebrated the opening of an art show on Friday, featuring about 100 works of art from 22 members of the Brockport Artists Guild.
About 150 people attended the three-hour season-opening show.
The gallery is located in the former Cornell Cooperative Extension building at 20 South Main St. Kim Martillotta Muscarella and her husband Neal Muscarella painstakingly and creatively remodeled the building into an art gallery. It opened for its first art show last summer.
Kim Martillotta Muscarella is planning three different art shows this year.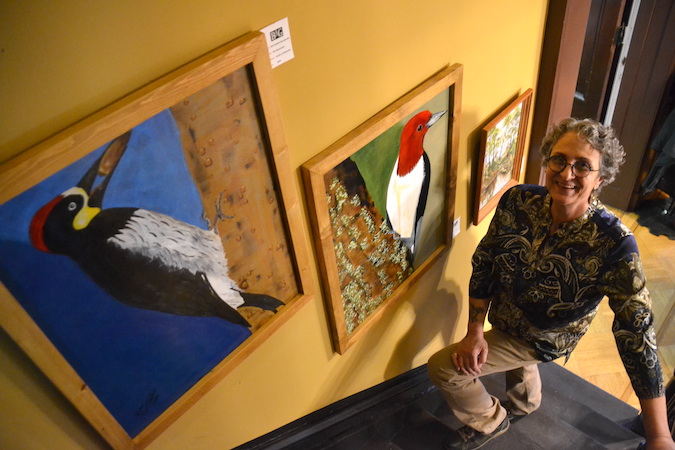 Kim Martillotta Muscarella, a member of the Brockport Artists Guild, poses with two of her paintings, of an acorn woodpecker and red-headed woodpecker, both acrylics on Masonite. Muscarella is a member of the Brockport Artist's Guild.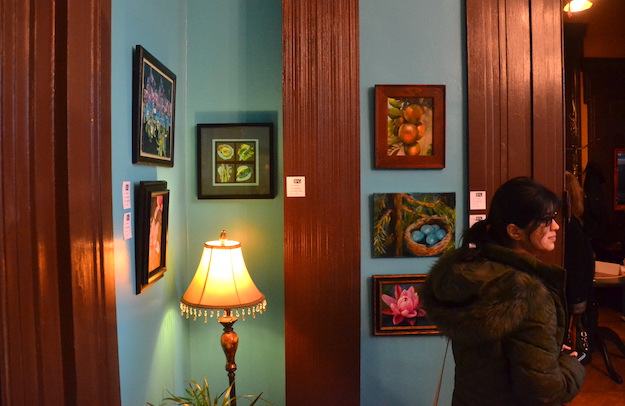 Artwork is on display in the first and second floor of the building.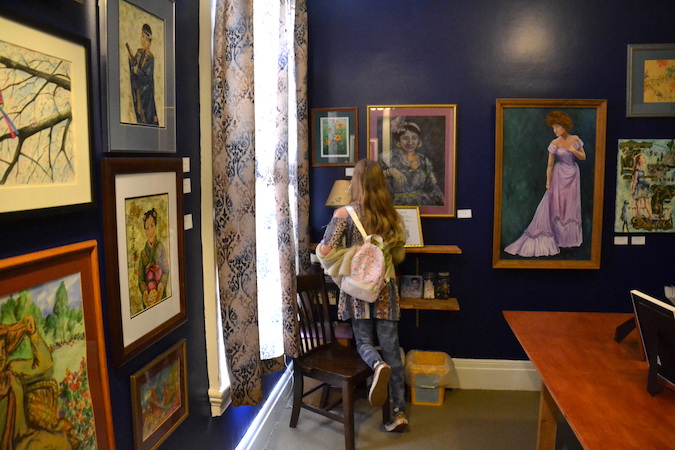 Josephine Dickerson, 10, of Hamlin looks at some of the artwork by her grandmother Suzanne Wells, an Albion art teacher from 1971 to 2005. Wells, who passed away from cancer is 2019, loved to paint flowers and portraits. Her favorite media included watercolor, acrylic and mixed media. She loved color, which could be seen in the way she dressed as well as her work.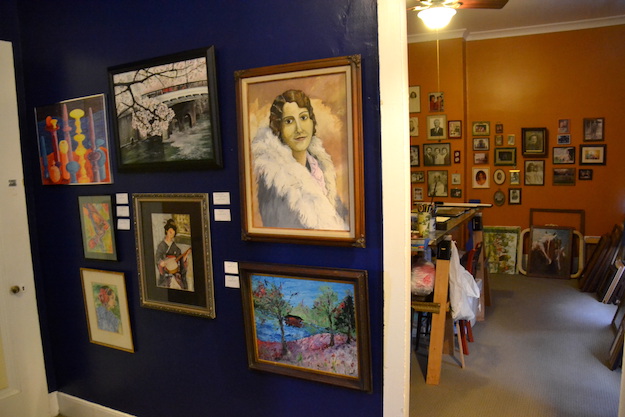 Proceeds from the sale of Wells' artwork in the show will go to the Pancreatic Cancer Association of WNY.
The former Cornell Cooperative Extension building was most recently used an outreach center for the Episcopal Church in Albion. The building was originally a house built in the 1830s.
Muscarella watched the site decline for many years, with little activity inside the doors of one of the prominent buildings in the historic Courthouse Square.
For about a decade she ran Marti's on Main, an art gallery and studio at her home at 229 South Main St. But that site, which was half of her house, was cramped to display art and accommodate groups of people.
On a whim in December 2019, she decided to look at the old Extension building, which had been for sale for years and was listed by her friend Jim Theodorakos of Morrison Realty. Muscarella and her husband were given a tour of the building. (The Extension moved in 2007 to a new building at the 4-H fairgrounds in Knowlesville.)
The walls in the old building were all painted a very pale yellow. The floors covered in green and red carpet or asphalt tiles. The couple also noted the high ceilings, big rooms and lots of wall space. They decided to take on the building, and give it a new life as an art studio and gallery.
For more information or to request a tour, contact Muscarella at 585-589-6715 or 585-590-9211.