150 are out this morning looking for missing Barre man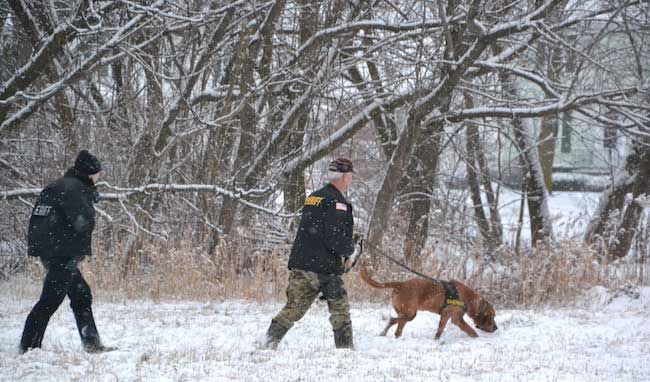 Photos by Tom Rivers
BARRE – A bloodhound with the Niagara County Sheriff's Office tries to pick up the scent of a missing Barre man this morning on Maple Street near Route 98.
There are about 150 people out looking this morning for Robert Arnett, who was last seen at 7 p.m. on Friday.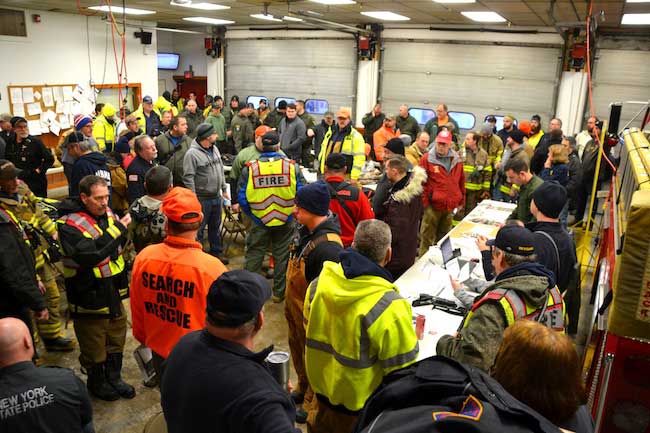 State conservation officers, forest rangers, state troopers, Orleans County deputies and many volunteer firefighters from a dozen departments gathered at the Barre Fire Hall about 8 a.m. before breaking into groups to resume the search.
Arnett was first reported missing at 10 p.m. on Friday. At that point he had been gone for about three hours from his home on Quaker Hill Road (Route 98).
Arnett suffers from Alzheimer's and requires medication. He has gone missing before. He went outside to look for the family's cat on Friday evening. The cat came in but Arnett did not. He has been known to take long walks and return home.
The Orleans County Sheriff's Office put out a missing person alert on Saturday morning for Arnett. He may be wearing a navy T-shirt, light jean jacket, blue jeans and black shoes. He is approximately 5' 11'' and 200 pounds with gray hair, gray facial hair and brown eyes.
State forest rangers today are assisting the Barre Volunteer Fire Department and Orleans County Sheriff's Office. The fire department already has created a grid, showing where people have looked.
Anyone who has seen or had contact with Arnett is urged to call the Orleans County Sheriff's Office at (585) 589-5527.