135 play bingo for a good cause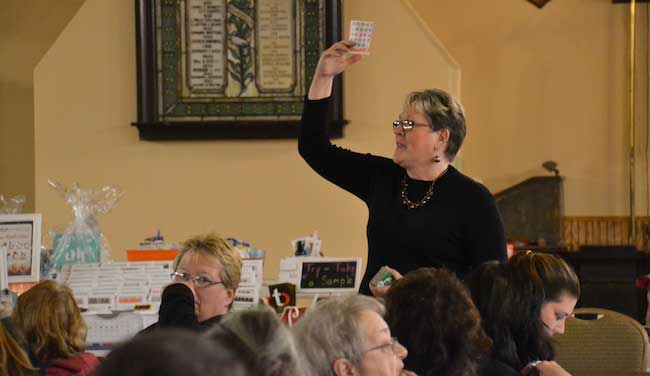 Photos by Tom Rivers
ALBION – Gertie Montulli goes over the rules for the first Orleans Ladies Night Out Vendor Bingo on Monday at the Elks Lodge in Albion.
Montulli organized the event which raised $814 for the Jason Johnston Memorial Scholarship. Each year, the Elks give a $1,000 scholarship in memory of Johnston, who was 24 when he was killed by a roadside bomb in Arghandab, Afghanistan on Dec. 26, 2009.
Specialist Johnston, an Albion native, was on his second deployment. He was also a paratrooper. He completed a 13-month-deployment in 2008 and left again for the war-torn country in October 2009.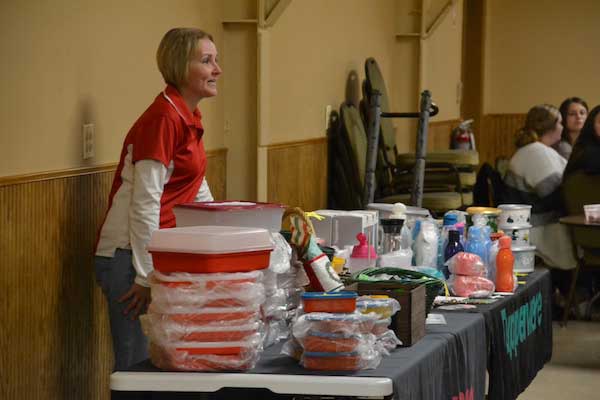 Beth Kibbe was one of the vendors at the bingo event. She sells Tupperware products.
Montulli was expecting about 40-50 people on Monday. There were 135 there to play bingo for the chance to win baskets of prizes donated by vendors – Pure Romance, Chalk Couture, Tupperware, Perfectly Posh, Osbourne Books and Color Street.
Montulli said she wanted to put on a fun event and raise money for important causes in the community.
Montulli, a resident of Kuckville, created a Facebook page and Monday's event was shared by many people. She organized the first event. It will become a monthly program to be organized through the Elks Lodge. Each month a different beneficiary will be picked for the proceeds.
Next month the bingo will be on the third Tuesday with PAWS Animal Shelter to be the recipient of the proceeds. The money is raised through a $5 admission charge and a 50/50 raffle.
In January, Montulli said the dog park to be built in Medina will receive the funding.