130 music stands at Albion get a face lift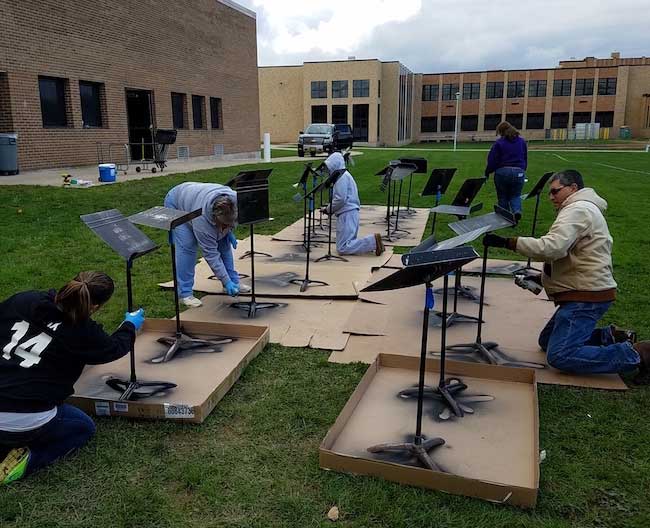 Provided photos
ALBION – Thanks to the Albion Music Boosters and the Rust-Oleum corporation, 130 music stands from the high school and elementary band rooms recently got a fresh look, replacing years of scratches,  graffiti, and other bumps and bruises caused by long-time heavy use.
Volunteers are shown painting the stands on Oct. 13.
In addition to painting, boosters made sure the stands were in safe and solid working condition by tightening bolts, straightening bent corners, and sanding sharp edges, when necessary.  Rust-Oleum donated all of the paint, shipping the boosters seven cases of their premium Ultra-Cover flat black paint and primer.
Michael Thaine, High School band director, said that while some of the stands are decades old, and showed their age cosmetically, most were still in fine working order.
"We even have a few stands that came from the old Waterport school," said Thaine about the school that closed in the 1980s. "All they needed was a fresh coat of paint to look brand new again."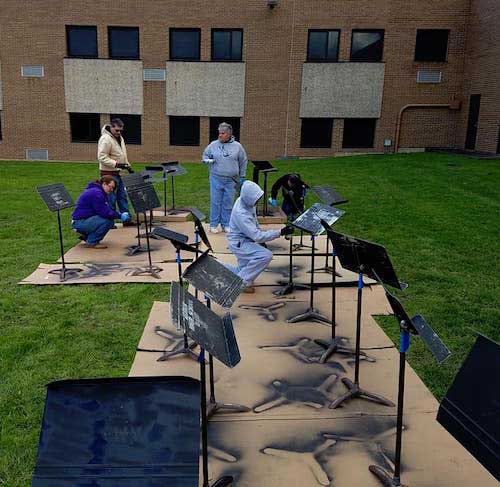 Thaine added that at a replacement cost of approximately $60 each, painting and repairing old stands, when reasonable to do so, is more fiscally responsible than purchasing new.
Mrs. Lindsey Almeter, the elementary band director, expressed her appreciation to the boosters.
"We're so grateful to the Albion Music Boosters for tackling this project," she said. "They completed, in 3 1/2 hours, what would have taken the band teachers weeks to do on our own, working one stand at a time in the few free moments we have each day."
The Albion Music Boosters is a group of dedicated parents, friends, and community supporters of the vocal and instrumental music program at Albion Central School.  They are always looking for new members, and people can be as involved as their desire and schedule allows. More information is available by emailing albionmusicboosters@gmail.com, or on Facebook at Albion Music Boosters.