13 inducted in National Honor Society at Albion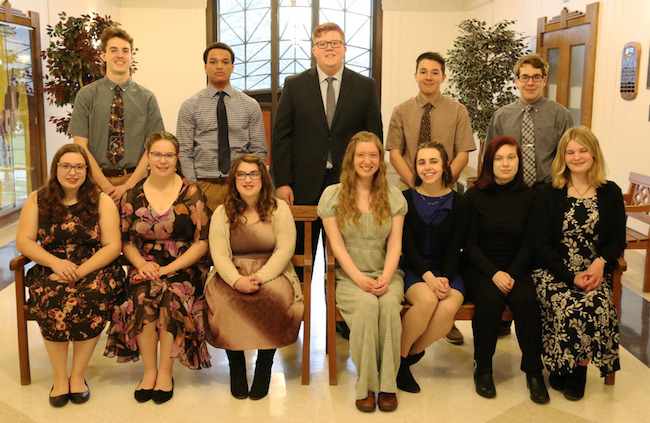 Press Release, Albion Central School
ALBION – Thirteen Albion high school students were inducted into the National Honor Society during a ceremony Wednesday night.
Pictured, front row, from left include Audrey Pask, Clara Bolton, Emily Richardson, Natalie Baron, Hailey Crawford, Samantha Hand and Natalie Bertsch. Back row: Dallas Ecker, Amari Jones, Nicholas Andrews, Vincent Molisani and Jacob Foote. Not pictured: Brianna Sample.
The National Honor Society was founded in 1921 and is built on the four pillars of scholarship, service, leadership and character. Inductees must prove to exhibit all four qualities and be recommended by a faculty member. Last year's inductees led the ceremony, which included recognition of outstanding high school teachers.
Math teacher Mr. Chad Owen was chosen as the recipient of Albion's NHS Excellence in Teaching Award. Mr. Richard Gannon received recognition for exemplifying scholarship, Mrs. Sawyer Green service, Mr. Bradford Nickerson leadership and Mrs. Sandra Climenhaga character. All faculty honorees were picked by the current NHS members.
Current members, inducted in a ceremony in 2021, are Carson Bader, James Beach, Katelyn Beach, Olivia Bieber, Jeffrey Brown, Collin Capurso, Hannah Coolbaugh, Nicolina Creasey, Ann Faery, Ethan Ferchen, Tyler Gibson, Emily Graham, Kenzi Hapeman, Emily Harling, Leah Kania, Adrian Kingdollar, Alyson Knaak, Kyle Kuehne, Charley London, Allison Mathes, Sydney Mulka, Hannah Papponetti, Leah Pritchard, Reuben Rivers, Belen Rosario Soto, Aurora Serafin, Paris Smith, Presley Smith and Colleen Usselman. The advisor of Albion's NHS is Mrs. Suzanne Newton.