11-year-old wears cape and races for kids with cancer
Matteo Lambert gives his medals to children facing much harder test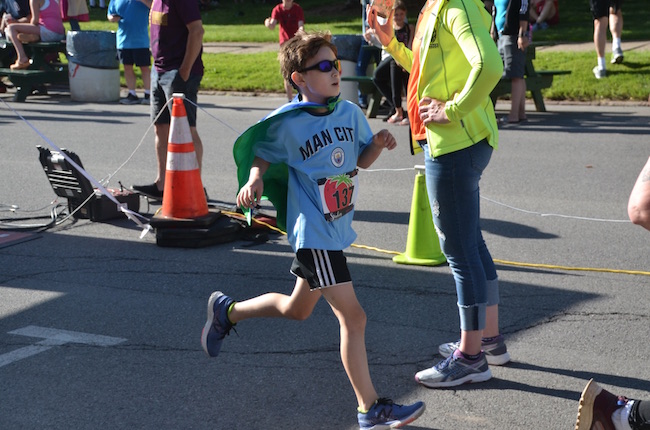 Photos by Tom Rivers
ALBION – Matteo Lambert, 11, of northern Virginia finishes the Albion Strawberry Festival 8K this morning. He won his age group completing the course in 37:43.
Matteo made the trip to Albion to run in honor of Gage Stacey, 12, of Lockport who has been diagnosed with brain cancer.
After the race, Matteo presented Gage with the cape that Matteo wore during the race and the medal he earned.
Matteo has been running races for kids with cancer since 2019. He wears a cape with the name of a kid with cancer, and gives them the cape and his medals.
He has now run about 50 races for other people. If they can't make the race in person, Matteo sends them the cape, the medal and a video praising their courage.
"You're a champ and a hero," Matteo posted on Facebook this morning after meeting Gage.
Gage recently turned 12. Like Matteo, he loves to play soccer and be outdoors. The fathers of the two boys connected through social media and arranged for Matteo to come to Albion this morning to run for Gage.
Matteo said he borrows the super powers of the kids fighting cancer for the race.
Matteo's father, Brandon Lambert, said his son has an "extraordinary empathy gene." Mr. Lambert noticed it about 2 years ago when Matteo won a medal at a 5K and gave it to a kid fighting an illness.
The family has formed the Off The Charts Club, where kids with cancer are nominated as heroes, and can receive care packages from Matteo including a personalized cape, race medal and other gifts.
Matteo has run races for other kids in more than 15 states. He will be running a 4K race on Sunday morning in Syracuse.
Mr. Lambert said the children fighting cancer feel empowered when they get the cape and the medal.
"They're getting it from someone their size and age who really sees them," he said.
Matteo and Gage started talking months ago. The families began planning for today's race and get together about six months ago.
Matt Stacey, Gage's father, said Gage was happy to attend the race and see Matteo run in his honor.
Gage is the family's super hero, showing tremendous courage since being diagnosed with Medulloblastoma.
"He takes it on the chin and is very resilient," Gage's dad said.
Brandon Lambert said the kids fighting cancer are all extraordinary. They have inspired Matteo and the family.
"A lot of these kids who have cancer they become leaders," Mr. Lambert said. "After what they've been through they can face anything."