1,000 students see local job potential in building trades, agriculture and manufacturing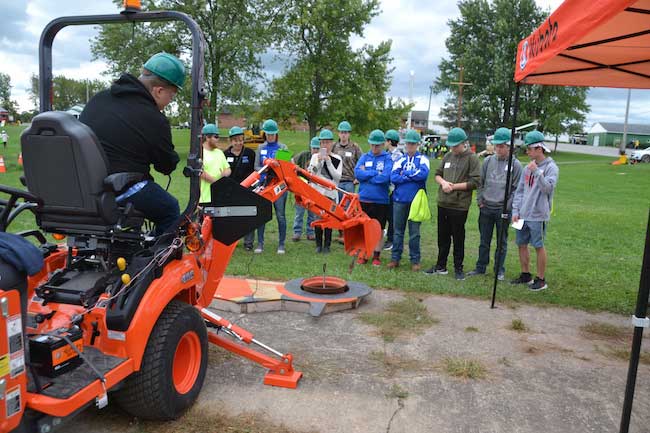 Photos by Tom Rivers
BATAVIA – Tyler Schmeer of Kendall runs a Kubota tractor with a backhoe during a career exploration event today in Batavia at the Genesee County Fairgrounds. Bentley Brothers in Albion and Brockport let high school students try to operate the backhoe.
Bentley Brothers was one of 58 businesses at the event. The first-time "GLOW With Your Hands" career exploration included about 50 interactive sessions.
There were students from 24 schools from the four rural GLOW counties, as well as Roy-Hart in Niagara County.
Lyndonville and Kendall in Orleans County both took students for hands-on activities with trades such as welding, bricklaying, electrical wiring, heavy equipment operation, advanced manufacturing and other jobs.
"The skilled trades is something we're always looking for," said Laura Olinger, president and co-owner of Bentley Brothers.
She told students today's construction and farm equipment is heavily computerized with lots of electronics. Although the equipment is more technical, Bentley said the construction and agriculture jobs are still positions that require workers to get dirty.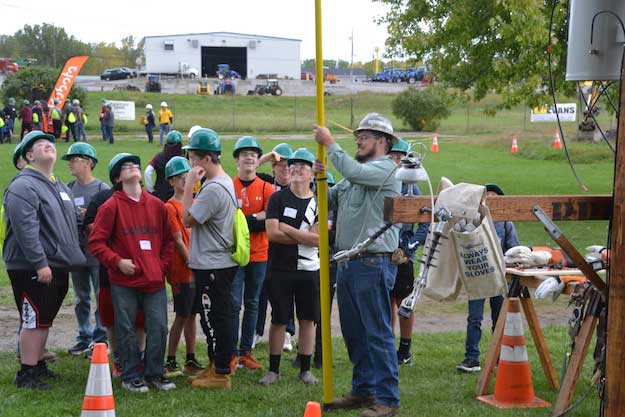 Joe Lang, line supervisor for National Grid, shows Pavilion students how to set a switch with a pole. National Grid representatives said the company offers many career opportunities as a line man, or jobs in administrative, metering and the service department.
Dr. Sheila Eigenbrod, Pavilion High School principal, served on the committee that helped plan the event. She wanted students to see the many job opportunities in the local rural counties.
"We wanted exposure to the amazing job opportunities in the GLOW region," she said. "They are seeing the importance of the trades and some of the soft skills in our community."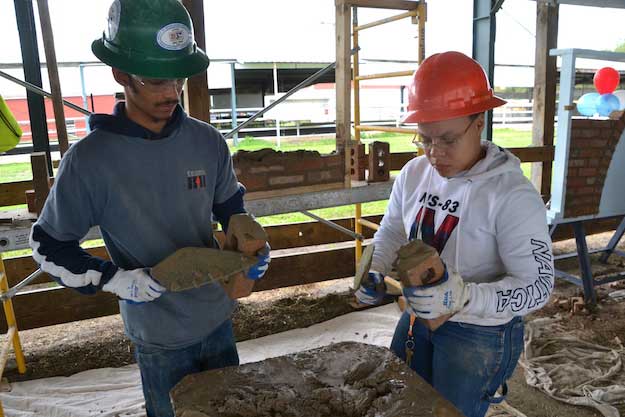 Jack Lora and Tyeisha Wright, brick-laying students at the Iroquois Job Corps Center in Shelby, encouraged the local high schoolers to learn a trade.
"If you know a trade you'll always have a job," Tyeisha said.
Jack said it isn't grunt work. "It's an art."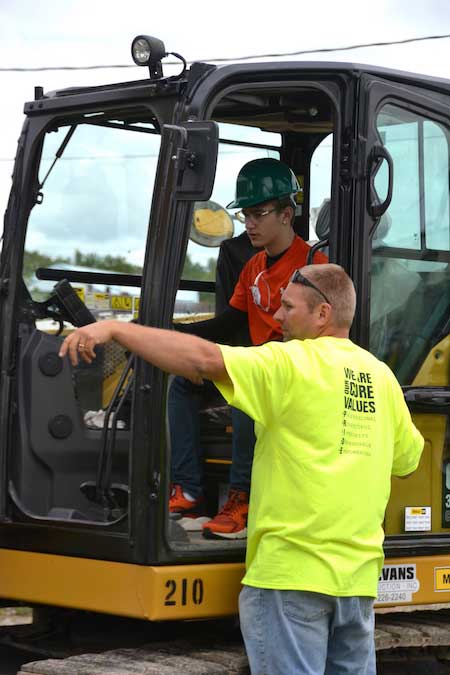 Ashton Sommerton of Pavilion tries operating an excavator under guidance from Jared Swift, an operator with LG Evans Construction in Avon.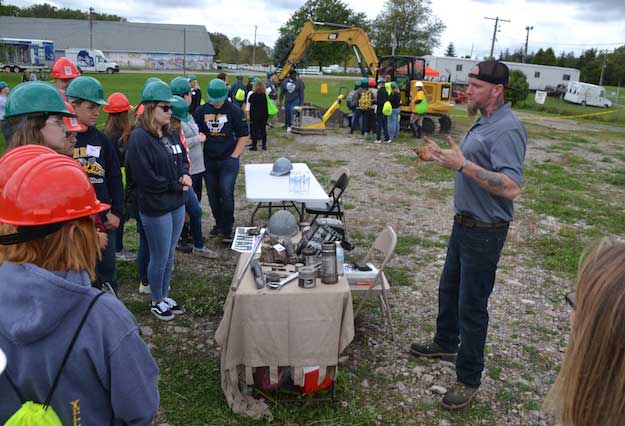 Jay Helker, vice president of operations for Swan Equipment & Trucking in Avon, discusses some of the tools used to fix big trucks and other equipment. Helker told students he enjoys his job.
"There is a lot of hands-on work," he said. "The days go by fast."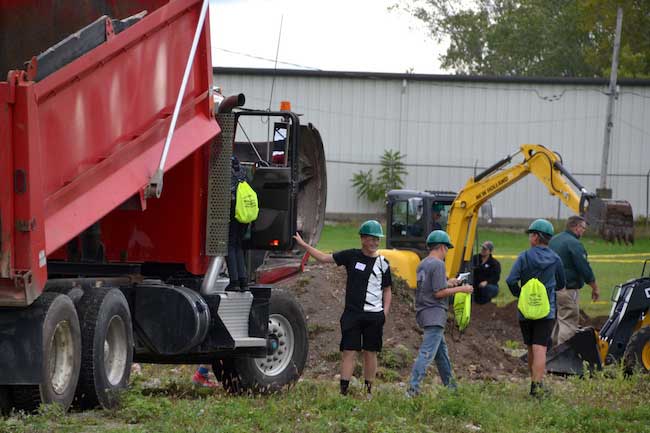 Swan Equipment & Trucking in Avon let students sit in a dump truck.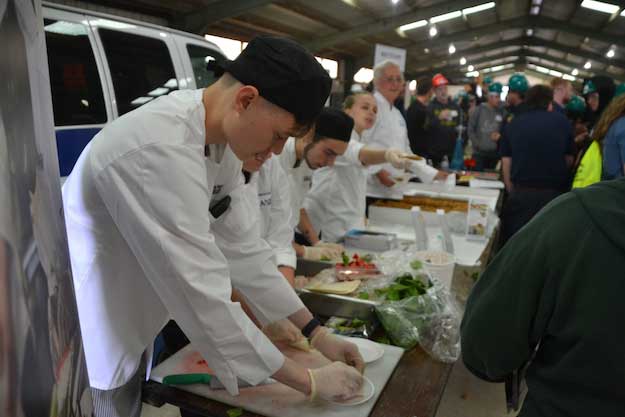 Culinary Arts students from Alfred State College made sandwiches and cookies for students to try.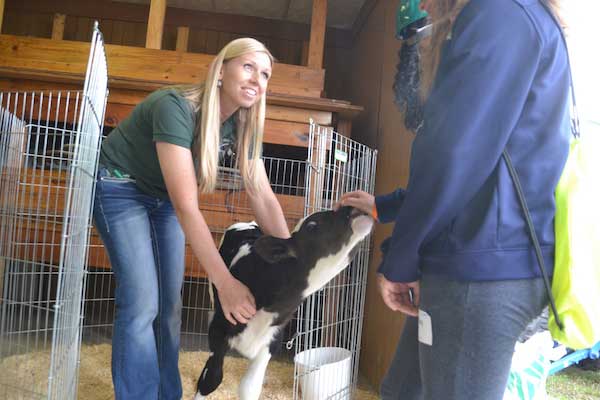 Kendra Lamb of Lamb Farms in Oakfield introduced students to a calf. The farm has many job opportunities working with young dairy animals, milking cows, breeding animals and working at growing the crops for the animals.
The Genesee County Economic Development Center helped organize the event. The agency wants to help businesses fill positions, and match local residents with career opportunities.
GCEDC is developing a 1,250-acre STAMP site for advanced manufacturing. The site, at full buildout, is projected to have 9,300 workers with another 20,000 jobs supported in the region from the site.
"We have careers right here in their backyard," said  Chris Suozzi, vice president of business development for the GCEDC. "The companies want to train them right out of high school. They will train you and you don't have to have any student debt."
Suozzi said the GCEDC wants "GLOW With Your Hands" to be an annual event for at least the next 10 years.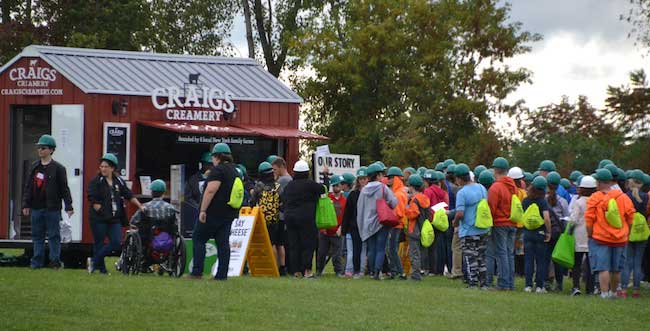 Students line up to see the display by Craigs Station Creamery in Pavilion, which produces "standardized" milk and cream for yogurt, cheese and other perishable dairy products. The facility is powered by renewable energy which includes a nearby anaerobic manure digester, plus solar panels on its roof.
Dr. Aaron Slack, Lyndonville High School principal, joined 18 students from Lyndonville at the event. Slack appreciated the businesses offering hands-on activities to help students understand the careers.
Next year Slack said Lyndonville would bring more students.
"I'm extremely impressed and grateful for all of the representatives from the various industries," he said.