100 volunteers out doing service projects in 'Day of Caring'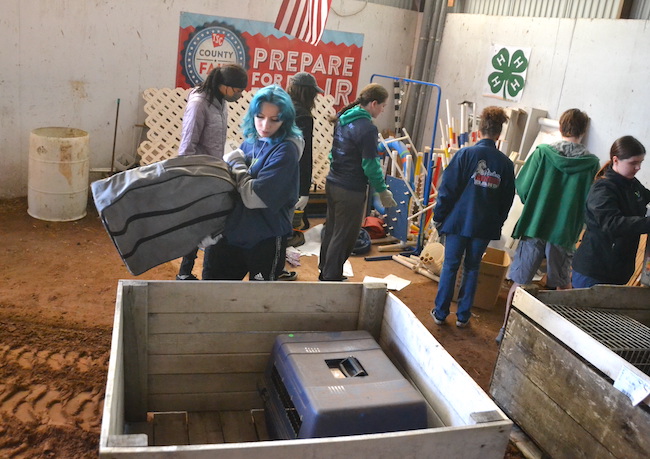 Photos by Tom Rivers
KNOWLESVILLE – Victoria Potter is one of 12 students from Medina High School volunteering during today's Day of Caring. The Medina group are members of IMPACT – Influencing Many People As Concerned Teens.
Victoria and this group is relocating equipment for the dog shows at the at Orleans County 4-H Fairgrounds. The equipment is getting packed up and moved from the Knights Building which is used as an indoor horse arena. The dog equipment is headed to the llama barn where the dog shows are held.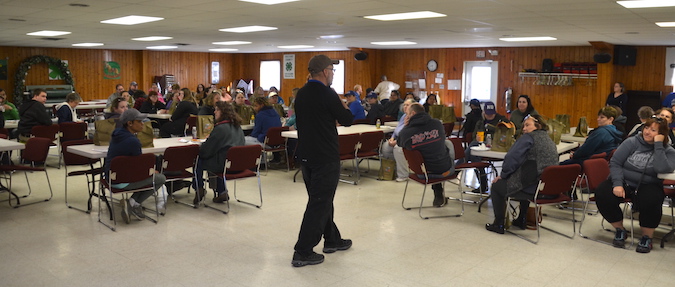 Dean Bellack, executive director of the Orleans County United Way, welcomes 100 volunteers this morning at the Trolley Building of the Fairgrounds.
"This is all about neighbors helping neighbors," Bellack said.
The volunteers broke up into groups and headed out for service projects at the Cornell Cooperative Extension (Fairgrounds), Camp Rainbow, Orleans Enterprises (Arc GLOW in Albion), Community Action, Head Start, Main Street Store in Albion, Orleans County YMCA, Project Stork in Barre, P.Raising Kids child care site in medina, Medina Railroad Museum and Bullard Park in Albion.
The Day of Caring continues on Saturday with volunteers headed to work on the garden at Supportive Care of Orleans (formerly Hospice).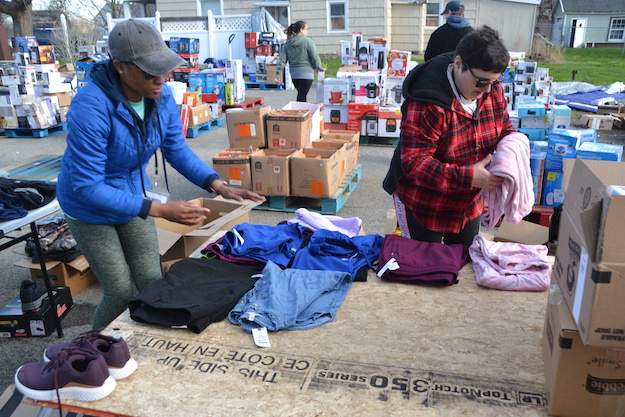 Britney Ruiz, left, and Cheryl Vangorden, employees at Baxter Healthcare in Medina, help sort clothes at Project Stork in Barre, assisting the agency with a big outdoor sale today and on Saturday. Project Stork is renovating the former Barre Deli and using it for a program that provides services to infants and toddlers, as well as mothers. Project Stork is looking to open the site in Barre in the summer.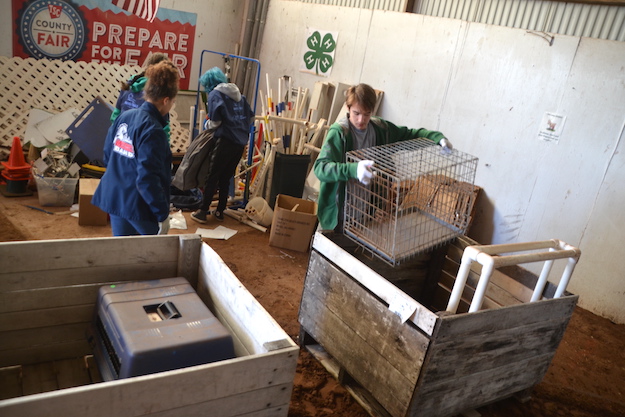 Henry Rigerman, an IMPACT member from Medina, helps load up the dog equipment at the fairgrounds.
Some of the volunteers today came from Medina High School, Albion Middle School FFA, GCASA, Orleans County Mental Health Department, Baxter Healthcare, Velocitii, Medina Sandstone Society, Orleans Community Health, United Way, Self-Advocacy All-Stars, Village of Albion and Community Action.