100 receive Covid vaccination doses today in first county-run clinic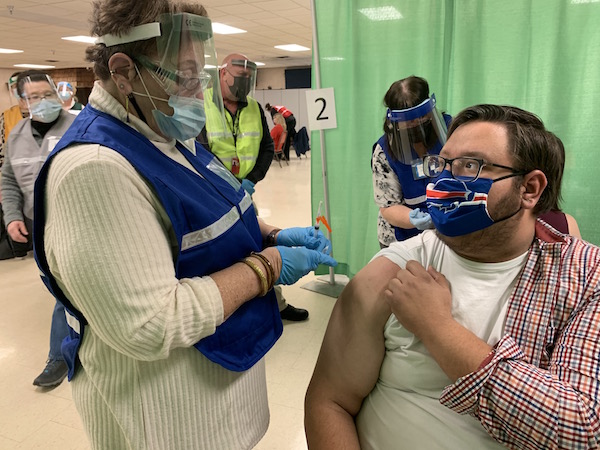 Photos by Tom Rivers
RIDGEWAY – Zach Busch, a junior-senior high music teacher in Holley, received his first dose of the Covid-19 vaccine this afternoon. Connie Ferris gave him the shot.
"It's peace of mind," said Busch, 27. "I feel it's important to protect not only myself but my students and my colleagues."
Many of the people vaccinated today were school employees, who are in the 1b eligibility group.
Ferris has been a nurse for 54 years. She volunteered at the vaccination clinic today at the Ridgeway Volunteer Fire Company at the corner of Ridge Road and Horan Road.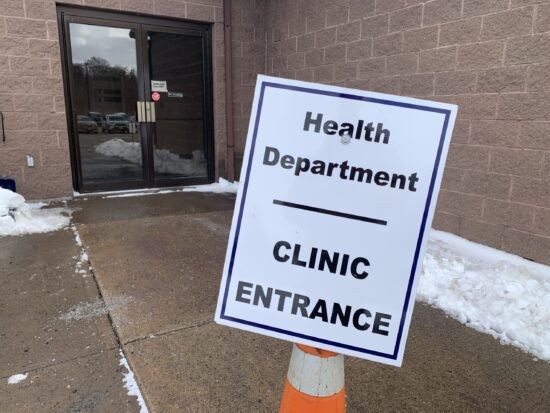 Today was the first Covid vaccination clinic run by Orleans County. The slots filled up quickly and 100 doses were given out. The site could accommodate up to 600 people in a day.
Paul Pettit, the public health director in Orleans and Genesee counties, looks forward to more doses being available locally. If there is a big increase in doses, the clinic could have expanded hours each day and be available on multiple days during the week.
The Health Department ran smaller-scale vaccination clinics about a decade ago for H1N1 at the Health Department building in Albion, and the department also runs flu vaccine clinics.
But Pettit said the Covid-19 clinics will be a much larger scale and for a longer duration.
Orleans Community Health, Oak Orchard Health and some of the local pharmacies also have been administering vaccine doses.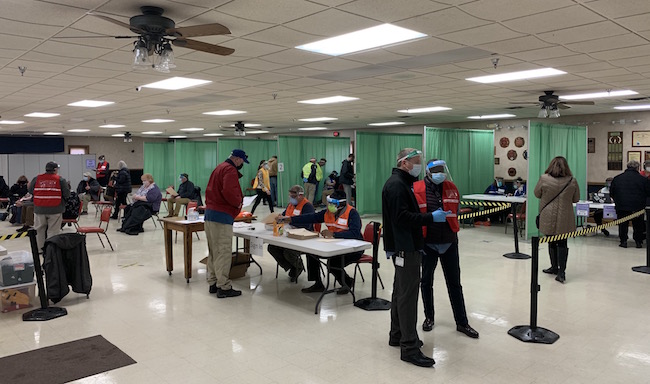 Dan Doctor, in front at right, served as a greeter at the clinic. He works as the community outreach liaison at Medina Central School. He is chatting with David Bell, the emergency preparedness coordinator for the Genesee and Orleans County Health Departments.
Many community members volunteered to run the clinic today from 1 to 4 p.m. Volunteers don't need a medical background. There are other roles as greeters, runners, observers and data recorders.
People interested in volunteering at a clinic can contact the Health Department at (585) 589-3278 or the Orleans County Emergency Management Office at (585) 589-4414.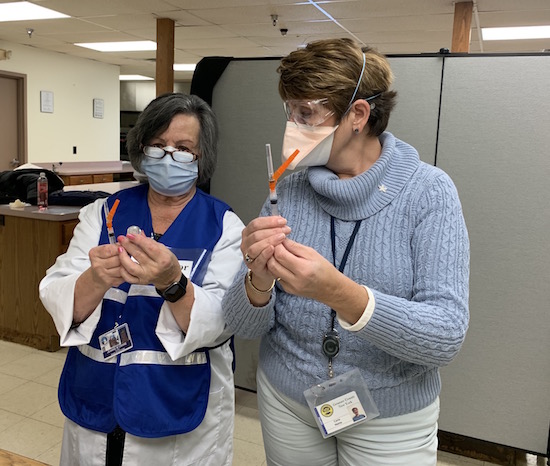 Jeanne Crane, left, and Carla Wahls draw the vaccine. Each vial of the vaccine from Moderna had about 10 doses. Some had 11. The nurses make sure each shot had the right amount to be administered.
Crane is a retired nurse at Medina Memorial Hospital. She retired in 2003, and heeded the call for assistance at the vaccination clinics.
"I feel very strongly that the vaccine will help us to get out again and I saw the need to volunteer," Crane said. "The Health Department doesn't have the necessary staff during this pandemic. So I called them."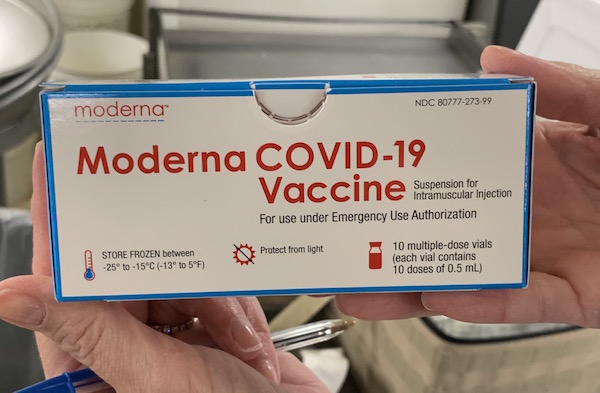 Those who received a vaccine today should get a second dose of the vaccine in 28 days. Carla Wahls, the registered nurse, acknowledged the vaccine is in high demand.
"This is like liquid gold right now," she said.