100-plus attend kick off meeting in Kendall for shoreline property owners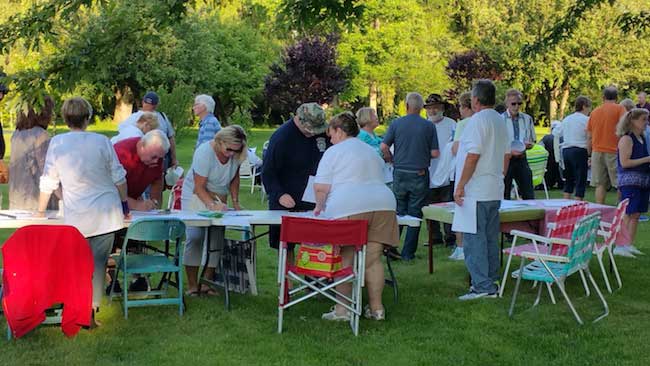 Provided photos
KENDALL – A newly formed group, United Shoreline, met on Lomond Shores West in Kendall on Friday evening, discussing the erosion and flooding damages from the high Lake Ontario. There were about 120 people who attended, including Kendall Town Supervisor Tony Cammarata.
"Anytime you have a group with a vision that is positive – they're not looking to be negative or riotous – they're all concerned citizens and taxpayers," Cammarata said today. "They're looking to get some assistance from our governor and president. They've taking some major losses and are looking for some assistance."
United Shoreline wants the International Joint Commission to look an alternative plan to for regulating lake levels. The new Plan 2014 took effect for the first time this year. There was record rainfall in April and May, pushing the lake level to about 2 1/2 feet above normal.
United Shoreline wants to help document the damages to properties, and let government officials know the damage has hurt many property owners in small towns, including Kendall, Carlton and Yates in Orleans County.
Dawn Herbeck, one of United Shoreline's organizers, said much of the media attention on the erosion damage has focused on the Town of Greece.
"This isn't just Greece's problem," Herbeck said. "This is the Somerset's problem, this is Carlton's problem – it's all of our problem."
Cammarata said the state has offered programs to help homeowners and municipalities with some of the losses from the erosion. The town and residents are looking for more information on the programs from the state, including $7 million to assist homeowners with interior and exterior damages.
PathStone is helping property owners pursue funding in that program.
"The state is trying to do the right thing," Cammarata said today. "I think it's a work in progress."
Officials from Homeland Security were out inspecting damage in Yates, Carlton and Kendall in the past 10 days. Cammarata said the damage may exceed the federal disaster level, which could bring additional funds through the Federal Emergency Management Agency (FEMA).
He also shared a request from the Coast Guard that any barrels used to mark docks or help weigh down property be marked with a red X to identify the barrels as nonhazardous containers.

United Shoreline is happy with the turnout – 120 at the first meeting. The group had to shuttle people to the meeting using golf carts because Lomond Shores is a one-lane beach road.
"We were very pleased considering we've only been in existence for about a week," Herbeck said.
United Shoreline will have additional meetings in other lakeshore towns, trying to build numbers to give the group more clout in advocating for the riparians – the shoreline property owners.
The next meeting will be Friday, June 23 at 6:30 p.m. at the Hamlin Town Hall Gymnasium, 1658 Lake Rd, Hamlin.