10 volunteer firefighters complete interior firefighting class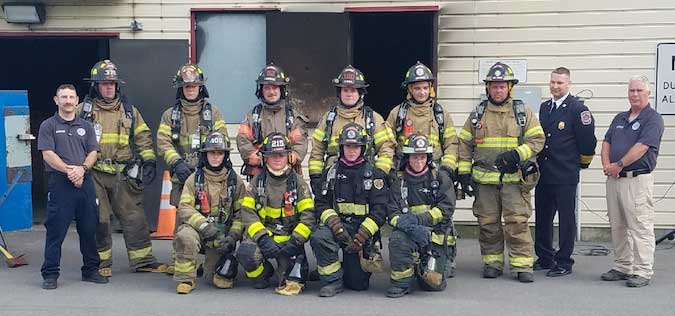 Provided photo
ALBION – Ten volunteer firefighters completed a 129-hour class, Interior Firefighting Operations. The graduation was held this evening.
Pictured include, front row, from left: Paul Urquhart (Albion), Erik Balys (Holley), Josh Klotzbach (Ridgeway) and Matt Doherty (Ridgeway). Back row: Instructor Dwane Weatherell, Scott Warney (Albion), Nick Pahura (Albion), Jacob Roeseler (Gasport), Caleb Spark (Gasport), Matthew Edick (Carlton), Jacob Marks (Carlton), Instructor Justin Niederhofer, and Instructor Al Cheverie.
The firefighters received training in hose line work, forcible entry, tactical ventilation, fire suppression, ladder work, victim search and rescue, ropes and knots, and other associated firefighting skills.
Prior to this they completed training in exterior foreground operations and Hazardous Materials Operations. In total they completed 129 hours of training over the course of four months.