10 farmworkers taken to hospital after exposure to chemicals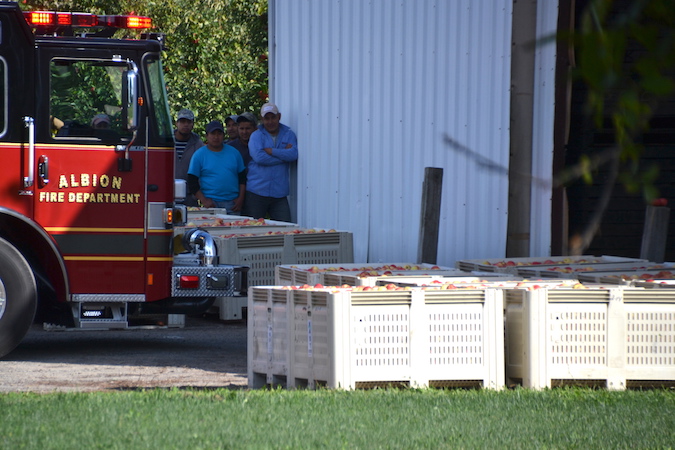 Photo by Tom Rivers
GAINES – Workers at Kast Farms on Zig-Zag Road wait to be treated by medical personnel after they were exposed to an insecticide this afternoon at the farm.
Kast Farms had sprayed the chemical on a field, and some of the insecticide drifted over to an orchard where workers were picking apples.
Some of them complained of numbness and nauseous. The farm they called for medical attention at about 2:30 p.m.
Jeremy Graham, Albion's deputy fire chief, was among the firefighters who responded to the call. He arrived to find two or three of the farmworkers vomiting.
Firefighters used soap and water to decontaminate the workers, who were transported by ambulance to United Memorial Medical Center in Batavia, and Rochester General and Strong Memorial in Rochester.
The workers changed out of their clothes into Tyvek suits so they wouldn't bring clothes with chemicals to the hospital.
Graham said the protocol for hazardous materials calls for the workers to be observed in a hospital for 12 hours in case there are any late onset symptoms.
The state Department of Environmental Conservation is expected at the scene on Thursday to remove water used in the decontamination of the workers.
Graham said Kast Farms managers and owners were at the scene and showed concern for the workers, calling for medical attention when there were signs of possible illness.
There were several first responders on scene, including three ambulances from Monroe Ambulance, two from Central Orleans Volunteer Ambulance and one from Medina Fire Department.