1 new death at Villages, no new Covid-19 cases in county

There are no new confirmed cases of Covid-19 in Orleans County, but there has been an additional death, a resident of the Villages of Orleans Health and Rehabilitation Center in Albion.
The Villages has now had 28 of its residents pass away from Covid-19. The county has suffered 41 deaths from the coronavirus.
Two more people from the county have also recovered from Covid-19, bringing the total recoveries in the community to 80.
The Genesee and Orleans County Health Departments is reporting that 17 residents from Orleans remain hospitalized with Covid-19.
In Genesee County, there is one new confirmed case of Covid-19, for 192 total. The new case is a resident of Pembroke in the 50s. The newly positive case was not on mandatory quarantine prior to testing positive.
Genesee also has an additional recovery, bringing that total to 127. No Genesee residents are currently hospitalized from Covid-19.
Click here to view an online map of confirmed cases in Genesee, Orleans and Wyoming counties.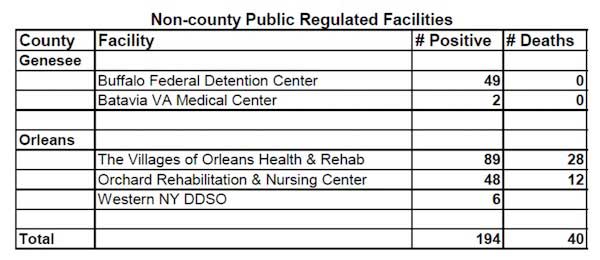 The facility breakdown shows the total positive cases from facilities where a positive case has been reported to the Health Departments.
Additional information from the Genesee and Orleans County Health Departments:
• Outdoor dining: The Governor announced that outdoor dining at restaurants will be permitted beginning today. Outdoor tables must be spaced six feet apart, all staff must wear face coverings and customers must also wear face coverings when not seated. There are still limitations.
We encourage business owners to go to the NY Forward website and click on Phase Two for more information.
For Outdoor and Takeout/Delivery Food Services guidance, click here.
• Graduation: To help schools plan graduation ceremonies to celebrate all who are graduating in a safe and responsible manner, click here for guidance from the state Department of Health.