1-day toy drive in Medina filled many bags with presents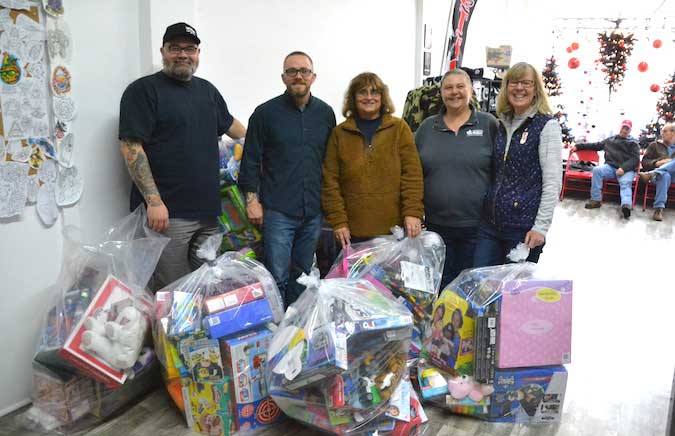 Photo by Tom Rivers
MEDINA – A one-day toy drive on Saturday during Medina's Olde Tyme Christmas celebration filled about a dozen bags with toys and also netted $930 to buy toys and food for families.
The toys were collected at Canalside Tattoo in on Main Street in Medina. The toys will go to the Medina Area Association of Churches for its Christmas Box Program and also to Community Action of Orleans & Genesee. People were welcome to drop off toys. For every toy donated or for every $5, people would get a chance to win one of 20 packages donated by local businesses.
Pictured, from left, include: Shawn Ramsey, owner of Canalside Tattoo; Andrew Szatkowski, toy drive chairman; Annette Finch, Community Services director for Community Action; Michelle Figueroa, case manager for Community Action; and Sherry Tuohey, coordinator of Christmas Box Program for MAAC.
The MAAC receives 20 percent of the donations which will go towards presents for 150 children in Medina.
Community Action receives 80 percent of the presents and money. That agency is putting together Christmas packages for about 500 families, including more than 1,000 children in Albion, Lyndonville, Holley and Kendall.
Szatkowski, chairman of the third annual toy drive, said this year's collection will be made in memory of Kelly Duffield, the owner of Rudy's Diner who died from cancer at age 49 on Oct. 21. Duffield helped collect gifts for the drive at Rudy's and also was a generous giver to the effort, Szatkowski said.
Duffield's son, Brodie Hoffmeister, has carried on his mother's support of the toy drive, allowing customers to leave presents at Rudy's ahead of Saturday, and also donating to the drive.