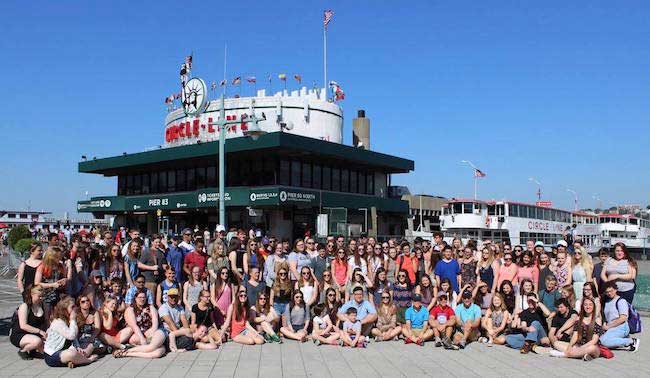 Press Release, Medina Mustang Band
Provided photo: The Medina Mustang Band traveled to New York City and New Jersey to perform in competition in the Music in the Parks Festival in Jackson, NJ.
This festival was started in 1981 and is a day-long event for students of choral, orchestral and band ensembles, held annually across the US. Music groups perform before adjudicators who rate the ensemble and then awards are issued at the end of the day.
There are many different categories in the Parks Festival, such as band, orchestra and choir. Each of these has a high school and junior high category. In parade, Medina won 1st place with a Superior rating and a score of 97.  In Concert, they won 1st place with a Superior rating and a score of 95.5, competing against six other bands which came from larger schools.  The jazz  band took 1st place with a Superior rating and a score of 94.  They competed against five other bands which also came from bigger schools.
Jim Steele, Medina band director, said the students did a great job in their performances. In addition to the competitions, the students and chaperones went sight-seeing around Midtown, took a boat tour around Manhattan and attended performances of "Wicked" and "Miss Saigon".  The chaperones are also to be commended for all of their diligence in keeping everyone on track with their busy schedule.
The next opportunity for the community to see the band perform their street show will be the Memorial Day parade on May 29th in Medina.