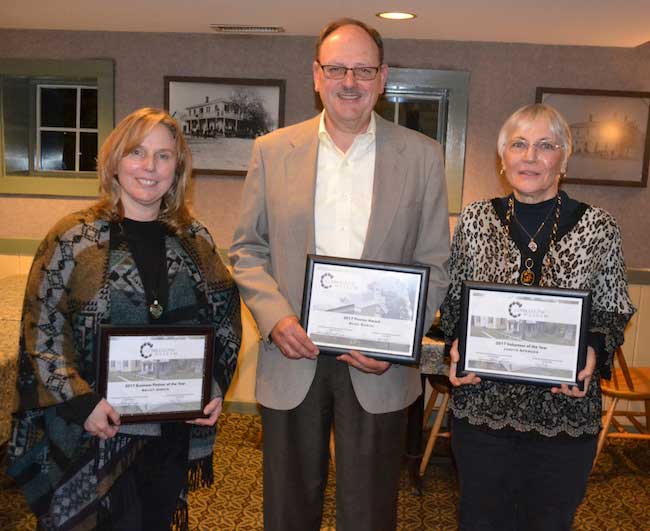 Photos by Tom Rivers
GAINES – The Cobblestone Society & Museum presented several awards to key supporters on Nov. 9 during the organization's annual meeting.
Pictured, from left, include: Becky Green, Business Partner of the Year; Russ Bosch, Proctor Award; and Judith Spencer, Volunteer of the Year.
Green was influential in helping the museum design a new logo and branding strategy. Bosch, husband of museum board member Erin Anheier, rebuilt the bell carriage at the historic cobblestone school house. He also put in a new floor in one of the bathrooms, and installed a new door that opens both ways in the lower level of the Cobblestone church building.
Spencer contributed 272 hours to the museum, leading tours, serving in the gift shop, helping with the used book sale, and helping to clean some of the historic sites, including a big effort for the outhouse tour. Spencer would often begin a tour of the museum by telling visitors, "Prepare to be amazed!"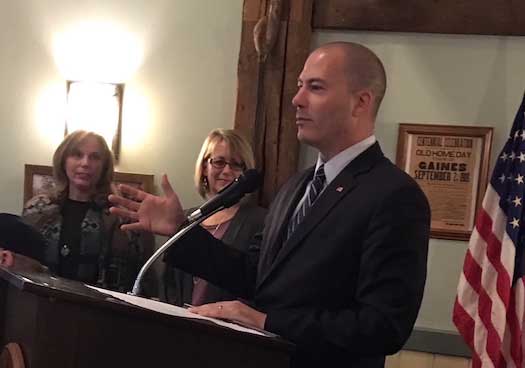 State Sen. Robert Ortt was named the museum's "New Partner of the Year." He secured a $10,000 state grant to help support the cultural and educational programs at the museum, which is a National Historic Landmark.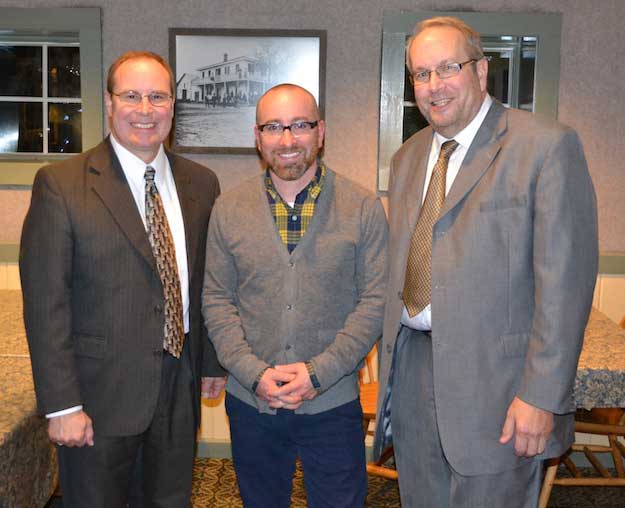 Chris Clemens, center, was the keynote speaker at the annual meeting. He is pictured with Board President Jim Bonafini, left, and Museum Director Doug Farley.
Clemens of Rochester has visited numerous small towns around the state, highlighting exceptional destinations for history, food and culture. He writes the Exploring Upstate blog. He shared advice for engaging with the public through social media. He suggests frequent posts without pushing products and advertising. Clemens cited Fort Stanwix, the Rochester Museum and Science Center, and the Schoharie Crossing as organizations that do a great job engaging the public through social media.
The museum has other events planned before the end of the year, including a Christmas tour of 19th Century historic homes. The eight sites will be decorated for the holidays and will be open for tours on Dec. 2 from 2 to 7 p.m. There is a cost to go on the tour. Click here for more information.
The museum also has a holiday shop open on Dec. 2 from 1 to 7 p.m. with Christmas decorations, gifts and a large collection of Coffee Table Books, including an assortment of Civil War titles. Click here for more information.
Also on Dec. 2, veteran instructor Brenda Radzinski will lead a 2-hour program on making a quilted Christmas ornament. Click here for more information.