To purchase an employment listing, click here.
---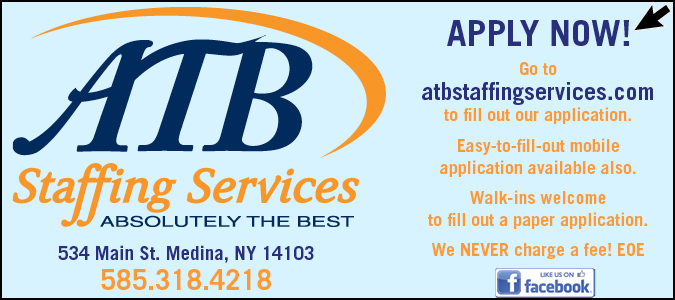 ---
Now Hiring
Oetiker provides customers with the peace of mind that their mission-critical components are reliably connected. We are a global leader in high-end connecting solutions for the vehicle industry and for high-value applications in industrial segments. Our expertise in high-quality clamps, rings, straps and quick-connectors ranges from powertrain and drivetrain applications to medical applications. We offer engineering, prototyping and testing support to quickly create comprehensive solutions for overcoming clamping and connecting challenges. With 1800+ employees in more than 25 countries and over 75 years of experience, we are the trusted, global, long-term partner for the world's leading OEMs.

Now hiring full-time machine operators for 2nd and 3rd shifts in Batavia, N.Y.
Motivated individuals with basic machining skills will be thoroughly trained to operate Multi-Spindle Automatic Screw Machines. Pay commensurate with experience.
Job Responsibilities:
• Monitor production to make sure it meets specifications through measuring tools and visual inspection
• Ensure production machines are stocked with material
• Remove machine chips to maintain production
Requirements:
• Mechanical ability
• Good visual attentiveness
• Basic math skills
• Ability to work independently
• Ability to use basic measuring tools, including but not limited to calipers, micrometers, dial indicators, etc.
• Ability to read basic blueprints
• High school diploma or GED
• Machine operation working experience or trade school a plus

Now hiring full-time Machine Set-Up for 2nd and 3rd shifts in Batavia, N.Y.
Job Responsibilities:
• Set up and maintain multi-spindle screw machines
Requirements:
• Ability to work independently
• Ability to use basic measuring tools, including but not limited to calipers, micrometers, dial indicators, etc.
• Ability to read basic blueprints
• High school diploma or GED
• A minimum of 5 years' experience setting up and maintaining screw machines
Benefits include the following:
• Group health, dental and vision
• Health Savings Account with company contribution
• Company paid life insurance
• Company paid LTD
• Company paid NYS STD
• Supplemental STD
• Voluntary life insurance
• Company 401k match
• Tuition reimbursement benefit
• Paid time off
• Service award bonus
• Annual bonus
Qualified candidates can email their resume to tracy.mault@oetiker.com, or apply in person:
Oetiker NY, Inc.
Suite 205
1 Mill Street
Batavia NY 14020

76527
---
Jobs! Jobs! Jobs!
Imagine Staffing
543B Main Street
Medina NY 14103
Now hiring – Apply today!

Open Interviews
Monday through Friday, 9-11 a.m. and 1-3:30 p.m.
(585) 228-9913 • (585) 228-5559
Appointments appreciated, but not necessary.
Bring 2 forms of ID and resumé with you.
EEO Employer – Veterans are encouraged to apply!
Apply online today!

Production/Assemblers
Akron companies seeking candidates to work 1st and 2nd shifts. Pay starts at $12 and goes to $18+ when hired permanently.

Welders/Production/Material Handlers
Openings at Brunner International. Pay depends on experience. 1st, 2nd and 3rd shifts available. Offers free dental and vision, health insurance, 401k, life insurance and more! Pay depends on experience.

Scientific/QC/Visual Inspection Postions
Must have minimum AAS degree, experience working in a pharmaceutical manufacturing environment preferred. Must be well versed with GMPs and SOPs. Aseptic experience a plus. Salary to $25+ DOE. Clarence area.

Production Openings
Chapin Manufacturing in Batavia and Clarence hiring for 3 shifts. Must have reliable transportation and an ability to follow instructions and use hand tools.

CNC/Material Handlers
Rochester companies looking for candidates with their high school diploma/GED. Must have experience with SOPs/GMPs. Pay depending on experience and position.

Maintenance Mechanic/Electrician
Must have solid experience working on machines, and must be mechanically and electrically inclined. Pay up to $30.50 plus shift differential.
Call Krista at 585-228-9913, or email kfiegel@imaginestaffing.net. Imagine NEVER charges our candidates a fee!

Baxter Healthcare
Hiring for 1st and 2nd shifts!
Entry-level and experienced manufacturing openings! This is a very clean facility, with a climate-controlled environment and a casual dress code.
Call Marcy at 585-228-5559, or email mboyce@imaginestaffing.net.

76575
---
Conservation District Manager
Orleans County Soil & Water Conservation District is seeking an enthusiastic, self-motivated manager to be responsible for all administrative and technical aspects of our county-wide natural resources program.

Minimum Qualifications:
Either:
A. Graduation from a regionally credited or NYS registered college or university with a bachelor's degree in physical science, environmental science, business administration, marketing, civil engineering or related field AND one year of experience in soil and water or related field;
OR B. Graduation from a regionally credited or NYS registered college or university with an associate degree in natural resource conservation, civil technology, construction technology or related field AND two years of experience in soil and water conservation or related field;
OR C. High school graduation with four years of experience in soil and water conservation;
OR an equivalent combination of training and experience as defined by the limits of (A), (B) and (C).

Substitution of Education for Experience:
Two full years of graduate-level education (27 credit hours) is equivalent to one year of experience.
Salary range $40,000 to $50,000, NYS Retirement and Health Insurance package. Interested candidates should request the vacancy announcement and application by calling the SWCD office at 585-589-5959 ext. 5, or emailing dennis.kirby@ny.nacdnet.net.
Applications must be received by Nov. 9, 2018.
Orleans County is an Equal Opportunity Employer.

76608
---
Farm Help Wanted
General Farm Operator
Applicant must have equipment experience. A farming background is preferred but not required. Flexible hours!
Apply in person at 1512 Kent Road, Kent, N.Y., or call 585-682-4435.

75723
---
Help Wanted
Antech Sales Inc. is looking for an electrical technician and control panel builder. Knowledge of industrial power, electrical components and AutoCAD required. Hours are Monday through Friday, 8 a.m. – 5 p.m. Pay rate based on experience. Send resume to Antech Sales Inc., 105 Elwood Ave., Medina NY 14103; or call 585-798-4300.

5060
---
Jobs! Jobs! Jobs!
ATB Staffing Services – Absolutely The Best!

Machine Operator
Medina area • Temp-to-hire
$12.00/hr. • Must be able to read a ruler
Excellent benefits package available, effective upon permanent hire
Packagers
Temp-to-hire
2 openings on 2nd shift (2-10:30 p.m.)
2 openings on 3rd shift (10 p.m. – 6:30 a.m.)
1 opening on 1st shift (6 a.m. – 2:30 p.m.)
Pay rates $11.61-12.26 • Medina area
Rework Project
Medina area • Several openings!
Temporary assignment expected to last 6-8 weeks
1st shift • Pay rate $11.61
Forklift
Barker area • $12/hr.
2nd shift • 3:30 p.m. until done
Must have experience • Two openings!
Machinist
Medina area • 1st shift
Experience with grinders, lathes and mills
Pay rate based on experience: $14-$21+
Machine Operator/Packer
Albion/Holley area • Temp-to-hire
Pay rate $11.50-$12.65 • Excellent opportunity!
12-hour shifts, 1st and 2nd shift available
Go to www.atbstaffingservices.com to fill out our application. Easy-to-fill-out mobile application available also. Walk-ins welcome to fill out a paper application at 534 Main St., Medina NY 14103. We NEVER charge a fee!
585.318.4218
EOE

76510
---
LPNs
The Villages of Orleans Health & Rehabilitation Center
Come join our team of caring professionals! We are a 120-bed facility in rural Albion, N.Y., hiring for all shifts.
• Substantial sign-on bonus for all positions with monthly distribution
• Competitive wages and shift differential
• Full time and part time positions available
Interested? Call Deb Donnelly, DON at 585-589-3247, or stop in and see us at:
The Villages of Orleans
14012 Route 31
Albion NY 14411
We look forward to meeting you!

76509
---
Join Our Team!
Intergrow Greenhouses is a grower/packer/shipper of greenhouse tomatoes located in Albion, N.Y.
We are currently looking for energetic, motivated people to join our crop care team. Candidates must be physically fit and able to stand for 8-9 hours per day.
We offer full-time employment in a clean, comfortable environment, with opportunities for development and career progression. Starting pay is $12.83 per hour. Our benefit package includes:
• Dependent Care FSA upon hire
• Health insurance, dental insurance, and HSA after 60 days
• 401k, six paid holidays and one week vacation after one year
Please apply in person:
2428 Oak Orchard Road
Albion NY 14411
While we sincerely appreciate all applications, only those candidates selected for interview will be contacted.

76513
---
CDL A Drivers Wanted
Potential for $48,000 plus for local
Shelby Transportation, located near Medina, N.Y., is now hiring 2 full-time drivers: one for round-trip regional runs (home 2 to 3 nights a week), must have Tank endorsement, no Hazmat; and one for round-trip local runs in the Western and Central New York areas. Tank endorsement a plus. On farm/agricultural tractor trailer driving experience strongly preferred. Both positions must have a minimum of 3 years' recent experience. Good MVR, No DUI/DWI. Excellent benefit and 401k package. Send resume or apply in person at 4141 Bates Road, Medina, N.Y. Excellent benefits package available.
Email: jobs@shelbytrans.com
4141 Bates Road, PO Box 191, Medina NY 14103

76463
---
Receptionist/Office Assistant
Our office has an opening for a part-time (12-15 hours/week), long term receptionist and office assistant. These hours will mainly be in the morning (8 a.m. – 1 p.m.), with evening flexibility, on occasion. You must have a friendly, warm and engaging personality. You must possess excellent verbal and written communication skills. You must be able to multitask, be detail-oriented, and work independently. You must be punctual, professional and discreet. You must be computer savvy and love to answer the phone. You must love people and have the ability to make them feel welcome and appreciated. A competitive hourly wage is offered.
Please send resume to oakorchardchiropractic@rochester.rr.com. No phone calls, please.

5070
---
Automotive Sales
Orleans Ford in Medina, N.Y. is looking for a goal-driven individual for our team. Our consultants average between 180 and 250 vehicles sold per year. Come join our winning team. Experience a plus, but not necessary. We offer salary plus bonus, 401k, health care benefits, and a great work environment.
Please send resume and contact information to saml@orleansford.com, or call 585-798-4316.
Orleans Ford
1405 S. Main St.
Medina NY 14103
74256
---
General Labor Help Wanted
Growing company looking for reliable, hardworking individuals with positive attitudes who can be flexible in job scheduling for the upcoming season.

Apple Packers, Sorters, Stackers – Seasonal
Apply at:
H.H. Dobbins, Inc.
99 West Ave.
Lyndonville NY 14098
Or, send resume to sseefeldt@wnyapples.com.
An equal opportunity employer

5098
---
HELP WANTED
Quality Assurance Technician. The Quality Technician role consists of testing & inspecting products at various stages of the production process. Compiling & evaluating statistical data to determine & maintain quality & reliability of products. Interested candidates must have the ability to learn & maintain accurate records, & possess basic math skills. High school diploma required. Associate degree in science-related field preferred. Please obtain an application at: Mizkan America Inc., 247 West Avenue, Lyndonville, NY 14098.
---
NEEDED
IN-HOME LICENSED NURSE. 7am-3pm Saturdays and Sundays. ALBION. 585.748.8638
---
Cashier, C/S Rep., Stock Handler, Custodial, Lt. Maintenance Positions Available! Applicants must be 21 yrs. old, HS Dip./GED, VALID NYS Driver's License. Must be eager to work in a fast-paced environment. Heavy lifting involved. FT/PT positions available. Sundays/Holidays a must! The Wine and Liquor Outlet, 5900 S. Transit Rd., Lockport, NY 14094. Apply in person. Call for details 716.434.4700
---
ROUTES OPEN
Wanted: RELIABLE carriers to deliver the Lake Country Pennysaver in Holley village. Email circulation@lakecountrymedia.com.
---
PERSONAL AIDE: Lady w/MS. Pivot transfer, flexible hours, rotating weekends. Send resume & phone#: Linda's Aide, PO Box 231, Albion, NY 14411.
---
Part-time Office Assistant for Raza Medical Office PLLC, 1038 Gwinn St., Medina. Send or fax resume to 585.798.4894
---
HELP WANTED: CONCRETE CONSTRUCTION WORKERS. Able to do concrete footers walls. Top pay. Benefits. 716.795.3887.
---
HELP WANTED
Entry-Level and Experienced Manufacturing Openings. 1st- & 2nd-shifts available. Benefits, Paid Time Off, 401k offered. Please obtain an application at: Mizkan, 247 West Avenue, Lyndonville, NY 14098.
---
Cleaning Service: 25 years experience. Commercial, residential. 2 cleaners for the price of 1. Fast, dependable. 585.705.1911.
---
WANTED: AIDE. PART-TIME. Please leave message. 585.589.4091.
---
CDL-A DRIVER NEEDED: Regional runs. Family-run business. Competitive wage and benefit package. 3 years of experience preferred, clean license. New equipment. No NYC or Canada. Please call Triple G Farms at 585.589.4134. Or logistics manager at 585.590.6297.
---
HELP WANTED
MAINTENANCE TECHNICIAN. Mizkan America Inc. is looking for a maintenance technician to maintain & repair a variety of production & facility equipment. Must be able to do preventative maintenance, troubleshoot, diagnose & repair equipment breakdowns involving mechanical, electrical, hydraulic & pneumatic components. Vocational Training or above preferred. Please send resume to: jessica.sanderson@mizkan.com
---
---