To purchase an employment listing, click here.
---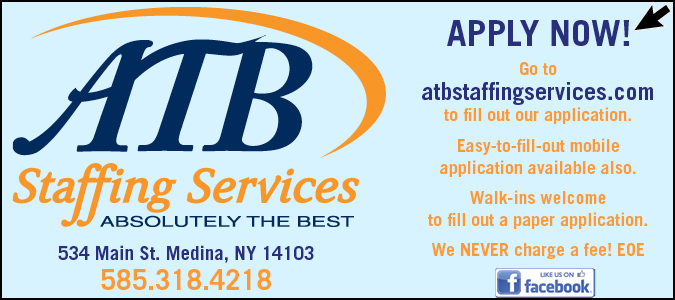 ---
Nursing Positions
The Villages of Orleans Health & Rehabilitation Center – Albion Skilled Nursing Facility is looking to hire for the following positions:

RNs, LPNs and CNAs
• All shifts
• Now using upgraded EMR system
• Recently negotiated rate increases
• Offering sign-on bonuses for full-time positions
Please contact Deb Donnelly to set up an interview at ddonnelly@thevillagesoforleans.com or 585-589-3247.

81564
---
Automotive Sales
Orleans Ford in Medina, N.Y. is looking for a goal-driven individual for our team. Our consultants average between 180 and 250 vehicles sold per year. Come join our winning team. Experience a plus, but not necessary. We offer salary plus bonus, 401k, health care benefits, and a great work environment.
Please send resume and contact information to saml@orleansford.com, or call 585-798-4316.
Orleans Ford
1405 S. Main St.
Medina NY 14103
74256
---
Wanted: Summer Help
Village of Albion Parks Maintenance
Three positions available!
Duties include mowing and trimming all village-owned parks, properties and zombie properties located within the village; watering flower baskets and planters each day; emptying garbage receptacles downtown and within the parks; opening parks up in the morning; checking the park bathrooms for cleanliness and making sure they are stocked with hand soap and toilet paper.
Work hours are 6 a.m. – 2 p.m. Monday – Friday. You will receive 40 hours in a typical work week at $11.80/hour. No nights, no weekends and no split shifts. You need to have a valid NYS driver's license and a good work ethic. Pick up an application at the Village of Albion office at 35 East Bank Street.

81556
---
Hiring – Immediate Openings!
Imagine Staffing
543B Main St.
Medina NY 14103
We are holding daily phone interviews!
9-11 a.m. and 1-3:30 p.m.
We love working with our veterans!
EEOC Employer
Apply online at ima.avionte.com

Light Industrial Positions
Starting at $14.40 (new rate) plus a 90-day pay increase. Monday – Thursday work week. Possible OT on Friday. High school diploma/GED and resume required.

Baxter
Pay increases after 90 days of full-time employment. 1st-shift positions.
Call Marcy at 585-228-5559, or email mboyce@imaginestaffing.net for more details.

81553
---
Essential and Hiring
In need of a job? Mizkan America, Inc. is essential and hiring!
Visit our Career Center and apply! View open positions for all U.S. locations.

81508
---
Bus Driver Positions Available
Community Action of Orleans & Genesee – To provide services, with dignity and respect, that help people become self-sufficient.
Come be part of a great team!
Part-time substitute
Competitive benefits package

Major Responsibilities
Safe transportation and assistance of passengers (children and adults) to and from school and/or appointments

Required Qualifications
• A clean CDL license with passenger and school bus endorsement
• Meet all rules and regulations required for DOT and NYS Office of Child and Family Services
• GED or high school diploma
• Position subject to pre-employment and random drug/alcohol testing
For further description and qualifications, go to our website: www.caoginc.org
Respond with cover letter or resumé to:
Human Resources & Payroll Administrator
409 E. State St.
Albion NY 14411
hr@caoginc.org
Or stop in for an application!
EEO/AAP

81357
---
Registered Nurse
Hospice of Orleans, Inc. is seeking a skilled and compassionate RN to join our team of outstanding professionals at our Martin-Linsin Hospice Residence. $1,000 signing bonus! This is an incredible opportunity to provide focused care to a maximum of 8 patients in conjunction with a dedicated and talented team of health care professionals. Our staff-to-patient ratio is unparalleled and offers the RN the ability to provide exceptional care to our patients in our beautiful, eight-bed, Martin-Linsin Hospice Residence in Albion, N.Y.
This full-time position works three 12-hour shifts per week (7 p.m. – 7 a.m.). The RN will also be offered the opportunity to cover on-call hours for our home care program, if desired, but not required. Weekend and holiday availability is required. Hospice experience is a plus, but not required. NYS RN nursing license is required. Health insurance, other insurances, IRA (3% match), vacation, and sick/personal time are offered. Hourly rate of pay is $25.50 – $31.35 plus shift differential.
Please send your resume and cover letter to Hospice of Orleans, Inc., Attn: Kellie Spychalski, CEO, PO Box 489, Albion NY 14411, along with your completed application found on our website at www.hospiceoforleans.org.

81538
---
Food Safety Manager
H.H. Dobbins Inc. is one of New York State's leading agricultural companies. Located in Lyndonville, N.Y., we are a grower, packer and shipper of fresh apples, pears, cherries and peaches. We are committed to excellence and being mindful of what is best for our growers, customers and associates. We are looking for talented and committed individuals to join our growing company.
The ideal candidate will have a strong work ethic and a positive attitude.
The Food Safety Manager will be responsible for all aspects of the company's food safety program. In addition, he/she will manage the cleaning crew to ensure all areas are cleaned in accordance with company policy.

Responsibilities
• Company Food Safety/HACCP Program – become certified as a HACCP Manager
• Third party food safety audits
• Daily facility sanitation programs
• Weekly food safety testing
• Food safety training programs
• Food safety reporting

Qualifications
• Associate degree or 3 years' experience in food science, chemistry, microbiology or science
• Experience with Microsoft suite of software and good computer skills
• Experience with food safety audits preferred but not required. Will train.
• Ability to work extended hours as needed
This position is full time with benefits. First shift and requires some overtime according to production needs. All positions are a fundamental part of our success.
Apply at:
H.H. Dobbins Inc.
99 West Ave.
Lyndonville NY 14098
Send resume to: sseefeldt@wnyapples.com
Click here to see all of the career opportunities at H.H. Dobbins.
An equal opportunity employer

6575
---
CDL Drivers
Growmark FS – Growing Your Expectations
Class A & B, full-time seasonal. Must be able to lift 50 pounds. Possible full-time employment with ag. experience.
Apply at 3854 Taylor Hill Road, Albion.
Or, click here to see all of the career opportunities at Growmark FS.

81179
---
CDL Driver Wanted
AMO Trucking is looking for a part-time class B driver for the upcoming 2020 harvest season. Well-maintained trucks and competitive pay.
Call Adam at 716-514-0978.

81462
---
CDL A/HAZMAT
LOOKING FOR PART TIME WORK for driving local. I have a clean driving record! CALL 585.590.7302
---
Equipment Operator
Must have experience running Excavator and Dozer. 585.764.7973
---
– HELP WANTED –
Looking for all phases of construction. Great pay and benefits, plus year-round work. All skill levels needed, full time and subcontractors. Call TOP GUN at 585.703.0352.
---
---