To purchase an employment listing, click here.
---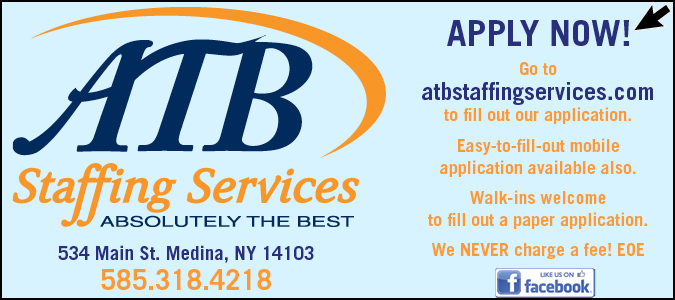 ---
Graphic Designer
Must fill full time position immediately!
Graphic design experience with proficiency in Adobe InDesign, Photoshop and Illustrator. A background in advertising, publication design and/or the printing industry is preferred. Requires excellent written and verbal communication skills with customer-service experience. Being able to work independently, under short deadlines, with great attention to detail is a must. Position requires proofreading, copywriting and editing, as well as some printing, copying, and bindery work. Minimum of three years of experience.
Interested professionals should send PDF of resumé and cover letter to:
graphicsdept1@gmail.com
Please provide a link to your portfolio.
Lake Country Pennysaver
170 N. Main St. • Albion NY 14411 • 585.589.5641
No walk-ins or phone calls, please

76974
---
Hiring!
The Arc of Genesee Orleans

What We Do
We are a partner for people with disabilities and a gateway to opportunities for each person to experience their desired potential.

What We Need
• Assistant Residential Manager
• Registered Nurse
• Family Support Specialist
• Direct Care – Residential and Day Programs
• Camp Rainbow: Summer Employment
• Pre-Vocational Counselor
• Community Relations Specialist

What We Offer
• Medical, dental, vision, life and disability insurance
• 401k: Match up to 5%
• Tuition reimbursement
For a full listing of all our positions and to apply, visit www.arcgo.org/employment-opportunities.

78378
---
Fantastic Opportunities! Apply Now!
ATB Staffing Services – Absolutely The Best!

Disassembler
Albion area • Temp-to-hire
Pay rate $11.10 • M-F 8 a.m. – 4:30 p.m.
Disassembling and sorting scrap recyclables

3rd-shift Sanitation
Barker area • 9:30 p.m. – 6 a.m.
Cleaning production lines • Pay rate $11.50

Production Associates
Barker area • Pay rate $11.50
1st and 2nd shift openings
Working 4- to 10-hour days, 3 days off!
1st shift 6 a.m. – 4 p.m.
2nd shift 4 p.m. – done (approx. 2:30 a.m.)

Machine Operator
Medina area • Temp-to-hire
$12.00/hour • Must be able to read a ruler
Excellent benefits package available, effective upon permanent hire

Production Associates
Batavia area • Openings on all 3 shifts
Pay rate $11.70 • Room to advance!
Go to www.atbstaffingservices.com to fill out our application. Easy-to-fill-out mobile application available also. Walk-ins welcome to fill out a paper application at 534 Main St., Medina NY 14103. We NEVER charge a fee!
585.318.4218
EOE

78382
---
Job Opportunities Unlimited!
Imagine Staffing

We have numerous openings for:
Production, Assembly, Grinders/Finishers, Welders/Fabricators, Drill Machinists, Maintenance Technicians, CNC Setup, Material Handlers, Packaging, QC Lab Technicians, and more!

Positions located in:
Akron and Corfu
Batavia and Albion
Clarence, Lancaster and Williamsville
Greece, Fairport and Rochester
Pay ranges from $12 to $25, depending on position and experience. Shifts: 1st, 2nd, 3rd and Swing. Excellent Benefits, 401k, vacation and more!

Open Recruitment at Albion Department of Labor
Wed., April 17 • 11 a.m. – 12 p.m.

Open Interviews
Monday through Friday, 9-11 a.m. and 1-3:30 p.m.
543B Main Street • Medina NY 14103
(585) 228-9913 • (585) 228-5559
Appointments appreciated, but not necessary. Bring 2 forms of ID and resumé with you. EEO Employer – Veterans are encouraged to apply! Imagine Staffing never charges a fee!
Contact Krista at 585-228-9913, kfiegel@imaginestaffing.net.
Marcy at 585-228-5559, mboyce@imaginestaffing.net.

78383
---
Plant Operator
Western New York Energy
Starts at $17.95 per hour. Performs routine production operations. Must be able to climb stairs and ladders. Must have a valid NYS driver's license. Must have a high school diploma/GED. Benefits include excellent health and dental insurance (70%-100% company paid), $50,000 company paid life insurance, matching 401k plan, paid time off, wellness benefits.
Apply:
4141 Bates Road/P.O. Box 191
Medina NY 14103
jobs@wnyenergy.com

76092
---
Automotive Sales
Orleans Ford in Medina, N.Y. is looking for a goal-driven individual for our team. Our consultants average between 180 and 250 vehicles sold per year. Come join our winning team. Experience a plus, but not necessary. We offer salary plus bonus, 401k, health care benefits, and a great work environment.
Please send resume and contact information to saml@orleansford.com, or call 585-798-4316.
Orleans Ford
1405 S. Main St.
Medina NY 14103
74256
---
Hiring Roofers and Laborers
• Full time
• Willing to train
• NYS driver's license a plus
Call our office: 716-433-2451

78047
---
Kendall Central School District Openings
Probationary School Psychologist
Opening September 2019
NYS School Psychologist certification required
Deadline to apply: April 12, 2019

Probationary Elementary Art
Opening September 2019
NYS Art (Visual Arts Grades K – 12) and Art Education certification required
Deadline to apply: April 5, 2019

Probationary Music K-12 Instrumental – General Music
Opening September 2019
NYS certification required
Deadline to apply: April 5, 2019

Probationary Elementary Teacher
Anticipated opening September 2019
Grades 1-6
Special Education and Literacy preferred
NYS certification required
Deadline to apply: April 12, 2019
Apply online at www.schoolfront.com, or send resume, cover letter, transcripts, professional references and certifications to:
Julie Christensen, Superintendent
Kendall CSD
1932 Kendall Road
Kendall NY 14476

78288
---
Mizkan is Celebrating!
Interested in working for Mizkan America, Inc.? We are celebrating 215 years of operation! View open positions for all U.S. locations. Visit our career center and apply at mizkan.com.

78336
---
Join Our Team!
Bonduelle – Come Grow With Us!
A world leader in frozen vegetable products, we are looking for career-minded people to join our team!
We currently have the following local opportunities available:

2nd Shift (3-11 p.m.)
• Packaging Associates $11.43/hr.
• Dump Room Laborers $12.82/hr.
Plus $.30/hr. shift premium!

3rd Shift (11 p.m. – 7 a.m.)
• Packaging Associates $11.43/hr.
• Dump Room Laborers $12.82/hr.
Plus $.65/hr. shift premium!
Extensive benefit opportunities: (medical, dental, vision, 401k + match, paid sick, paid vacation, 11 paid holidays, paid breaks and lunch, more!)
Apply in person: 180 State Street • Brockport, N.Y.
Or, via ca.hr.brockport@bonduelle.com.
Bonduelle is an Equal Opportunity Employer EOE M/F/D/V

78339
---
Lyndonville CSD Teaching Opportunities
2019-2020
• Elementary Education Teacher
• Special Education Teachers – 3
• Spanish Teacher
• Literacy Specialist
More information at www.lyndonvillecsd.org. Please apply online at www.wnyric.org/application.
Application deadline May 9, 2019
EOE

78307
---
Hiring Temporary Farmworkers
Orchard Dale Fruit Co. LLC • Waterport, N.Y.
#NY1294637 – 20 Openings – 05/25/19 – 11/16/19
In need of 20 temporary qualified laborers to work on fruit farm. Workers must be physically able to perform any combination of operating various machinery, including tractors, along with hand harvesting of apples, strawberries and blueberries. Pay will be both piece rate and hourly, with a guaranteed minimum of $13.25 per hour. Guaranteed opportunity to work ¾ of total workdays. Housing available at no cost to workers who cannot reasonably return to their residence at the end of each working day. Work tools, supplies, equipment provided without cost to worker. Transportation reimbursement and subsistence is provided upon completion of 50% of work contract. Workers referred to this order must have a minimum of three months' verifiable experience in performing the tasks posted in this job order, #NY1294637.
Applicants may apply for job opportunity by calling 716-517-0248 Monday-Friday between 9 a.m. – 12 p.m. and 1-3 p.m., or by contacting any NYS Department of Labor One Stop Center, phone number 877-466-9757, to review ETA-790 and attachments prior to arranging for an interview.

78289
---
Summer Jobs Available
Village of Albion Recreation Department
• Summer Park Supervisors
• Arts & Crafts Coordinator
Four hours per day, five days a week
Monday-Friday • Minimum wage

Apply to:
Albion Village Clerk's Office
Monday-Friday • 8 a.m. – 4 p.m.
Application deadline is Fri., May 10, 2019.
Must be a graduating senior and older. Those holding a current American Red Cross First Aid, CPR and AED Certification will have preference.

78287
---
Mason Laborer – Westco Masonry
Are you looking for a CAREER and not just a job? Apply for the mason laborer position with Westco Masonry to learn a trade. Must have your own vehicle for reliable transportation around the Greater Rochester Area.

Responsibilities:
Mixing mortar cement
Stacking block
Setting scaffold
Grading stone
Pinning concrete forms
Tend to the needs of the masons
Job type: Full-time
To apply, contact Kevin at 585-820-1923, or kwestco1@outlook.com.

5513
---
Commodity Handler
Western New York Energy, Medina

Nature of Work:
Operates and maintains machinery and equipment necessary in the unloading of corn and loading of distillers and ethanol

Essential Responsibilities and Duties:
• Inspect grain received to ensure that it meets company standards
• Timely loading and unloading of ethanol, distiller's grains and other products by railcar and truck
• Housekeeping, maintaining cleanliness and organization of all areas of the department
• Operating rolling stock that includes loader, railcar mover, skid steer and forklift

Qualifications:
• Good written and verbal skills
• Ability to work well with others and also work independently

Education and Experience:
• High school diploma/GED required
• Demonstrated competencies
• Experience with loading equipment
• Work experience and equivalent to 2 years of experience in core essential responsibilities and duties
• Computer experience a plus
Physical Demands:
• Ability to lift 50 lbs.
• Use ladders and stairs
• May spend up to 8 hours on your feet
Send resumes to:
Western New York Energy
4141 Bates Road
P.O. Box 191
Medina NY 14103
77907
---
CDL A Drivers Wanted
Shelby Transportation, located near Medina, N.Y., is now hiring a full-time driver for round trip, local runs in the Western and Central New York areas. Tank endorsement a plus. On-farm/agricultural tractor trailer driving experience strongly preferred. Must have a minimum of 3+ years' recent experience. Good MVR, no DUI/DWI.
Excellent benefit and 401k package.
Send resume or apply in person:
jobs@shelbytrans.com
4141 Bates Road
PO Box 191
Medina NY 14103

77937
---
Nurses Wanted
The Villages of Orleans Health & Rehabilitation Center in Albion is looking to complement our
healthcare staff by hiring additional nurses.
We are looking for:
RNs, LPNs and CNAs
All shifts. We now offer competitive wages and substantial shift differential for 2nd and 3rd shifts!
Please contact Brittany Roberts to set up an interview at broberts@thevillagesoforleans.com, or 585-589-3231.

78182
---
Help Wanted
Responsible & reliable individual for full-time work available in gutters, roofing & siding. Own tools &transportation needed. If interested call Brian 585.755.4268
---
DUMP TRUCK DRIVERS. TriAxle and 6-wheel drivers wanted. Minimum CDL-B required. Experience preferred but will train. Good starting pay. Email bankstruckinginc@aol.com or call 585.802.5109.
---
HELP WANTED: Experienced Concrete Construction Workers. For footers & walls. Days pay $40 w/benefits. Transportation a must. 716.870.8718.
---
HIRING
ATTENTION: Laborers and Equipment Operators. We are looking for qualified candidates to add to our great team of personnel. Email your resume to Jen@arthillexc.com or stop in the office for an application. Art Hill Excavating 4040 Bates Road, Medina NY
---
HOME HEALTH AIDE: Part-time possible Full-time. Kendall area. 585.659.2280.
---
BE IN BUSINESS for yourself but not by yourself. Opening for Real Estate Sales Agent. Commission-based. Full or part-time. Call to learn how to change your future to a prosperous one. Early Sunrise Realty LLC. 585.638.0020
---
CDL DRIVER WANTED
HIRING! Class B/ Class A drivers. Dump Truck experience is required. We are looking for long term employees. Must be physically capable of cleaning out truck box and tarping loads. Some light mechanical abilities will be necessary. Email your resume to Jen@arthillexc.com or visit our office for an application. Art Hill Excavating Inc. 4040 Bates Road, Medina NY.
---
DENTAL HYGIENIST: $30/hour. 1, 2, 3 & 3 1/2 day positions available. No nights or weekends. Office in Middleport. 716.531.3137
---
HELP WANTED: TRACTOR DRIVER/ MECHANIC. Full time. Triple G Farms 585.589.4134
---
Office Assistant
Position: Part-time. 12-16 hours per week with additional, occasional weekly vacation coverage. No weekends required. Excellent phone manner, computer skills and reliability required. Apply in person, Frontier Heating & AC Service, M-F 7:30-4:00pm. 115 E. Bank Street, Albion.
---
CONCRETE LABORER/FINISHER (Newfane area) position available. Must have clean drivers license. CDL classification a plus but not necessary. Ability to set grade and forming. Starting pay will be determined on proof of experience. Call 716.778.5499
---
WANTED TO HIRE
Driver for 6-wheel dump truck. Requires a Class B driver's license, $15/hr. Call Richard 585.749.8403
---
CHAFFEE FARMS LLC is seeking a self-motivated individual for Field Crop Operations. A CDL and agricultural background is preferred. Mechanical ability is a plus. Interested candidates please e-mail resume to CRM243@cornell.edu or send to PO Box 8 Lyndonville, NY 14098 or call 585.409.1479.
---
PERSONAL CARE AIDE: Part-time 7am-3pm. No experience needed, will train. Must work every other weekend and some holidays. Applications available at Applegate Manor, 400 Ohio St., Medina.
---
---