To purchase an employment listing, click here.
---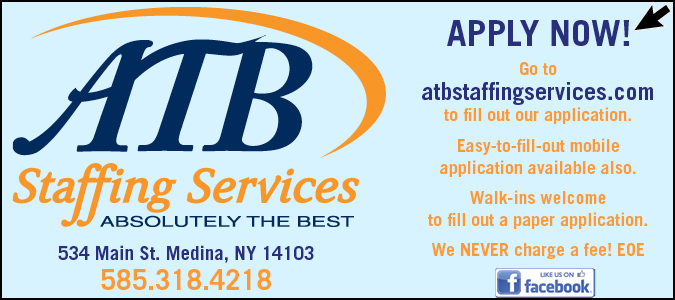 ---
Customer Service Representatives
Velocitti – Join a growing team with unlimited growth potential!

Open Interviews
Tue., Aug. 20 • 8 a.m. – 12 p.m.
Mon., Aug. 26 • 1-4 p.m.
Thu., Aug. 29 • 4-6 p.m.
711 Park Ave., Medina NY 14103
Please bring your resume
79673
---
Custodial Worker
Albion Central School job opportunity
High school diploma or equivalent; able to perform routine grounds and maintenance tasks; and other related work as required. Non-competitive Civil Service appointment. Interested candidates may send a letter of interest and resume to:
Cindy Ishmael
Albion Central School
324 East Ave.
Albion NY 14411
Application deadline: Aug. 23, 2019
EOE

79626
---
We Want You!
Imagine Staffing – Stop in today!
Hiring for companies in Orleans, Erie, Monroe and Genesee counties, such as:
• Akron Door Mfg. and Perry's Ice Cream
• Yancey's Fancy and Baxter Healthcare
• Freeze Dry and Solar Mfg. Co. in Buffalo
Candidates needed for assemblers and production, quality inspectors, technicians, food sanitation, general laborers, machine operators, grinders, finishers and welders.
Call Krista at 585-228-9913, or email kfiegel@imaginestaffing.net.

Open Interviews for Baxter
9-11 a.m. and 1-3:30 p.m.
Looking for technicians
1st shift: 5:30 a.m. – 4 p.m.
Call Marcy at 585-228-5559
543B Main St.
Medina NY 14103
Veterans are encouraged to apply – EEOC Employer

79660
---
Help Wanted
Part time. Tuesday and Thursday mornings. Driver helper for the Ministry of Concern Furniture Program. Great job for a college student or early retiree. Ability to move and lift furniture.
Email resume and letter of interest to director@ministryofconcern.org.

79669
---
Help Wanted – Apply Now!
ATB Staffing Services – Absolutely The Best!

Warehouse Assistants
Medina area • M-F • Assembling promotional displays
7 a.m. – 2:30 p.m. • Temporary position • $12
2nd-shift Packaging Associates
Medina area • Long-term temp to last through the end of the year
2-10:30 p.m. • Pay rate $12.01
Machine Operators
Medina. M-F, 6 a.m. – 2:30 p.m. Temp-to-hire. Excellent work environment. Excellent benefits package upon permanent hire. Must be able to read a ruler. Pay rate $12.00, increases to $12.50 upon permanent hire. Great opportunity!
2nd-Shift Production
Barker area • 4 p.m. until done (approx. 2:30 a.m.)
4- to 10-hour days • 3 days off • Pay rate $11.50
2nd-Shift Fork Lift
Barker area
3:30 p.m. – 2 a.m. • 4 days on, 2 days off rotating
Previous experience • Pay rate $13
Go to www.atbstaffingservices.com to fill out our application. Easy-to-fill-out mobile application available also. Walk-ins welcome to fill out a paper application at 534 Main St., Medina NY 14103. We NEVER charge a fee!
585.318.4218
EOE

79661
---
H.H. Dobbins, Inc. – Help Wanted
Our company is one of New York State's leading agriculture companies. Located in Lyndonville, N.Y., we are a grower and packer of apples. We are committed to excellence and being mindful of what is best for our growers, customers and associates. We are looking for talented and committed individuals to join our growing company. The ideal candidates will have a strong work ethic and a positive attitude.

Forklift Drivers
The forklift drivers report to the operations manager. The forklift drivers are fundamental during our apple harvest season to unload apples that are in bins and reload empty bins to the correct apple growers. RESPONSIBILITIES: Ability to unload full bins of apples from flatbed trucks in a quick, safe manner. Complete paperwork for returning empty bins to apple growers. Stack empty/full bins according to apple variety/grower. QUALIFICATIONS: Experience driving propane/electric forklifts. Able to work safely in a fast-paced environment. Attention to detail with the ability to count. These positions are seasonal, September – April. First shift, and requires some overtime according to production needs. All positions are a fundamental part of our success.

Maintenance Mechanic
The maintenance mechanic will report to the maintenance manager. This position requires hands-on maintenance of a variety of machinery with the ability to perform unsupervised tasks in a timely manner, and to troubleshoot issues and resolve them quickly. RESPONSIBILITIES: Maintain/repair production line equipment. Preventive maintenance on conveyors. May include farm machinery maintenance. QUALIFICATIONS: Minimum 5 years of experience in machine maintenance. Strong mechanical aptitude. Light fabrication abilities a plus. Commercial electrical installation/repair experience preferred. Competitive salary plus benefits. The ideal candidate will have a strong work ethic, a positive attitude, and be willing to work overtime as needed based on production needs.

Cleaning Supervisor – 2nd Shift
The cleaning supervisor will report to the food safety and quality manager. The cleaning supervisor will be responsible for all aspects of building and facility cleaning. In addition, he/she will manage the cleaning crew to ensure all areas are cleaned daily. RESPONSIBILITIES: Cleaning production lines – ensure machines are cleaned daily. Pre-op inspections of facility to ensure production is ready for the following day. Assist quality control in environmental testing programs. QUALIFICATIONS: Experience supervising team members in a fast-paced setting. Knowledge of cleaning procedures and materials. High attention to detail. 2nd-shift availability. Competitive salary plus benefits.

Open Interviewing
Aug. 20, 2019 from 9 a.m. to 12 p.m.
New York State Department of Labor
Orleans Center For Workforce Development
458 West Ave.
Albion NY 14411
Or, apply at:
H.H. Dobbins Inc.
99 West Ave.
Lyndonville NY 14098
Send resume to sseefeldt@wnyapples.com
Website: unitedapplesales.com
An Equal Opportunity Employer

79622
---
Automotive Sales
Orleans Ford in Medina, N.Y. is looking for a goal-driven individual for our team. Our consultants average between 180 and 250 vehicles sold per year. Come join our winning team. Experience a plus, but not necessary. We offer salary plus bonus, 401k, health care benefits, and a great work environment.
Please send resume and contact information to saml@orleansford.com, or call 585-798-4316.
Orleans Ford
1405 S. Main St.
Medina NY 14103
74256
---
Hiring Roofers and Laborers
• Full time
• Willing to train
• NYS driver's license a plus
Call our office: 716-433-2451
78047
---
Bus Driver Positions Available
Community Action of Orleans & Genesee – To provide services, with dignity and respect, that help people become self-sufficient.
Come be part of a great team!
Full Time • Substitute
Competitive benefits package

Major Responsibilities:
Safe transportation and assistance of passengers (children and adults) to and from school and/or appointments.

Required Qualifications:
• A clean CDL license with passenger and school bus endorsement
• Meet all rules and regulations required for DOT and NYS Office of Child and Family Services
• GED or high school diploma
• Position subject to pre-employment and random drug/alcohol testing
For further description and qualifications, go to our website.
Respond with cover letter or resumé to:
Human Resources & Payroll Administrator
409 E. State St.
Albion NY 14411
Or stop in for an application!
EEO/AAP

78751
---
PERSONAL CARE AIDE: Part-time 7am-3pm & 3pm-11pm. No experience needed, will train. Must work every other weekend and some holidays. Applications available at Cloverhill, 355 S. Main St., Albion
---
Help Wanted: DUMPTRUCK DRIVER. Local work. Part-time/Full-time. Finnefrock Paving. 585.638.5011.
---
Auto Body Tech
Busy shop looking for dedicated, experienced Auto Body Technician. Pay based on experience. Apply in person. Frank's Auto Center, 14040 West Ave., Albion
---
Barden Building Systems: Several Positions Available. Framers/Laborers/Assemblers. Now accepting applications for openings in Wall panel & Truss assembly. Framing/Construction Experience necessary. Manufacturing/Assembly line, exp. a plus. Must be detail oriented, motivated, dependable, able to lift 50# & able to work flexible schedule. Competitive pay, benefits, 401k, etc. Apply in person or submit resume with salary requirements to HR@Bardenhomes.com. Barden Building Systems, 103 Kelly Ave., Middleport, NY 14105. Fax: 716.735.3752.
---
Positions Open!!!
Interested in Working for Mizkan America Inc.? View Open Positions for all US Locations. Visit our Career Center and Apply!
---
HELP WANTED: Automotive Tech. Drivers license, NYS Inspectors license & tools a must. Computer knowledge & ASE certification helpful. Apply @ Keding Automotive Service – 309 East Ave., Albion.
---
---