To purchase an employment listing, click here.
---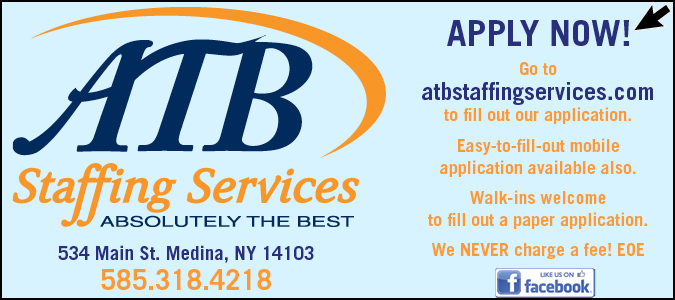 ---
Now Hiring School Bus Drivers
Ridge Road Express
Immediate openings in Albion and Lyndonville
Looking for a new opportunity? We are excited to continue our partnership with Albion and Lyndonville central schools. Start at $16/hour. Paid training for your CDL. Openings for Class B with Passenger Endorsement. No experience necessary. Work 25-30 hours per week. Five paid holidays, attendance bonus, 401k. Contact us today about your new career!

Albion:
585-589-2070
Or, apply in person at the Albion Bus Garage, 254 East Ave., Albion

Lyndonville:
585-765-2701
Or, apply in person at 25 Housel Ave., Lyndonville
Learn more at stacareers.com

80221
---
Part-Time Cook
Must be able to work every other weekend and occasional holidays. Apply in person only. No phone calls, please.
The Willows
459 E. Oak Orchard St.
Medina NY 14103

80172
---
Baxter Open House
Imagine Staffing – Apply today and work tomorrow!

Fri., Oct. 25 • 10 a.m. -1 p.m.
Tech II starting at $14
QA Techs starting at $16.35
after 90-day pay increase
Call Marcy at 585-228-5559
Baxter is currently expanding due to market demand. Over 20 day shift openings.
Imagine Staffing is also hiring for companies in Erie, Orleans, Genesee and Monroe counties, including Akron Door Manufacturing, Yancey's Fancy, Perry's Ice Cream, Chapin, Dimar, Freeze Dry, a solar manufacturing company in Buffalo, LiDestri Food & Drinks in Rochester, and the largest solar panel company in New York State.
Some openings include:
• Aeronautical companies seeking assemblers
• Production
• Assembly
• Forklift Operators
• Food Sanitation
• Mechanical/Electrical Techs
• Maintenance Techs
• Electronic Techs
• QA Techs
• Machine Operators
• Grinders
• Brazing
• Welding (MIG/TIG)

Daily Open Interviews:
9-11 a.m. and 1-3:30 p.m.
543B Main St.
Medina NY 14103
We LOVE working with our veterans!
EEOC Employer
Call Krista at 585-228-9913, or email kfiegel@imaginestaffing.net.

80198
---
Dishwasher
Must be at least 16 years old. Full time or part time.
Apply in person:
Village House Restaurant
16 East Ave., Albion

80241
---
Jobs, Jobs, Jobs! Apply Now!
ATB Staffing Services – Absolutely The Best!

2nd-shift Production
Barker area • 4 p.m. until done (approx. 2:30 a.m.) • Pay rate $12.25
Production Associates
Temp-to-hire • Batavia area • Pay rate $12.50
Food manufacturing experience a plus • 1st shift • Mandatory overtime
Permanent pay rate increases to $13/$14 based on position
Kitchen Cook/Assistant
Two openings. Medina area. Temp-to-hire. 10:30 a.m. – 7 p.m. Every other weekend required. Prep, serve and cleanup. Great benefits if hired permanently. Sick, vacation, holiday and birthday pay. 401k, vision, dental and medical. Sign-on bonus if hired permanently. Pay rate $14.50 – Cook, $12.75 – Assistant. ServSafe certification helpful. Excellent opportunity!
Packaging Associates
Several immediate openings • All shifts
Medina area • Pay rate $11.98 – $12.63
Long-term temp to last through the end of the year
Great opportunity to make some extra $$ for the holidays!
Go to www.atbstaffingservices.com to fill out our application. Easy-to-fill-out mobile application available also. Walk-ins welcome to fill out a paper application at 534 Main St., Medina NY 14103. We NEVER charge a fee!
585.318.4218
EOE

80197
---
$500 Sign On Bonus / Paid Training
The Arc of Genesee Orleans
Work to support individuals with developmental disabilities achieve their goals.
Now hiring for Genesee and Orleans counties:
• Care Providers
• Assistant Residential Manager
• Residential Manager
• Coordinator of Residential
• 1:1 Care Provider
• Day Hab Manager
• Meals on Wheels Driver
• Adult Driver
• Accounting Assistant
• Speech Pathologist
www.arcgo.org/employment-opportunities
(must meet qualifications for sign on bonus)

80119
---
Join Our Team!
Intergrow Greenhouses is currently looking for highly motivated Crop Care Team Members! Starting wage is $13.25/hour, with the potential to earn weekly bonuses and piece rates.
Apply online at www.intergrowgreenhouses.com, or in person at 2428 Oak Orchard Road, Albion NY 14411.

79842
---
Kendall CSD Night Cleaner
$11.80/hour. Competitive benefits package. Hours: 2:30-11 p.m. Deadline to apply: As soon as possible. Complete an Orleans County Civil Service application (link on Kendall CSD website) and submit to:
Julie Christensen
1932 Kendall Road
Kendall NY 14476

80111
---
Help Wanted
H.H. Dobbins, Inc.
Our company is one of New York State's leading agriculture companies. Located in Lyndonville, N.Y., we are a grower and packer of apples. We are committed to excellence, and to being mindful of what is best for our growers, customers and associates. We are looking for talented and committed individuals to join our growing company. The ideal candidates will have strong work ethics and positive attitudes.

General Laborer
Packers and Box Stackers
These positions report to the Pack House Manager.
Packers pack apples into bags, trays and boxes according to variety and size.
Box Stackers stack boxes on pallets according to variety and size.
These positions are seasonal, September-April. First shift, and requires some overtime according to production needs. All positions are a fundamental part of our success.
Apply at:
H.H. Dobbins Inc.
99 West Ave.
Lyndonville NY 14098
Send resume to sseefeldt@wnyapples.com.
unitedapplesales.com
An equal opportunity employer

80207
---
Plant Operator
Starts at $17.95 per hour. Performs routine production operations. Must be able to climb stairs and ladders, have a valid NYS driver's license, and have a high school diploma/GED. Benefits include excellent health and dental insurance (70%-100% company paid), $50,000 company paid life insurance, matching 401k plan, paid time off, wellness benefits.
Apply:
4141 Bates Road
P.O. Box 191
Medina NY 14103
79825
---
Bus Driver Positions Available
Community Action of Orleans & Genesee – To provide services, with dignity and respect, that help people become self-sufficient.
Come be part of a great team!
Full Time • Substitute
Competitive benefits package

Major Responsibilities:
Safe transportation and assistance of passengers (children and adults) to and from school and/or appointments.

Required Qualifications:
• A clean CDL license with passenger and school bus endorsement
• Meet all rules and regulations required for DOT and NYS Office of Child and Family Services
• GED or high school diploma
• Position subject to pre-employment and random drug/alcohol testing
For further description and qualifications, go to our website.
Respond with cover letter or resumé to:
Human Resources & Payroll Administrator
409 E. State St.
Albion NY 14411
Or stop in for an application!
EEO/AAP

78751
---
Automotive Sales
Orleans Ford in Medina, N.Y. is looking for a goal-driven individual for our team. Our consultants average between 180 and 250 vehicles sold per year. Come join our winning team. Experience a plus, but not necessary. We offer salary plus bonus, 401k, health care benefits, and a great work environment.
Please send resume and contact information to saml@orleansford.com, or call 585-798-4316.
Orleans Ford
1405 S. Main St.
Medina NY 14103
74256
---
WANTED
Massage Therapist, Hair Stylist, Nail Technician. Spaces are available for rent. Call Gretchen 585.331.6291. Revival Beauty Parlor
---
Are you retired or just want something to do for about 1 hr. a day to be a NURSES HELPER? Also needed 3 PART-TIME LPNs. Days, evenings & nights every other weekend & prn. Please Call 585.589.0576, ask for Laura or Krista.
---
BE IN BUSINESS for yourself but not by yourself. Opening for Real Estate Sales Agent. Commission-based. Full or part-time. Call to learn how to change your future to a prosperous one. Early Sunrise Realty LLC. 585.638.0020
---
HELP WANTED: Part time PCA. Flexible, Dependable able to work 7-3, or 3-11, or 11-7, occasional holiday. Must be able to pass background check. Apply in person ONLY. The Willows, 459 E. Oak Orchard St., Medina, NY 14103.
---
---