To purchase an employment listing, click here.
---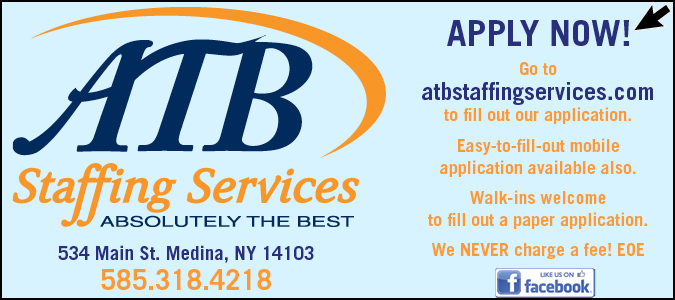 ---
Automotive Sales
Orleans Ford in Medina, N.Y. is looking for a goal-driven individual for our team. Our consultants average between 180 and 250 vehicles sold per year. Come join our winning team. Experience a plus, but not necessary. We offer salary plus bonus, 401k, health care benefits, and a great work environment.
Please send resume and contact information to saml@orleansford.com, or call 585-798-4316.
Orleans Ford
1405 S. Main St.
Medina NY 14103
74256 TFN
---
Join Our Team!
Intergrow Greenhouses is currently looking for highly motivated harvesters! Starting wage is $14.29/hour, with the potential to earn weekly bonuses and piece rates.
Apply online at www.intergrowgreenhouses.com, or in person at:
2428 Oak Orchard Road
Albion NY 14411
82573 1023
---
JOBS, JOBS, JOBS!
Machinist/Welder-Fabricator
Medina area • Temp-to-Hire • Experience Required
Pay rate based on experience & interview, $15-$20+
Benefits package upon permanent hire
Packagers
Medina Area • ALL SHIFTS! • Temp to Hire • Drug Screen/Background check • Pay rate starts at $13.50 + $2/hr incentive pay! And shift differential! • Mandatory Overtime
Machine Operator
Medina Area • Temp to Hire! • Great opportunity • Excellent company! Full benefits package effective immediately upon permanent hire! (401k, Health Insurance, PTO & Holiday Pay) • $14.00/hr • Pay increase to $14.50 upon permanent hire • Must be able to read a ruler!
Packagers
Corfu Area • 1st shift • Mandatory Overtime • Experience in food manufacturing preferred • Requires drug screen and background check Pay rate $13/hr increases to $14/hr upon perm hire
Production Associates
Barker area • Several immediate openings!
1st shift-6am-4pm • Pay Rate $14.00
We will be scheduling in office appointments again. One person at a time and masks will be required at interview. Please call to schedule an appointment. Thank you!
Go to www.atbstaffingservices.com to fill out our application. We NEVER charge a fee! EOE
ATB Staffing Services • 534 W. Main St., Medina, NY 1413 • 585.318.4218
82758 1009
---
CDL A Drivers Wanted
Potential for $53,000+ for Local
Located near Medina, N.Y.
Shelby Transportation is now hiring a full-time driver for round trip, local runs in the Western and Central New York areas (home every night). Tank endorsement a plus. On-farm/agricultural tractor trailer driving experience strongly preferred. Minimum of 3 years' recent experience preferred for both positions. Good MVR, No DUI/DWI. Excellent benefit and 401k package.
Send resume or apply in person at:
4141 Bates Road
Medina NY 14103
jobs@shelbytrans.com
82426 TFN
---
Laboratory Technician
Western New York Energy
Job Description
Performs physical, chemical and biological tests in support of plant operations and quality control. Operates and maintains scientific equipment, including Ph meters, spectrophotometers, analytical balances, GC, HPLC, centrifuges and hydrometers. Calculates, measures and prepares reagents and solutions for plant and laboratory use. Helps maintain and order lab inventory. Assists in training operations personnel. Person skills: must have good written and verbal skills. Good candidates will have a solid mathematical capability, a strong interest in science, and a willingness to learn.
Requirements
Candidates should be able to demonstrate a good scientific background. Entry level candidates should have a 2- or 4-year degree in a chemistry, biochemistry or cell biology related field. Mid-career candidates should have at least 2 years' experience working in a chemical laboratory environment. Candidates should have experience with troubleshooting and the maintenance of the HPLC, Gas Chromatograph and Ion Chromatograph.
Position: Full-time days, Monday-Friday; excellent benefits.
Send resumés to:
Western New York Energy
4141 Bates Road
P.O. Box 191
Medina NY 14103
jobs@wnyenergy.com
82481 TFN
---
CDL A Drivers
Seeking drivers age 25+ w/3+ years of verifiable experience, DOT physical, & clean Class A CDL. Mixture of local (home nightly) and regional (1 night in truck) runs. Business is almost entirely 1-pick/1-drop truckload within the northeast.
Apply in person at: Elder Trucking
1754 Waterport Rd., Waterport, NY 14571
Call 585.682.4282 or email ElderTrucking@wildblue.net.
Refrigerated experience & knowledge of grocery warehouse & food processing plant locations helpful. Performance based pay. Benefits negotiable.
76019 – 11/9
---
Truck Driver Wanted
• Steady work
• Great pay
• Local storage shed manufacturer
• Clean work environment
• Includes doing installations and service work
Call Caleb at Heritage Structures: 585-735-2003
81866 TFN
---
Plant Operator
Starts at $17.50 per hour. Performs routine production operations. Must be able to climb stairs and ladders. Have a valid NYS driver's license. Have a high school diploma/GED. Benefits include excellent health and dental insurance (70%-100% company paid), $50,000 company paid life insurance, matching 401k plan, paid time off, wellness benefits.
Apply:
4141 Bates Road
PO Box 191
Medina NY 14103
jobs@wnyenergy.com
82381 TFN
---
H.H. Dobbins, Inc. Help Wanted
H.H. Dobbins Inc. is one of New York State's leading agricultural companies. Located in Lyndonville, N.Y., we are a grower, packer and shipper of fresh apples, pears, cherries and peaches. We are committed to excellence and being mindful of what is best for our growers, customers and associates. We are looking for talented and committed individuals to join our growing company.
The ideal candidate will have a strong work ethic and a positive attitude.
Packers and Stackers 1st Shift
These positions report to the Pack House Manager.
Packers- pack apples into bags, trays, and boxes according to variety and size.
Stackers- stack apple boxes according to variety and size. Must be able to lift 30lbs-50lbs.
These positions are first shift and requires some overtime according to production needs.
Cleaners 2nd Shift- several positions
Cleaners are responsible for cleaning the apple production equipment, floors and all general building sanitation. Cleaner positions are 2nd shift and require some overtime according to production needs.
Apply at:
H.H. Dobbins Inc.
99 West Ave.
Lyndonville NY 14098
Send resume to sseefeldt@wnyapples.com
Website: unitedapplesales.com
An equal opportunity employer
82666 TFN
---
Town of Albion Highway is accepting applications for a
PT hourly MEO position
Must have valid Class B driver's license.
Please inquire at Albion Town Hall Highway Dept.
3665 Clarendon Road, Albion, NY 14411
email: highway@townofalbion.com or call 585-589-7048 ext. 3
82768 1023
---
COOK: Part time. 7am-3pm, Some cooking experience preferred, but will train. Must work every other weekend and some holidays. PERSONAL CARE AIDE: Part time. 3pm-11pm and 11pm-7am. No experience needed, will train. Must work every other weekend and some holidays. Applications available at Cloverhill, 355 S. Main St., Albion
---
ROUTE OPEN
Wanted: RELIABLE walking carrier to deliver the Lake Country Pennysaver in the Albion village.
Email circulation@lakecountrymedia.com.
---
Cashier, C/S Rep., Stock Handler, Custodial, Lt. Maintenance Positions Available! Applicants must be 21 yrs. old, VALID Driver's License. Must be eager to work in a fast-paced environment. Some heavy lifting involved. Full time/Part time/ seasonal positions available. Sundays/Holidays a must! The Wine and Liquor Outlet, 5900 S. Transit Rd., Lockport, NY 14094. Apply in person. Call for details 716.434.4700
---
Truck Driver
Local Truck (Dump) Driver. Full or Part Time. Must have CDL A or B. Call Colton 585.797.7546
---
POSITION: CUSTOMER SERVICE REPRESENTATIVE. Full time. 40 hours per week, no weekends required. Excellent phone manners, computer skills and reliability required. $18.00 hourly. Apply in person only at Frontier Heating & AC Service, 115 E. Bank St., Albion. Mon.-Fri. 7:30-4:00.
---
WANTED
SNOW PLOW DRIVERS. Must be dependable. Tim Newton Enterprises 585.682.7724
---
CLEANING HELP for Fishing Lodge. Change beds, clean baths, vacuum. No laundry. Pay per unit cleaned. Good opportunity for cash tips. Must be available late mornings/ midday. Carlton and Kent area. Call 585.682.4546, leave message.
---
HELP WANTED: DAIRY COW MILKER. Reliable and motivated individual needed for 350 cow dairy. Experience preferred. Dependable transportation. Email: dairymilker66@gmail.com
---
HELP WANTED
HHA NEEDED for 12 hour shift Saturdays. 8am-8pm. Call 585.589.4091 and leave contact information.
---
HELP WANTED at TRANSIT TIRE. 585.589.8473.
---
Local company seeking Tanker Endorsed Class A CDL Holder to pickup and deliver milk from farm to local destinations. Competitive pay, health ins., vacation, holiday and overtime pay. Home everyday. Send qualifications to: rdrowcliffe@yahoo.com or call 716.474.1548
---