To purchase an employment listing, click here.
---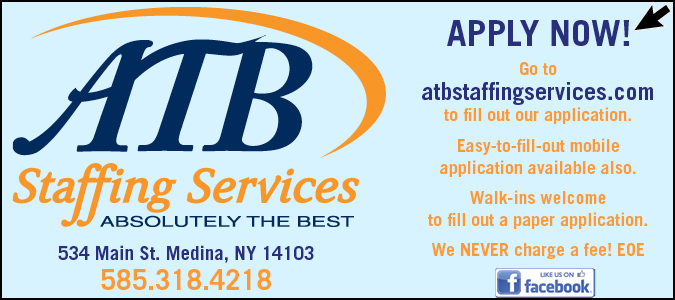 ---
Executive Director
Overview:
The Board of Directors of Community Action of Orleans & Genesee (CAOG) is recruiting a new Executive Director who will be responsible for the oversight and operation of the organization. CAOG, with a mission "To provide services, with dignity and respect, that help people become self-sufficient," is a part of a network of 48 Community Action agencies in New York State.
The Executive Director functions as the Chief Executive Officer and must possess excellent leadership, communication and facilitation skills. The Executive Director has the responsibility to implement and enforce agency and program policies established by the Board of Directors, provide leadership, and direct the operations of the agency with a focus on the mission, and ensure that sound systems are in place to facilitate provision of quality services. Additionally, the Executive Director is responsible for the overall growth and stability of the organization from all aspects, with particular attention to financial viability, community relations, visibility, planning, and supervision of core management positions. The Executive Director should be financially savvy and politically astute with the ability to set clear priorities, delegate, and guide investment in people and systems with keen analytic, organization and problem-solving skills.

Qualifications:
• Bachelor's degree in human services, public administration, business administration or related field; a master's degree in human services, public administration, business administration or related field is preferred.
• A minimum of five (5) years of progressively responsible experience in a human services capacity, with demonstrated ability to conceive, plan and execute programs to meet community needs (particularly low-income and disability needs).
• A minimum of three (3) years of proven successful supervisory and management experience is required. Preference may be given to a candidate with CCAP and/or ROMA certification.
• Personal background checks (state and federal) including fingerprints will be required.
The salary range for this position is $85,000-$95,000 annually based upon experience; residency in Orleans or Genesee County within one year of accepting the job is required.
See the job description for additional information, including essential responsibilities, work environment and qualifications.

To Apply
Send resume and cover letter to the New York State Community Action Association (NYSCAA) at jobs@nyscommunityaction.org dated no later than July 31, 2020.
Community Action is an Equal Opportunity Employer. EEO Contact Person: Susan Jessmer sjessmer@caoginc.org

6872
---
Truck Driver Wanted
• Steady work
• Great pay
• Local storage shed manufacturer
• Clean work environment
• Includes doing installations and service work
Call Caleb at Heritage Structures: 585-735-2003

81866
---
Automotive Sales
Orleans Ford in Medina, N.Y. is looking for a goal-driven individual for our team. Our consultants average between 180 and 250 vehicles sold per year. Come join our winning team. Experience a plus, but not necessary. We offer salary plus bonus, 401k, health care benefits, and a great work environment.
Please send resume and contact information to saml@orleansford.com, or call 585-798-4316.
Orleans Ford
1405 S. Main St.
Medina NY 14103
74256
---
Barden Building Products – Several Positions Available
Framers / Laborers / Assemblers / Loaders
Now accepting applications for several openings in wall panel and truss assembly. Framing/ construction experience necessary. Manufacturing / assembly line experience a plus. Must be detail-orientated, motivated, dependable, able to lift 50 pounds, and able to work a flexible schedule. Competitive pay, benefits, 401k, etc.
Apply in person, or submit resume with salary requirements to: HR@Bardenhomes.com.
Barden Building Products
103 Kelly Ave.
Middleport NY 14105
Fax: 716-735-3752

6871
---
Now Accepting Applications
Orleans/Niagara BOCES is now accepting applications for:
• Welding Instructor
• Special Education Teacher
• Security and Law Instructor
• School Counselor/School Social Worker
• Electricity/Electronics Instructor
• Animal Science Instructor (part-time)
• Speech Language Pathologists (full-time and part-time)
• Health Occupations Coordinator (full-time or part-time)
• Keyboard Specialist (Typist)
• School Nurse
• Substitute Teachers
• Substitute Teacher Aides
• Nurses and Clerical
Competitive benefits package. Please visit our website employment page.
Retirees welcome to apply
EOE

82140
---
Imagine Staffing is Proud to Partner with Baxter Healthcare in Medina!
We're hiring for the following:

1st and 2nd shift Production
Starting at $14.40. Position comes with a 90-day pay increase. 2nd shift has a shift differential.
Proof of high school diploma/GED is required. Veterans are strongly encouraged to apply. EOE.
Call me today at 585-228-5559 to start the quick and streamlined process!
Or, apply online at ima.avionte.com
543B Main St.
Medina NY 14103

82139
---
Building and Grounds Cleaners
Kendall Central School District
Two full-time positions for 2:30-11 p.m.
One part-time position for 5-11 p.m.
$11.80/hour
To begin as soon as possible
Also taking applications for:
• Substitute Teachers
• Teacher Aides
• Drivers
• Food Service Helpers
• Cleaners
Complete an application (click here) and submit to:
Julie Christensen
KCSD
1932 Kendall Road
Kendall NY 14476

82135
---
Apply Now! Several Openings!
ATB Staffing Services – Absolutely The Best!

Lab Tech/Service Coordinator
Lockport area. Temp-to-hire. 1st shift. Starting in lab learning product, then eventually evolving into a clerical position as Service Coordinator/Receptionist. Must have good communication skills, verbal and written. Must be professional with visitors and customers. Pay rate $13. Pay rate increase when transitioned to Service Coordinator position: $15.

Machine Shop Assistant
Newfane area. Part-time, 18-24 hours per week. Prep work of materials / mill work, cutting tubing, etc. Must be able to read a ruler to 3/32 and run basic machinery and tools. Work week is Monday-Thursday. Closed on Friday. Pay rate starts at $13, with a possible increase based on skills and work ethic.

Label Machine Operator
Lyndonville area. 1st shift, M-F, 6:30 a.m. – 4:30 p.m. Previous manufacturing experience. Must be reliable, attentive and detail-oriented. Basic math skills a must. Pay rate $16.

Warehouse Crew Member
Corfu area. Previous forklift experience required. Stand-up forklift, powered and hand pallet jacks. Pull daily shipping orders. General upkeep of warehouse. Must have high school diploma or GED. Pay rate $13, increases to $14 upon permanent hire.

Production
Lyndonville area. Temp-to-hire. Dumping empty bottles onto bottling line. Several openings. Days and split shift. Pay rate starts at $14 plus shift differential.

Batchers & QA Techs
Barker area. 1st and 2nd shift. $14.25/hr. Must have good math skills and be able to lift up to 50 lbs. regularly. 1st shift 4 a.m. – 2:30 p.m., 2nd shift 2:30 p.m. – done. Experience very strongly preferred.
We will be scheduling in-office appointments again at 534 Main St., Medina NY 14103. One person at a time, and masks will be required at interview. Please call 585.318.4218 to schedule an appointment. Thank you!
Go to www.atbstaffingservices.com to fill out our application. We NEVER charge a fee!
EOE

82156
---
Drivers Needed
Bidleman Chevrolet Buick GMC
Part and full-time positions immediately available. Must be 21 years or older and have clean, valid NYS driver's license. We offer several benefits, including a competitive wage.
Please apply in person, or email resumé to Sam LaNasa at saml@bidlemanchevy.com.
(585) 589-7056
4048 Oak Orchard Road
Albion NY 14411

82145
---
Orleans Community Health is in Need of CNAs
The Certified Nurse's Aide is responsible for assisting with the administration of direct patient care and related duties, to provide the optimal level of care, under the direction of the Professional Nurse.
Shall be listed in the NYS RHCF Nurse Aide Registry.
High School graduate or GED diploma. Any other requirements of NYS Department of Health. CPR certification, or will obtain within six months of employment.
Send resume to:
Human Resources
200 Ohio St.
Medina NY 14103
Email to tmcadoo@medinamemorial.org
Fax to 585-798-8486
www.orleanscommunityhealth.org

82129
---
Kelly Services is Hiring!
Immediate Openings: Machine Operation and Assembly
Temp-to-hire • Orleans County
$13.00-$14.30 • All shifts available
$400 bonus upon permanent hire with the company!
Call Kelly Services to apply!
585-768-4380

82158
---
Help Wanted
H.H. Dobbins, Inc. • Lyndonville, N.Y.

Apple/QC Sorting Technician
We are looking for a motivated individual who would like a career with our growing company. H.H. Dobbins, Inc. has a modern, state-of-the-art packing facility. The technician will be trained to operate and maintain our produce optical sorting system and will be responsible for the final quality of the packed product. In addition, he/she will work with the quality control team.
Responsibilities:
• Identify/manage product defects to meet grower/customer specifications
• Identify varieties, sizing, and color variances
• Basic maintenance of the Vision optical sorting system
Qualifications
• Excellent PC skills, specifically Microsoft Word and Excel
• Great interpersonal skills, including negotiation and effective communication
• Basic mechanical aptitude and ability
• Excellent troubleshooting / problem solving skills
• Excellent organizational skills, including the ability to effectively plan, manage time, and prioritize
This position is full time with benefits – vacation/sick days, 401k, health insurance. Minimum high school diploma required.

Packers and Sorters
1st shift seasonal. Packers and sorters pack apples into bags, trays and boxes according to variety and size. These positions are seasonal, first shift, and require some overtime according to production needs.

Cleaners
2nd shift. Several positions. Cleaners are responsible for cleaning the apple production equipment, floors, and all general building sanitation. Cleaner positions are seasonal, 2nd shift, and require some overtime according to production needs.

Forklift Drivers
Several positions, full time and seasonal. First shift, and requires some overtime according to production needs.

Quality Control Technician
The technician is responsible for the QC of all products to help ensure food quality for growers and customers. This position is full time with benefits.

Apply at:
H.H. Dobbins Inc.
99 West Ave.
Lyndonville NY 14098
Send resume to sseefeldt@wnyapples.com
Website: unitedapplesales.com
An Equal Opportunity Employer

82109
---
Bus Driver Positions Available
Community Action of Orleans & Genesee – To provide services, with dignity and respect, that help people become self-sufficient.
Come be part of a great team!
Part-time substitute
Competitive benefits package

Major Responsibilities
Safe transportation and assistance of passengers (children and adults) to and from school and/or appointments

Required Qualifications
• A clean CDL license with passenger and school bus endorsement
• Meet all rules and regulations required for DOT and NYS Office of Child and Family Services
• GED or high school diploma
• Position subject to pre-employment and random drug/alcohol testing
For further description and qualifications, go to our website: www.caoginc.org
Respond with cover letter or resumé to:
Human Resources & Payroll Administrator
409 E. State St.
Albion NY 14411
hr@caoginc.org
Or stop in for an application!
EEO/AAP

81357
---
HELP WANTED
Dollinger's Motor Inn, 436 West Ave, Albion. Hiring for Desk Clerk and Housekeeping. Call 585.589.6308 or visit us.
---
LPN HOME CARE NURSE NEEDED. Variable hours discussed at interview. $25.96/hour. Call 585.589.0576
---
ROUTE OPEN
Wanted: RELIABLE walking carrier to deliver the Lake Country Pennysaver in the Holley village. Email circulation@lakecountrymedia.com.
---
Caring CNA Needed
Part-time CNA job available in Middleport for elderly stroke victim. $12.36 weekends and afternoons. Caring, experienced and reliable applicants please contact 716.735.7828 or bipgutierrez@yahoo.com
---
$13-$17/hour for eligible person. MEDICAL ASSISTANT. Must know keyboarding & data entry. Please fax resume to 585.798.4894 or drop at Raza Medical Office, Medina.
---
ROUTE OPEN
Wanted: RELIABLE walking carrier to deliver the Lake Country Pennysaver in the Medina village. Email circulation@lakecountrymedia.com.
---
---