To purchase an employment listing, click here.
---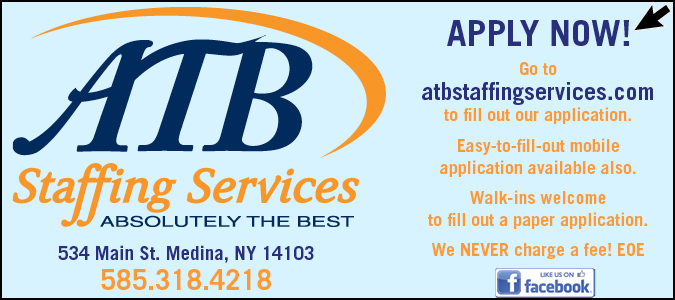 ---
Plant Operator
Starts at $17.95 per hour. Performs routine production operations. Must be able to climb stairs and ladders, have a valid NYS driver's license, and have a high school diploma/GED. Benefits include excellent health and dental insurance (70%-100% company paid), $50,000 company paid life insurance, matching 401k plan, paid time off, wellness benefits.
Apply:
4141 Bates Road
P.O. Box 191
Medina NY 14103
79825
---
Automotive Sales
Orleans Ford in Medina, N.Y. is looking for a goal-driven individual for our team. Our consultants average between 180 and 250 vehicles sold per year. Come join our winning team. Experience a plus, but not necessary. We offer salary plus bonus, 401k, health care benefits, and a great work environment.
Please send resume and contact information to saml@orleansford.com, or call 585-798-4316.
Orleans Ford
1405 S. Main St.
Medina NY 14103
74256
---
Open Interviews – $500 Sign-on Bonus!
Hiring compassionate caregivers to impact the lives of others

Tue., Dec. 10 • 10 a.m. – 1 p.m.
Albion Career Center
458 West Ave. #3, Albion
Several positions available:
• Entry level and management
• Days, evenings, overnights and weekends
• Full-time, part-time and relief
For a full listing of all our positions and to apply, visit us online.
Must meet qualifications for sign-on bonus.

80675
---
Help Wanted
Brunner International, Inc. • Medina, N.Y.
Nationwide leader in the manufacturing of parts for the trucking industry
Our growing operation is in need of additional assistance in the following areas:

Riveters – 2nd shift
Press Operators – 1st and 3rd shifts
Fabrication Parts Hanger, Transfer Line and Stacker – 1st, 2nd and 3rd shifts
Electrician – Shift to be determined
Brunner has an excellent compensation and benefits package, including health, free dental, free uniforms, short and long term disability, life insurance, 401k with employer contribution, and financial incentives for attendance and safety.
Come join our team! Ask about our starting wages!
Visit our website for detailed job descriptions, and apply directly online at hr@brunnerinc.com, or you can stop in at 3959 Bates Road, Medina NY 14103; or fax your information to Sandy at 585-798-5919.
An Equal Employment Opportunity Employer

80719
---
Long-term Substitute
NYS Certified Social Studies Teacher
To begin mid-March to June 24, 2020 at Kendall Junior-Senior High School, 16887 Roosevelt Highway, Kendall NY 14476.
Complete an application on the www.schoolfront.com website for Kendall CSD. Or, send your resume, certifications, three professional letters of reference, transcripts and cover letter to jchristensen@kendallschools.org, or mail to:
Julie Christensen
1932 Kendall Road
Kendall NY 14476

80696
---
The Holidays are Quickly Approaching!
Imagine Staffing – Apply today for extra cash!

Manufacturing and Assembly Openings in Akron for 2nd shift. Pay starts at $14 and goes to $18 after only 10 weeks. Excellent health benefits!
Also hiring for companies in Erie, Orleans, Genesee and Monroe counties, including Yancey's Fancy, Perry's Ice Cream, the largest solar panel company in New York State, Dimar and Freeze Dry.
Some openings include assembly, production, electronic and quality technicians, maintenance tech with solid mechanical and electrical skills, food batching, forklift operators, machine operators, food sanitation and welders.
Call Krista at 716-425-8239, or email kfiegel@imaginestaffing.net.

Daily Open Interviews
9-11 a.m. and 1-3:30 p.m.
543B Main Street
Medina NY 14103
We love working with our veterans! EEOC Employer.

Baxter
Currently expanding due to market demand
Tech II starting at $14 and QA Techs starting at $16.35 (after 90-day pay increase)
Call Marcy at 585-228-5559.

80712
---
Tax Preparer Needed
No experience necessary. Training is provided. Medina/Albion. Resumes accepted at ct12252020@gmail.com, or call 716-939-3163. If no answer, please leave a message.

6264
---
Part-Time Campus Center Associate
Genesee Community College has an opening for a part-time campus center associate at our Albion Campus Center (19.5 hours/week).
This position will work in a collaborative team environment involving academic advisement, outreach and recruitment, student and faculty support, customer service, and other functions related to the general operations of the Center. Associate degree and a minimum of one year of working in a clerical and/or customer service-related role is required; bachelor's degree preferred. Preference will be given to individuals with experience in higher education and/or with academic programs.
Deadline for applications is Dec. 29, 2019.
For more details and to apply online, visit www.genesee.edu/employment/. Please include a cover letter, resume, and contact information for four references.
GCC is an Affirmative Action/Equal Opportunity Employer, committed to fostering diversity in its faculty, staff, and student body, and strongly encourages applications from the entire spectrum of a diverse community.

80698
---
School Cafeteria Monitor
Albion Central School District employment opportunity
Qualifications: High school graduate or GED; ability to establish good relationships with children and peers; neat personal appearance; exhibits tact, courtesy and good judgment when working with students and adults
Non-competitive Civil Service labor appointment
Applications are available at the Albion Central School District Office, 324 East Ave., Albion NY 14411; or call Cindy Ishmael at 585-589-2055.
Application deadline: Dec. 23, 2019
EOE

80693
---
Personal Care Aides
In-home care
Flexibility and benefits available
$11.75 per hour
Independent Living of the Genesee Region
113 Main St. • Batavia, N.Y.
585-815-8501 ext. 403

80694
---
Job Opportunities! Apply Now!
ATB Staffing Services – Absolutely The Best!

1st-shift Batcher
Barker area • 4:30 a.m. – 2 p.m.
4 days on, 2 days off, rotating schedule
$13.25/hr. • Must be able to lift 50 lbs.
Must have good basic math skills

Warehouse Crew Member
Corfu area • 1st shift
1+ years of warehouse experience • Pay rate $13
Previous fork lift certification a must • High school diploma or equivalent

2nd-shift Manufacturing Sanitation
Corfu area • Hours: 4 p.m.- done
Must have experience in food manufacturing sanitation
Pay rate $15 – increases to $17 if hired permanently

Production Associates
Temp-to-hire • Batavia area • Pay rate $12.50
Food manufacturing experience a plus
1st shift • Mandatory overtime
Permanent pay rate increases to $13/$14 based on position

Kitchen Assistant
Two openings. Medina area. Temp-to-hire. 10:30 a.m. – 7 p.m. Every other weekend required. Prep, serve and clean up. Great benefits if hired permanently. Sick, vacation, holiday and birthday pay. 401k, vision, dental and medical. Sign-on bonus if hired permanently. Pay rate $12.75. ServSafe certification helpful. Excellent opportunity!
Go to www.atbstaffingservices.com to fill out our application. Easy-to-fill-out mobile application available also. Walk-ins welcome to fill out a paper application at 534 Main St., Medina NY 14103. We NEVER charge a fee!
585.318.4218
EOE

80713
---
CDL A Drivers Wanted
Potential for $48,000+ for Local
Shelby Transportation, LLC, a subsidiary of Western New York Energy, LLC, located near Medina, N.Y., is now hiring 2 full time drivers: one for round trip regional runs (home 2 to 3 nights per week), must have Tank endorsement, no Hazmat; and one for round trip, local runs in the Western and Central New York areas. Tank endorsement a plus. On-farm/agricultural tractor trailer driving experience strongly preferred. Both positions must have a minimum of 3 years' recent experience. Good MVR, No DUI/DWI. Excellent benefit and 401k package.
Send resume or apply in person at 4141 Bates Road, Medina NY 14103; or email jobs@shelbytrans.com.

80620
---
Sales and Leasing Consultant
Hartway Motors
Growing GM dealer looking for motivated sales and leasing consultant to join our team. No Sundays. Computer-oriented. Will train the right person.
Our company has grown 30% in the last 12 months. We will pay competitive base salary, plus commission, medical and 401k. Forty-hour work week.
Send resume to John Poler: polerjohn@yahoo.com, or call 585-798-2400.

74410
---
Drivers CDL-A
Local manufacturer with company-owned fleet looking for experienced drivers. We offer the following:
• Local runs (WNY)
• Overtime after 40 hours
• 401k retirement
• Medical benefits
• Paid holidays and vacations
• Top-notch equipment
• Year-round work if mechanically inclined
• $19-$23/hr. depending on experience
Please send resume by email to recruiting@firstadmingrp.com, or by mail to:
First Admin Group
PO Box 396
Batavia NY 14021
EOE/AA/F/M/D/V

80472
---
Cashier, C/S Rep., Stock Handler, Custodial, Lt. Maintenance Positions Available! Applicants must be 21 yrs. old, VALID Driver's License. Must be eager to work in a fast-paced environment. Some heavy lifting involved. Full time/Part time/ seasonal positions available. Sundays/Holidays a must! The Wine and Liquor Outlet, 5900 S. Transit Rd., Lockport, NY 14094. Apply in person. Call for details 716.434.4700
---
LPN NEEDED. ALBION. In-home nurse. $23.20/hr. 7am-3pm & 3pm-11pm. 585.748.8638
---
NURSES AND NURSES HELPER NEEDED. New Wage Scale – Medicaid NPI helpful but not necessary. Please call 585.589.0576. Ask for Laura or Krista for available shifts
---
Substitute Postions
Holley CSD is seeking candidates for the following substitute positions: School Nurse (RN), Health Assistant (LPN), School Bus Driver (We provide training). Please email cnenni@holleycsd.org to obtain an application.
---
ROUTES OPEN
Wanted: RELIABLE walking carriers to deliver the Lake Country Pennysaver in the Albion & Medina village. Email circulation@lakecountrymedia.com.
---
---