To purchase an employment listing, click here.
---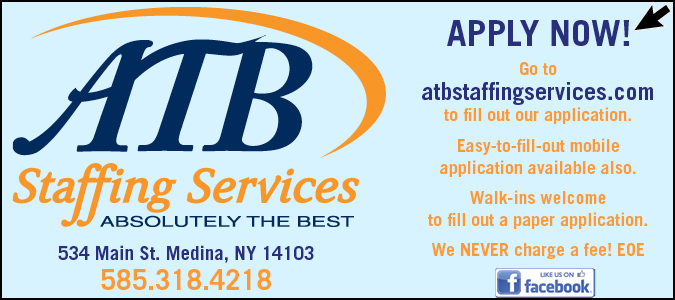 ---
Automotive Sales
Orleans Ford in Medina, N.Y. is looking for a goal-driven individual for our team. Our consultants average between 180 and 250 vehicles sold per year. Come join our winning team. Experience a plus, but not necessary. We offer salary plus bonus, 401k, health care benefits, and a great work environment.
Please send resume and contact information to saml@orleansford.com, or call 585-798-4316.
Orleans Ford
1405 S. Main St.
Medina NY 14103
74256
---
Maintenance Helper
Orleans Community Health has a per diem opening for a maintenance helper.
The maintenance helper will assist maintenance mechanics in PM's (preventative maintenance) and repair of hospital equipment to provide a safe environment for all patients, staff and visitors within the facilities, as well as maintaining the physical plant and off-sites.
High school or trade school diploma. Mechanically inclined. Current NYS Security Guard License.
Send resume to:
Human Resources
200 Ohio St.
Medina NY 14103
Email to: tmcadoo@medinamemorial.org
Fax to: 585-798-8486
www.orleanscommunityhealth.org

77766
---
CDL Drivers
Growmark FS – Growing Your Expectations!
Class A and B, full-time seasonal. Must be able to lift 50 lbs.
Apply at 3854 Taylor Hill Road, Albion, or visit us online.
Possible full-time employment with ag. experience.

77776
---
New Year! New Job!
The Arc of Genesee Orleans
Apply online: www.arcgo.org/employment
• Direct Care: Residential
• Direct Care: Day Programs
• Assistant Manager
• Accounting Assistant
• Job Coach
• Behavior Technician
• Registered Nurse
• Pre-Vocational Counselor
• Community Services Manager
• Bus Driver
• MOW Driver
• COTA
• Physical Therapist
• Speech Pathologist
• Special Education Teacher
Positions available in Genesee and Orleans counties.
Visit our website to see all employment opportunities and job qualifications.
Excellent benefits! Paid time off! Paid holidays! 401k match! Paid training!

77774
---
Looking For Good Candidates! Apply Now!
ATB Staffing Services – Absolutely The Best!

Production/Fork Lift
Barker area • 2nd shift and swing shift
Pay rates start at $11.50
Machinist
Medina area • 1st shift
Experience with grinders, lathes and mills
Pay rate based on experience: $14-$21+
Production
Medina area • Temp-to-hire
All 3 shifts • Pay rate $11.61-$12.36
Great opportunity and room to advance!
Part-Time Office Assistant
Medina area • 15-20 hours/week
$12-13/hour • Associate degree preferred
Small business looking for professional team player. Must be responsible, reliable, and willing to learn new things. Three days a week, but must be flexible. Proficient in Microsoft Office.
Machine Operator
Medina area • Temp-to-hire
$12.00/hour • Must be able to read a ruler
Excellent benefits package available, effective upon permanent hire.
Go to www.atbstaffingservices.com to fill out our application. Easy-to-fill-out mobile application available also. Walk-ins welcome to fill out a paper application at 534 Main St., Medina NY 14103. We NEVER charge a fee!
585.318.4218
EOE

77819
---
Park Director
The Town of Barre is seeking applications for the position of Barre Park Director. Please submit a letter of interest by March 4, 2019 with your full name, address and phone number to:
Town of Barre
14317 West Barre Road
Albion NY 14411

77831
---
School Bus Attendants/Drivers
Holley Central School District is seeking candidates for the following:

School Bus Attendants
Full-time and substitutes
Need to be currently certified in basic first aid and CPR

School Bus Drivers
Substitutes – we will train
Call 585-638-6297 for more information. Please print and complete the Civil Service application found at www.holleycsd.org and return to:
Holley CSD
3800 North Main St. Road
Holley NY 14470

77780
---
Courier
Orleans Community Health has a per diem opening for a courier.
The courier will be responsible for providing a pickup and delivery service of pertinent and timely items, i.e. supplies, documents, packages, mail delivery, lab specimens, and other items between departments and other locations within the hospital system's facilities. Courier or delivery experience preferred.
Must maintain a valid NYS driver's license, along with proof of auto insurance if driving his or her private vehicle.
Send resume to:
Human Resources
200 Ohio St.
Medina NY 14103
Email to: tmcadoo@medinamemorial.org
Fax to: 585-798-8486
www.orleanscommunityhealth.org

77765
---
Multiple Positions Available
Imagine Staffing

Yancey's Fancy needs candidates for packaging, production and sanitation. 1st and 2nd shifts, M-F plus OT.
Akron door manufacturer looking for individuals with construction experience, math and measurement skills. 1st and 2nd shifts.
Clarence pharmaceutical company seeking candidates with AAS/BS in biology or chemistry, lab and QC technicians, and warehouse associates. 1st and 2nd shifts.
Rochester companies seeking CNC machine setup, CNC mills and lathes, CNC maintenance mechanics, material handlers, quality inspectors, and welders. Excellent pay structure and benefit packages!
Production Associates needed for Chapin Manufacturing in Batavia for all three shifts!
Contact Krista at 585-228-9913, kfiegel@imaginestaffing.net, or Marcy at 585-228-5559, mboyce@imaginestaffing.net.
Open Interviews:
Monday-Friday, 9-11 a.m. and 1-3:30 p.m.
543B Main Street, Medina NY 14103
(585) 228-9913 • (585) 228-5559
Appointments appreciated, but not necessary. Bring 2 forms of ID and resumé with you. EEO Employer – Veterans are encouraged to apply! Apply online today. Former employees are encouraged to contact us about new opportunities. Don't be shy!

77823
---
Help Wanted
Growing Lyndonville company is looking for a person to join its team. Duties might include everything from lab work, clean up, light maintenance and early morning deliveries. Position is part time for now, but might grow to full time for right person. No experience necessary.
Contact Casey at 585 318 4782.

5386
---
PART-TIME OFFICE. 1 or 2 days/week, 9am-5pm. Pleasant telephone skills, computer, Word, Excel, website helpful. Send resume to: Office P.O. Box 187, Albion.
---
Full/Part-time Medical Assistant for Raza Medical Office PLLC, 1038 Gwinn St., Medina. Up to $15/hr. for experienced/qualified person. Send or fax resume to 585.798.4894
---
ROUTE OPEN
Wanted: RELIABLE walking carrier to deliver the Lake Country Pennysaver in Albion. Email circulation@lakecountrymedia.com.
---
---