To purchase an employment listing, click here.
---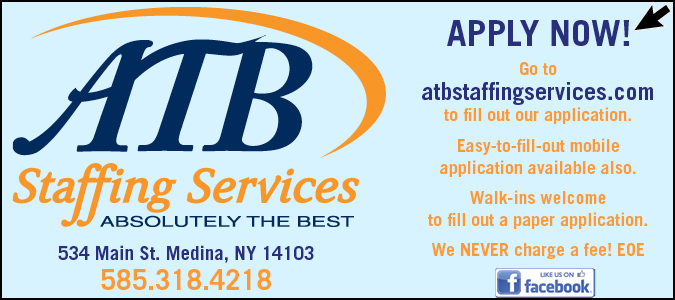 ---
Automotive Sales
Orleans Ford in Medina, N.Y. is looking for a goal-driven individual for our team. Our consultants average between 180 and 250 vehicles sold per year. Come join our winning team. Experience a plus, but not necessary. We offer salary plus bonus, 401k, health care benefits, and a great work environment.
Please send resume and contact information to saml@orleansford.com, or call 585-798-4316.
Orleans Ford
1405 S. Main St.
Medina NY 14103
74256
---
Sales Representatives
Farmers Insurance is now hiring!
• Full-time and part-time
• Must be P&C licensed
Send resume to castiloneinsurance@farmersagent.com.

77246
---
Multiple Positions Available
Bonduelle – Come Grow With Us!
A world leader in frozen vegetable products, we are looking for career-minded people to join our team! We currently have the following local opportunities available:

2nd Shift (3-11 p.m.)
• Packaging Associates $11.43/hr.
• Dump Room Laborers $12.82/hr.
• Dump Room Group Leader $19.12/hr.
Plus $.30/hr. shift premium!

3rd Shift (11 p.m. – 7 a.m.)
• Packaging Associates $11.43/hr.
• Dump Room Laborers $12.82/hr.
• Caser Operators $13.65/hr.
• Machine Operators $14.78/hr.
Plus $.65/hr. shift premium!
Extensive benefit opportunities: medical, dental, vision, 401k + match, paid sick, paid vacation, 11 paid holidays, paid breaks and lunch, more!
Apply in person: 180 State St., Brockport, N.Y.
Or via ca.hr.brockport@bonduelle.com.
Bonduelle is an Equal Opportunity Employer EOE M/F/D/V

77141
---
We're Hiring!
Lifetime Assistance, Inc. – You're on our wish list!
Come and talk to us about career opportunities for a full-time or part-time position, supporting individuals with developmental disabilities.

Immediate openings for the following:
• LPN
• RN
• Driver (many positions do not require CDL)
• Direct Care positions for Residential and Day programs

Open Interviews
Mon., Dec. 10 • 11 a.m. – 7 p.m.
425 Paul Road
Rochester NY 14624
Our employees enjoy flexible schedules, excellent benefits, paid training, tuition reimbursement, generous paid time off and a supportive work environment. Visit our website for more information.
EOE: Lifetime Assistance is committed to understanding and valuing the differences of our employees and the individuals we serve. We are committed to creating a culture that promotes mutual respect, acceptance, and cooperation among individuals of diverse backgrounds. It is expected that all employees share this commitment.

77190
---
Apply Today!
Imagine Staffing – Now hiring!

Production/Sanitation
At Yancey's Fancy. 1st and 2nd shifts. Must have manufacturing experience. Temp-to-hire plus OT!
Production/Assembly
In Akron. 1st and 2nd shifts open. Pay to $18/hr. Excellent benefits!
Production Associates
Brunner International. Pay $15+ shift differential. Great benefits!
Production/Assemblers
Chapin Manufacturing in Batavia. All 3 shifts available. Temp-to-hire, possible OT.
Production/Packaging
Freeze Dry in Albion. 1st and 2nd shift openings. 10-12 hour days, flexible to work weekends. Also looking for operators and line leads. Must have prior experience in manufacturing. Excellent benefits!
Warehouse Associate/Inventory Clerk/Lab Technicians
Clarence company. Must have ERP experience. Pay to $18. Permanent job!
No experience required. Call Krista at 585-228-9913, or email kfiegel@imaginestaffing.net. Imagine NEVER charges our candidates a fee!

Open Interviews
543B Main Street
Medina NY 14103
Monday-Friday, 9-11 a.m. and 1-3:30 p.m.
(585) 228-9913 • (585) 228-5559
Appointments appreciated, but not necessary. Bring 2 forms of ID and resumé with you. EEO Employer – Veterans are encouraged to apply!
Apply online today. Former employees are encouraged to contact us about new opportunities. Don't be shy!

Baxter
Hiring for 1st shift: 5:30 a.m. – 4 p.m. Entry-level and experienced manufacturing openings! This is a very clean facility, climate-controlled environment with casual dress code. Call Marcy at 585-228-5559, or email mboyce@imaginestaffing.net.

77223
---
GM Technicians Needed!
Spurr Dealerships, located at 6325-31 Brockport-Spencerport Road, Brockport, would like to welcome Wayne Barwald as Director of Service and Parts Departments at Spurr Chevrolet-Buick-GMC and Spurr Subaru! Wayne brings 35 years of service experience working as Service Director at Durfee and Doan Chevrolet in Spencerport! Wayne is an ASE Master Certified Technician and brings a reputation of superior level in customer satisfaction to the dealership! Are you looking to make a change with your current employer? Are you a team player seeking top dollar for your level of experience? Sick of the "big box" shops and looking for a family owned dealership with more work than we can handle right now? We are looking for A, B, and C Techs! We offer 401k with match, top wages in the market, and no drama!
Contact Wayne Barwald at 391-6519, or email wayne.barwald@spurrdealerships.com.

77239
---
Welding Teacher and/or Teacher Aide
Orleans/Niagara BOCES (Medina site)
Obtain application from our website at www.onboces.org, or submit (optional) to the attention of:
ATTN: Labor Relations
Labor Relations Office
Orleans/Niagara BOCES
4232 Shelby Basin Road
Medina NY 14103
EOE

77243
---
New Year! New Job!
The Arc of Genesee Orleans is now hiring. Apply online: www.arcgo.org
• Direct Care
• Assistant Manager
• Day Hab Manager
• Residential Manager
• Accounting Assistant
• Behavior Technician
• Family Support Specialist
• Registered Nurse
• Bus Aide
• Bus Driver
• Trash/Recycling Driver
• COTA
• OT
• Speech Pathologist
• Preschool Social Worker
Visit our website to see all employment opportunities and job qualifications. Excellent benefits! Paid time off! Paid holidays! 401k match! Paid training!

77226
---
Substitute School Bus Drivers
Holley Central School District is seeking candidates for substitute school bus drivers. We will train. Call 585-638-6297 for more information. Please print and complete the Civil Service application found at www.holleycsd.org and return to:
Holley CSD
3800 North Main St. Road
Holley NY 14470

77206
---
Help Wanted – Apply Now!
ATB Staffing Services – Absolutely The Best!

Rework Project
Medina area • 1st shift
Pay rate $11.61 • Several openings!
Temp assignment expected to last 2-3 months, with possibility of moving to temp-to hire. Great way to get your foot in the door or earn extra cash for the holidays!
Packagers
Temp-to-hire • Medina area
1st shift (6 a.m. – 2:30 p.m.)
2nd shift (2-10:30 p.m.)
3rd shift (10 p.m. – 6:30 a.m.)
Pay rates $11.61-12.26
Machinist
Medina area • 1st shift
Experience with grinders, lathes and mills
Pay rate based on experience: $14-$21+
Machine Operator
Medina area • Temp-to-hire
$12.00/hr. • Must be able to read a ruler
Excellent benefits package available, effective upon permanent hire
Part-Time Office Assistant
Medina area • 15-20 hours/week • $12-13/hour
Small business looking for professional team player
Must be responsible, reliable, and willing to learn new things
3 days a week, but must be flexible
Associate degree preferred • $12-13/hour
Go to www.atbstaffingservices.com to fill out our application. Easy-to-fill-out mobile application available also. Walk-ins welcome to fill out a paper application at 534 Main St., Medina NY 14103. We NEVER charge a fee!
585.318.4218
EOE

77238
---
CDL A Drivers Wanted
$49,000+
Shelby Transportation, located near Medina, N.Y., is now hiring full time drivers for round trip, local runs in the Western and Central New York areas. Tank endorsement a plus. On farm/agricultural tractor trailer driving experience strongly preferred. Must have a minimum of 3 years' recent experience. Good MVR, No DUI/DWI. Excellent benefit and 401k package.
Send resume or apply in person:
jobs@shelbytrans.com
4141 Bates Road, PO Box 191, Medina NY 14103

77140
---
Administrative/Development Assistant
Hospice of Orleans, Inc. is seeking a skilled, caring, and compassionate administrative/development assistant to join our team of outstanding professionals. This position is 30 hours/4 days per week with additional hours required for Hospice events. The administrative/development assistant will serve as the first point of contact for visitors, callers, volunteers and families. S/he will provide exceptional support to our administrative and clinical team. The ideal candidate will be calm under pressure, a team player, very organized, versatile, an initiative taker, and willing to support all aspects of the organization. Candidates must possess excellent interpersonal and MS Office skills. Two years of administrative assistant and/or development assistant experience is also required. Hospice offers paid time off (vacation and sick/personal), paid holidays, health insurance, other insurances, and IRA.
Please send your resume and cover letter by Dec. 14, 2018 to Hospice of Orleans, Inc., ATTN: Kellie Spychalski, CEO, PO Box 489, Albion NY 14411, along with your completed application found on our website at www.hospiceoforleans.org.
77184
---
Babysitter Needed
OCCASIONALLY for 12 yr. boy and 10 yr. girl in Holley district. Must have own transportation. Please call 716.574.4182
---
Cashier, C/S Rep., Stock Handler, Custodial, Lt. Maintenance Positions Available! Applicants must be 21 yrs. old, VALID Driver's License. Must be eager to work in a fast-paced environment. Some heavy lifting involved. Full time/Part time/ seasonal positions available. Sundays/Holidays a must! The Wine and Liquor Outlet, 5900 S. Transit Rd., Lockport, NY 14094. Apply in person. Call for details 716.434.4700
---
ROUTES OPEN
Wanted: RELIABLE carriers to deliver the Lake Country Pennysaver in Holley village. Email circulation@lakecountrymedia.com.
---
The VILLAGE OF HOLLEY will be accepting applications for an ELECTRIC and WATER TECHNICAL TRAINEE. Applications can be picked up at the Village Office at 72 Public Square, Holley, NY 14470. All applications must be received in the Village Office by Friday, December 14, 2018. A physical and drug testing are required before any applicant can be hired. The Village of Holley Board of Trustees will make the final decision.
---
Childcare
Full time child care provider available. Days only. 10+ years experience. Will do light housekeeping, laundry. References available. 585.205.5244
---
Part-time Secretary needed approximately 2.5 days, 20 hours per week. Strong typing skills, dependability, dedication, ability to learn new skills quickly. Experience in QuickBooks is a plus. Send resume to Secretary, PO Box. 386, Albion, NY 14411.
---
---