Loren Strickland Jr.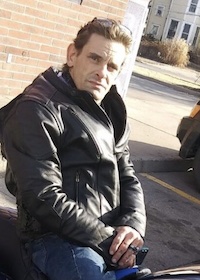 LYNDONVILLE – Loren Strickland Jr., 48, passed away at his home in Kansas on August 4, 2023, surrounded by his loving family, after a courageous battle with cancer.
He is survived by his wife, Pam; six children, Katelynn Kowalczyk, Seajay and Leelynn Lewis, Shannon Kidney, Andrew and Nolan Weston; his father, Loren (Linda) Strickland Sr.; a sister, Amanda Strickland; a niece, Brooke Keiffer; a nephew, Christian (Buck) Strickland; and several aunts, uncles and cousins, and a mother-in-law, Sharon Matthews.
Loren is predeceased by his mother, Renee Strickland; a nephew, Nicholas Keiffer; and fathers-in-law, Art Kidney and Howard Matthews.
Relatives and friends may call on Saturday, October 14, from 12 p.m. to 1 p.m. at the Carlton United Methodist Church, 1196 Archibald Rd, Waterport, NY 14571, where a memorial service will be held at 1 p.m.
In lieu of flowers, memorials may be made to the family c/o Pam Strickland P.O. Box 573, Lyndonville, NY 14098.
Local arrangements were made through the Bogan & Tuttle Funeral Home, 226 Pearl St. Medina, NY 14103.
Please light a candle or share a memory of Loren at www.bogantuttlefunerals.com.