Irene Fox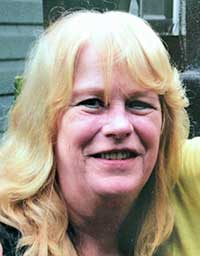 Irene Fox, 68, of Albion, died Aug. 18, 2019 in the Hildebrandt Hospice Center following a short illness. She was born April 27, 1951 in Batavia to Frederick and Marion (Cross) Danson and lived in this area all her life.
Irene was a very giving person who would give you the shirt off her back. She could fix almost anything and enjoyed yard and garage sales, hunting, fishing, gardening and baking. She also enjoyed shooting pistols and had a great love of animals. Her greatest love, however, was her family.
Mrs. Fox was predeceased by her parents; as well as her brothers and sisters, Richard, Frederick and Butch Danson, Rosemarie Emerson and Marion Budziszewski.
She is survived by her loving husband of 26 years, Jim; her children, Thomas (Jodi) King of East Bethany, Michelle (Jason) King of California, and Lisa (Neil) Fox of Alexander; her sister, Nancy Mobley of Ohio; eight grandchildren; four great-grandchildren; as well as several nieces and nephews.
There will be no calling hours. Family and friends are invited to attend Irene's memorial service at Christopher Mitchell Funeral Homes, Inc., 21 West Ave., Albion, on Wed., Aug. 21 at 5 p.m. Private interment will take place at the convenience of the family.
In lieu of flowers, memorials may be made to Hospice of Orleans, P.O. Box 489, Albion NY 14411.
To share a special memory of Irene, please visit www.mitchellfamilyfuneralhomes.com.