David W. Smith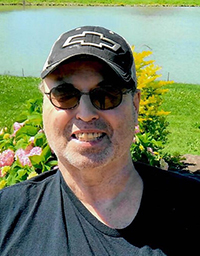 ELBA – David W. Smith, 67, of Elba, NY, passed away peacefully on Monday, October 10, 2022 at Unity Hospital with his loving family at his side.
Born on July 15, 1955, in Medina, NY, he was the son of the late Earl Smith and Mary (Fred) Morrow.
David attended Albion School and on August 21, 1976, he married the late Terry Green and together they raised three children. He was employed with O & E Growers in Elba, L-Brook Farms in Byron and lastly with OXBO International of Byron. He was a muscle and racecar enthusiast and was proud of his prize winning '87 SS Monte Carlo. Since the age of five, he was an avid coin collector.  He was known for his bountiful vegetable gardens and even later on with a disability, made raised garden beds to continue his passion.
David is survived by three children, Jamie Lynn Smith of Chatsworth, GA; Lisa Marie (Sam) Fichera of Batavia; Christopher Lee Donnelly of Chatsworth, GA; five grandchildren, Season Dills, Shyanne Dills, Jeremy (Susie) Hall, Kyra Rhodes, Monica Avila, six great-grandchildren, Brailynn, Jayden, Damian, Nayla, Anthony, and Ian. Also surviving are three siblings, Paul (Charleen) Morrow of Batavia, Thomas Morrow and Jeff Morrow, both of Elba and several nieces and nephews.
There are no calling hours. A private service will be held at the convenience of the family.
Memorials may be made in David's name to the family or to the Elba Fire Department, 4 S Main St, Elba, NY 14058.
Arrangements were made to the Bogan & Tuttle Funeral Home, 226 Pearl St. Medina, NY 14103.
Please light a candle or share a memory of David at: www.bogantuttlefunerals.com