David L. Canham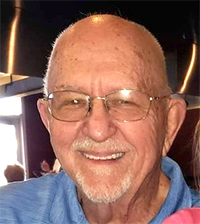 David L. Canham, 89, passed away on April 3, 2021, in the Martin-Linsin Residence Home in Albion. He was born in Albion to the late Lester and Mable (Plummer) Canhamand grew up in Gaines.
He graduated from Albion Central School and was proud to have been a part of the class of 1949 ("the 49-ers).  He went on to graduate from General Motors Institute in Flint, Michigan where he received his diploma in mechanical engineering in 1955.  That year he married Annette O'Conner, the mother of his children. David had numerous business ventures over the next years, retiring from G.M. in 1981.
He enjoyed hunting and had humorous stories of those times with his boys. As a family, they enjoyed boating and fishing. David was a member of the Brockport Free Methodist Church where he was active in the A.B.F. Having a strong Spiritual love for the Lord, he wanted others to know the Jesus he knew, so started a Bible study/prayer group. In the last few years, he led a group in his home; also leading a worship meeting at the LeRoy Green.
David was predeceased by his wife Annette and their son Colin. He is survived by his children: David A. (Louise), Timothy (Linda) and Patricia (Michael) Robinson. He is also survived by his wife of 12 years, Barbra Titus Canham; and her children: Peter (Nancy). Elizabeth (Jim) Irene and Dan (Cathy), his brother Paul Canham and sister Sharon Saddler. Also surviving are several grandchildren and great-grandchildren.
There will be no prior calling hours.  David's memorial service will be held on Sat., April 10, at 11 a.m. in the Brockport Free Methodist Church followed by his graveside service at Mt. Albion. Memorial contributions may be made to Supportive Care of Orleans, P.O. Box 489, Albion NY 14411; or to Care Net Center of Greater Orleans, 168 S. Main St. Suite 2, Albion NY 14411.
Arrangements have been entrusted to the Christopher Mitchell Funeral Homes, Inc. Albion.  To share a memory of Dave, please visit: www.mitchellfamilyfuneralhomes.com