Bertie Tullis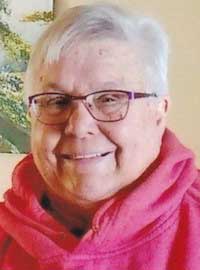 Bertie Tullis, 80, of Lyndonville, was born in Saginaw, Mich. to Ralph and Vivienne Tullis on July 19, 1939. She was kind, compassionate, caring, strong-willed and strong-minded.
She was a character; and she loved her wife, Patty Nagel, with all her heart.
Bertie left us after a brief, difficult and valiant struggle with cancer. Patty is so very thankful to family, friends, caregivers, and Hospice of Orleans County.
Bertie loved animals and nature. She was an avid birder. She and Patty built their dream home in the woods on the shores of Lake Ontario, a spot where birds were abundant, deer roamed the back yard, and you could sit on the front porch and watch the sunset over the lake. There together, they would raise their beloved four-legged kids, Buddy and Callie. To Patty and Bertie, they were much more than a couple of rescued cats.
The two met via the U.S. Fish and Wildlife Service, at the Patuxent Research Refuge in Patuxent, Md. Patty was the Volunteer Coordinator at the National Wildlife Visitor Center on this National Wildlife Refuge property. Bertie, a volunteer, donated her time and talent to build trails and welcome visitors.
Bertie lived a life of service to others. She served our nation in the U.S. Navy during the Vietnam War era. Based on this experience, she would go on to serve her community as a nurse practitioner, retiring from Bowie Health Center in Bowie, Md.
She loved to read, loved a good laugh, and loved helping to make special moments happen for others while staying quietly out of the limelight. Bertie didn't mind an occasional hard cider or Jack Daniel's and Coke. She grew up loving the Detroit Lions and, in time and with patience, learned to love the Buffalo Bills. She was a loving, supportive person who cherished family.
Bertie was predeceased by sisters, Genevieve Hogan and Delores; and brothers, Richard, Ralph and Willis.
She is survived by sisters, Janet (Bremer) and Valerie (Probst); and many special nieces, nephews and dear friends.
She will be dearly missed by the family into which she married: the late Jim and Ruth Daigler; Patty's siblings and extended family, Danny (Susan), Donna (Paul) Kankiewicz, Jim (Betty), Mike (late Linda), Sue (Don) Carlson, John (Nancy), Ellen (Ken) Giblin, Greg, and many nieces, nephews, great-nieces and great-nephews.
Bertie is survived, admired, adored, missed and loved by many – none more so than Patty.
Services will be private.
In lieu of flowers, please consider a donation to Yates Community Library, 15 N Main St., Lyndonville NY 14098, (585) 765-9041, or through PayPal (click here). Through your thoughtfulness and a gift from Patty and Bertie, Bertie will be celebrated by helping to develop the library's outdoor area for their Summer Concert Series. On summer nights, in the heart of Lyndonville, listening to the music under the trees was a way Bertie loved living.