Barton Smith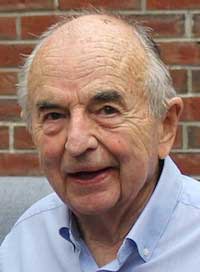 Barton "Bart" Smith, of Lockport, was born on Oct. 19, 1930 to Robert and Helen Smith. Robert was Director of the Lockport YMCA in the late 1950s, and Helen was a nurse at Lockport Memorial Hospital.
Bart was predeceased by his parents; and two brothers, Bradford and Bruce.
As the middle son, Bart was known for his sense of humor and mischievous character, and he admittedly was a bit of a showman. Bart served in the United States Air Force from 1952 to 1955. In the early 1950s, he met his first wife, Lynn Skinner of Medina. Bart and Lynn had three children, Leslee, Marc and Tracey. They enjoyed spending time with family and traveling.
Bart and his business partner, David Becking, owned and operated Paul Garrick Insurance, Inc. from 1965 to 1989. For many years, Bart was on the Board of Trustees for Lockport Savings Bank/First Niagara, a member of the Shelby Planning Board, and a volunteer with Habitat for Humanity. He was a driver for the Veterans Administration for over 11 years, and he was an active member and a leader for the Lyndonville Busy Buddies travel club.
After the passing of his wife, Lynn, Bart was fortunate to have married the second love of his life, Florence Taylor of Lockport. Both Bart and Florence were members of Lockport High School's class of 1948. Bart and Florence enjoyed almost 10 years of marriage before he passed on Aug. 20, 2020.
Bart would be the first to admit that he was not perfect, but he was lucky. He could find a parking spot in front of any store, no matter the time or day. Bart loved hunting and fishing. He was a Buffalo Bills fan who had season tickets for over 40 years. He could fix just about anything around the house. Duct tape and glue adorned many items throughout the house. Bart lived the American Dream: he worked hard, lived well, and loved fiercely.
Bart is survived by his wife, Florence Taylor Smith; children, Leslee (Michael) Harmer, Marc (Christina) and Tracey (Patrick Fotsch); grandchildren, Linnay (John) Kirst, Marcia (John) Roll, Stephen (Alicia) Smith, Ian Smith, Brandon Rice and Rebecca (Fletcher) Graves; sisters-in-law, Barbara Anders and Arden Dick; along with several nieces and nephews.
A private family burial will take place at the family's convenience.
Donations may be made to Niagara Hospice, 4675 Sunset Drive, Lockport NY 14094; or to Christ Episcopal Church, 7145 Fieldcrest Drive, Lockport NY 14094.
Arrangements were entrusted to Prudden and Kandt Funeral Home, Lockport.