Arlene M. (Campbell) Bowen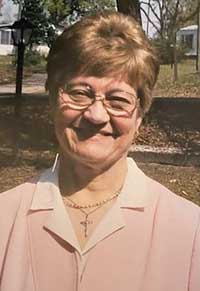 Arlene M. (Campbell) Bowen, 84, of Clarendon, died July 27, 2020 at Orchard Rehabilitation and Nursing Center. She was born Dec. 29, 1935 in Ogdensburg, N.Y., a daughter of the late Alfred and Irene (White) Campbell, and had lived in this area since 1943.
Arlene was a lifetime member of St. Mary's Church in Holley. She was very artistic – she wrote a book of poems, and she loved doing ceramics and crafts, sewing, reading, baking and cake decorating, making many wedding cakes for her family. Arlene was a very loving and devoted mother, grandmother and great-grandmother, and a friend to everyone.
In addition to her parents, she was predeceased by her brothers, Everett (Letha), Gerald (Edith), and Frank; and her sister, June (John) Rooney.
She is survived by her husband of 66 years, Lewis; her children, Charlotte (Gary) Trumble, James (Joy) Bowen, and Sherry Williams; grandchildren, Shannon (Chuck), Jennifer, Heather, Wendy (Robert), David (Kristin), Amanda (Shane), Joseph (Melinda); 18 great-grandchildren with one on the way; brothers, Arden (Tina) Campbell, Marie Elphic, John (Kathy) Campbell, and William (Kathy) Campbell; brothers and sisters-in-law, Norman (Vickie) Bowen, Sam Interlicchia, Harold (Jackie) Bowen, Jane (Wayne) Robinson, Janet Dennis, and Debbie Roe; as well as many nieces, nephews and cousins.
The family will receive friends at Christopher Mitchell Funeral Homes, Inc., 16650 State Rte. 31, Holley NY 14470, on Fri., Aug. 14 from 4 to 7 p.m. Her Mass of Christian Burial will be Sat., Aug. 15 at 11 a.m. at St. Mary's Church. Please note that all guests entering the funeral home or church will be required to wear a face mask.
Memorials may be made to Alzheimer's of WNY, 6215 Sheridan Dr. Suite 100, Buffalo NY 14221.
To share a special memory of Arlene, please visit www.mitchellfamilyfuneralhomes.com.