Anthony C. Vorholzer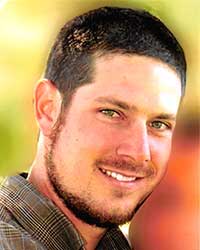 Anthony C. "Ant" Vorholzer, 33, of Middleport, died suddenly May 3, 2020. He was born July 18, 1986 in Newfane, a son of Thomas (Jennifer) Vorholzer and Christina (Randy Fuller) Palisano and stepson of Christopher Ball. He lived in this area all of his life.
Ant was an avid outdoorsman who loved to hunt, fish and garden. He worked for 12 years as a land surveyor for Wendel Company in Williamsville. But most importantly, Anthony was a great family man who loved to spend time with his family, especially his son and daughter. He loved everyone and was loved by everyone.
In addition to his parents, he is survived by his wife, Kristine; son, Anthony Thomas; daughter, Nora Elizabeth; brothers, Jeffrey and Jonathan Vorholzer; stepsister, Olivia Vorholzer; mother-in-law, Donna Conibear; niece, Hannah Vorholzer; and sister-in-law, Jessica Conibear.
A Celebration of Life Service will be held at the convenience of the family.
Memorials may be made to the family for a scholarship to be established for his children.
Arrangements have been entrusted to Bates, Wallace & Heath Funeral Home, Middleport. To share a special memory of Ant, please visit www.mitchellfamilyfuneralhomes.com.