Orleans Hub honors a group of "outstanding citizens" each year who make a big difference in the community. The county is fortunate to have many residents who step up to serve others, lead businesses and take on other difficult challenges.
This past year we were particularly impressed by the following for their efforts to make Orleans County a better place to live.
Pastor prioritizes service, bringing together people from many backgrounds
Pastor Al Wilson and the Royal Body Shop Outreach Ministries in Albion started their community outreach efforts in 2021. A big effort that year was serving 1,000 chicken barbecue dinners for free around Christmas.
In 2022, Wilson and the church upped that to 2,000 free dinners on Dec. 10. Wilson and the church did much more last year. Besides weekly church services on Friday evening at the Arnold Gregory Office Complex, Wilson and the church volunteers organized and executed several big outreach efforts.
They started a ministry outside Arnold's Auto Parts on West Bank Street, where a refrigerator outside Arnold's that is stocked with food. People are welcome to grab food any day, at any hour. That ministry started in March 2022.
In April, the church organized an Easter egg hunt with 3,000 eggs scattered on the courthouse lawn for 500 children. There were other larger prizes from nine golden tickets. Food also was served.
"While we worship God inside of four walls, he also wants us to be out in the community," Pastor Al said during the recent chicken barbecue. "It's all about spreading love and holiday cheer."
Pastor Al portrayed Santa during other holiday events. He was a very energetic Santa, welcoming children and ending each of those visits by saying, "Go Bills."
The church has partnered with other groups in the community for the events, including the Masonic Lodge, Arnold's Auto Parts, the Albion Merchants Association, Hands 4 Hope and Best of Tymes Party Rentals.
Wilson has prayed at community events, offering the invocation and benediction. He attended a session about brainstorming ways to help the community through the closing of the Albion Main Street bridge.
But most of his efforts have been in outreach, bringing joy and food, while promoting fellowship among the residents of the community.
"It's such a blessing to help meet the needs of the community," Wilson said on Thanksgiving after serving nearly 200 turkey dinners for free at the Masonic lodge. "It's bringing the community together of all ethnic backgrounds and faiths."
Kendall Scarecrow Fest organizer makes event a big annual tradition
Becky Charland thought a scarecrow fest would be a fun fall activity for the Kendall community. What started in 2010 has turned into a major event.
The scarecrow fest was Oct. 1. It attracted several hundred people, maybe more – no one keeps track of people, including the many who arrive early and stay late.
Charland leads a team of volunteers that have been running the scarecrow fest for over a decade.
Community members decorate their scarecrows in a different theme each year, with "favorite outdoor activity" the theme in 2022. Some of the entries included scarecrows playing baseball, fishing, bow hunting, relaxing by the water and doing other activities.
Charland and the team solicit donations for many activities at the festival. People can build their own scarecrows, paint pumpkins, ride ponies, get their face painted, leap in a bounce house, and enjoy a hay ride.
The band Rebel's Posse also played country, southern rock and classic rock music at the gazebo while many people enjoyed chicken barbecue dinners.
Charland, a former executive director of the Orleans County Chamber of Commerce, knows how to put on an event that is fun for the community.
Lyndonville native won't let challenges stop ambitious restoration of 3 Main Street buildings
Robert Smith has worked as a financial advisor for nearly four decades in Palm Springs, Calif. He comes home to Lyndonville frequently to see family and friends, and in recent years to push forward a transformation of three downtown buildings.
That project is nearly complete, and Smith is excited to see how the three available storefronts will help boost his hometown. In the spring, he also expects to have four hotel rooms available in the downtown.
Smith has faced challenges with the project, from Covid restrictions that shut down construction to supply chain issues. Initially, the project called for an overhaul and modernization of four buildings, but one of the sites was torn down after the roof collapsed in February 2020 due to heavy snow and ice. Smith sees the cleared land from the former Pennysaver building as outdoor patio space.
He has created opportunities for entrepreneurs with the project. They can lease a storefront or smaller space as pop-up vendors.
The project makes for a more inviting Main Street. Lyndonville Mayor John Belson praised Smith for working through many of the challenges that threatened to derail the project.
"It's amazing," Belson said about the repurposed buildings. "Hopefully it will help bring Lyndonville back. Having it come to fruition is good for the town, village and everybody."
Teacher, a former wrestling champ, starts Wrestling Academy in former Albion restaurant
A former Sectional wrestling champ from Albion returned to the area in 2018 to work  as an English teacher at the middle school. Mike Sanders, 36, taught and coached five years in Florida and five years in Virginia before coming back to Albion.
He credits the sport of wrestling for helping him learn the values of discipline, setting goals and bouncing back from defeats and disappointment. Sanders also was an All-American wrestler at Gannon University in the 133-pound class.
He wanted to start a youth wrestling program in Albion. When he was a kid, he said he benefitted from those programs in Kendall and Holley.
Sanders started a wrestling academy in 2018, with 44 kids using space in one of the high school cafeterias. Twice a week, Sanders and the volunteers moved 90 chairs and 15 tables to set up for practices. The season was abruptly cut short because of Covid-19 restrictions in mid-March 2020.
The second year, the program was based out of Sanders' garage. He had 35 wrestlers in the academy, coming to his garage from Monday through Friday for training. In 2021, the program in its third season shifted to the Pratt Theater on Main Street with 60 wrestlers.
Last year the academy moved into its own space – the former Apollo Restaurant on Route 31 in Albion. It had been vacant for about 20 years.
The space was available throughout the week, and peaked with 95 wrestlers last year. The kids – boys and girls – are eager to get there for practices. Parents praise Sanders and his team of volunteer coaches for keeping the kids focused with a physical sport, and also for learning strategies mentally.
"I want to give back to them," Sanders said during an interview in early November. "It's mental skills and controlling your emotions. It's showing up every day and facing challenges."
Sanders juggles the duties of running the academy with his full-time job as a teacher and the varsity wrestling coach for the school district.
"We want to grow the sport and help the kids build the traits needed to be successful in sports, the classroom, and beyond," Sanders said.
Medina man delivered meals, offered friendship to seniors for 34 years
David Bogden for 34 years delivered meals on wheels on a route covering 48 miles. He retired in November. No one else is even close to his 34 years of bringing meals and offering friendship to home-bound seniors in Shelby, West Shelby, part of Ridge Road and in the muck.
"He was here all the time," said Vicki Havholm, program manager for Meals on Wheels. "The seniors loved him. He was such a good person to come all these years every day."
Bogden responded to an ad seeking drivers for the program. He was working on the family's 700-acre farm at the time, milking 72 cows and also hauling fertilizer.
After the cows were milked early in the morning, he decided he could spare a couple of hours around lunch time to help out. His route took him to about a dozen homes.
He delivered more than warm meals from Monday through Friday. He was a steady friend for shut-in seniors.
Bogden and other Meals on Wheels drivers also are a vital contact with the outside world for seniors who are alone or have no relatives in the area.
Bogden has found three clients deceased. Bogden has assisted people who have been confused or fallen.
"He was a godsend after all these years," Havholm said.
Albion couple leads effort to provide food and fellowship at new 'OK Kitchen'
Faith Smith has served as volunteer director of a community kitchen in Albion for 11 years and counting.
Last year, she partnered with Harvest Christian Fellowship on Route 31 to open the Orleans Koinonia Kitchen in a new fellowship hall and new kitchen at the church.
Smith and her husband Michael were determined t make sure the site's change of address – away from Main Street at the previous location of Christ Church – wouldn't leave out some of the previous participants, people who might not have transportation to Harvest Chrstian Fellowship.
After meals are served on Thursdays at the "OK Kitchen," the Smiths take about 100 meals to senior citizens and others who tend to be homebound in their houses or apartments.
The Smiths bring compassion and concern for local residents who are often in tough circumstances.
They have built strong connections with many churches and organizations to donate food to the kitchen and take turns preparing the meals, which totaled about 7,000 in seven months. On most recent Thursdays near the end of 2022, the volunteers served about 250 meals. There were 350 turkey dinners served on Thanksgiving.
The Smiths say they are amazed at home the community steps up. The couple inspires confidence in the givers, and Faith and Michael Smith make it a fun and meaningful time for those who volunteer preparing and serving the meals.
Mrs. Smith has stressed the "Ok Kitchen" is open to all, regardless of their situation. Many of the people who come on site are there mostly for the fellowship, for the chance to sit down and have a meal and conversation with others.
"This is 100 percent community-based, supported by the community," Mrs. Smith said. "It's the fellowship kitchen. It's for everyone."
Tim Cooper reopens The Walsh, historic landmark in Medina, after 3 years of renovations
When he's not doing his main job, Tim Cooper likes to take a derelict property and give it new life. Cooper, a local funeral director for 35 years, has worked on several projects over the years in Medina.
He is drawn to older buildings with a distinct architectural style or neglected sites on verge of being lost. One of his projects brought back a 1947 Medina fire truck, which he now takes to community parades.
Cooper faced down his biggest challenge with The Walsh, a prominent historic bar on West Avenue. He reopened the site this past summer after three years of meticulous renovation giving Medina's bustling restaurant and bar scene another prime location.
"I had looked at it in December 2018 when Polar Express was running at the Medina Railroad Museum," Cooper said. "I like to retore old buildings to modern use and living, while incorporating the historic design details that made them distinctive."
Cooper said The Walsh is a unique bar, restaurant and hotel venue. The site first opened in 1852 when the railroad went through Medina. It has hosted dignitaries over the years, with famous visitors including Babe Ruth in 1920 and Adolph S. Ochs Jr., New York Times publisher, who lunched at the site in 1925.
Cooper remodelled the downstairs, while the upstairs remains a work in progress. He gutted the barroom. He added a window for more light, moved the staircase to the outside of the building, took out a cooler, replaced a rotted section of floor, moved a wall, put a second bar on the north side in a dining room called the O'Brien and Ceallaigh (Irish spelling of Kelly) Tap Room. This room is available to rent for private parties and social gatherings.
He also upgraded the heating and cooling, did lots of painting, maintaining the tin ceiling and tin wainscoting, and making roofing and siding improvements on the outside.
"The Walsh is a survivor," Cooper said. "It has character. It has survived the decline of the railroad, Prohibition, the Depression and massive social changes. It started out and thrived because of its proximity to the railroad and I think that has come full circle. There are a few more chapters in the Walsh's history. It is still a landmark – and a feisty, enduring one."
Hoags keep giving to Albion community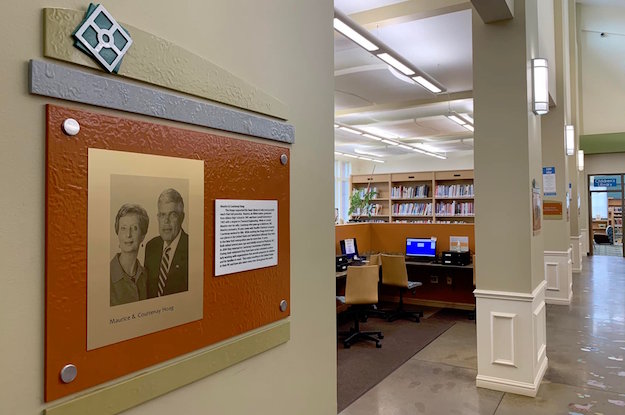 Maurice "Mo" Hoag and his wife Courtenay initially gave $25,000 towards the capital campaign for a new public library in Albion, which is Mr. Hoag's hometown. The couple would boost that donation to $250,000, and when the new building opened in July 2012 it was named in their honor.
The Hoags haven't stopped giving to library. Their donations have reached $1 million and that allowed the library to pay off its mortgage last year – a decade ahead of schedule. That resulted in a 10 percent library tax cut for property owners in central Orleans County.
The Hoags several times sent in annual checks of about $100,000, $200,000 or $250,000 since the new building opened. Mr. Hoag encouraged library officials to pay down the mortgage.
He never wanted a press release or photo op when he sent in more money.
"Mo" Hoag said in a previous interview that a vibrant public library can be an equalizer for children in his hometown, a community that he said has endured too many business closings.
He grew up in Albion and graduated in 1961 as valedictorian. He lived in big cities throughout the country, as well as Geneva, Switzerland during a successful 30-year career in chemical manufacturing. He and his wife have settled near Baltimore, his wife's hometown.
Mr. and Mrs. Hoag come to Albion for his class reunions. He helps plan the Class of 1961's annual get-togethers.
Hoag said Albion was an "ideal place" to grow up in the 1950s. It was "a thriving little town" with industry and small businesses. But many of the food processors, including Hunt's and Lipton's, left town decades ago.
The Hoags have also given to the bronze statue in honor of Charles Howard, the Santa Claus School founder. They also fund generous scholarships at $12,500 for students pursuing engineering.
The couple remains a big benefactor, and a big believer in Albion
Jonathan Doherty was tenacious in serving community
Jonathan Doherty was very busy in late April and early May 2022. He helped at community cleanup events, stooping to pick up trash and also helped paint a shed for Community Action.
He was out selling tickets for the upcoming turtle race at the Strawberry Festival in June. In that race, rubber turtles are dumped into the canal and the first five win prizes for their ticket holders. The turtle race is an important fundraiser for the festival.
Doherty was untiring in the many roles where he served the community. He was an outspoken advocate for people with disabilities. He served as president of Self Advocate All Stars, and pushed for better public transportation, especially on weekends and weeknights for people with disabilities.
Doherty died at age 38 on May 5. His loss continues to be deeply felt in the community. He was one of Orleans County's most active volunteers.
A strong force for good in the community, Jonathan was involved in numerous organizations – the Boy Scouts, Orleans County Historical Association, the Albion Lions Club, Albion Alumni Association, the Self-Advocate All Stars, Albion Strawberry Festival Committee, the Albion Summer Music Festival (Rock the Park) – and others.
"I'm never home," Doherty said in July 2016 in an Orleans Hub article when he won the Volunteer of the Year in the western region of the Self-Advocacy Association of New York State. "I like to get out in the community and support the community because I live here. It's fun to help the different groups."
Jonathan had a lot of fun in Albion. He joyfully participated in karaoke competitions. He volunteered with a Boy Scout troop in Albion, where he attained scouting's highest rank of Eagle. An integral part of the Albion landscape, he was often seen walking along Main Street holding a cup of coffee, even in snow storms.
He spoke out at County Legislature meeting in 2010, asking the body to pass an official resolution, telling local, state and federal governments to no longer use the word "retarded" in describing people with developmental disabilities. The R-word is a "vicious slang" that is insulting and hurtful to people with developmental disabilities and their families, legislators said in their resolution.
"He was a quiet leader who had a lot of good things to say," said Don Colquhoun, the retired executive director of the former Arc of Orleans County. "He was fearless."
Others stepped up to serve others, celebrate their community
We also want to commend the groups of volunteers who made the food distributions possible throughout the year in Albion, Lyndonville and Medina. Those people who have picked up heavy boxes of food during extreme heat, cold and rain have been outstanding in trying to help other people.
The year of 2022 also saw the return of local festivals, parades and other community events after many were sidelined due to Covid-19 restrictions and concerns. We appreciate the volunteers who organize these events, putting in numerous hours coordinating vendors, securing permits with a goal of providing a fun time for the community.
The Town of Yates also celebrated its bicentennial last year and volunteers organized several events to help the town celebrate its 200th anniversary. Those organizers also deserve thanks for helping the Yates community take pride in the big milestone.