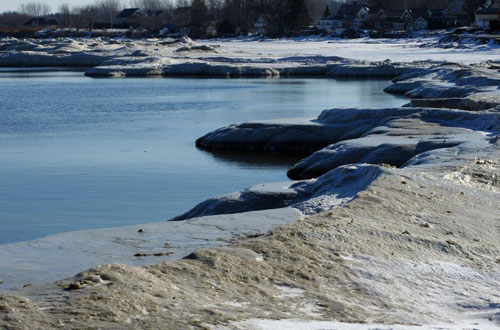 Welcome to Winter?
By Mike Waterhouse
Orleans County
Sportfishing Coordinator
Posted February 15, 2017
As quickly as the ice starts forming, the temperature rises above freezing, and then it's gone again.
The only good news is that we are just that much closer to spring and the start of lake fishing season.
On the tributaries within Orleans County, all are open, with the smaller ones having just a bit of shore ice and slush.
On the "Oak," steelhead are still being taken, with some larger ones caught right at the dam.
The smaller tributaries are still offering some good fishing opportunities, with moderate water flow and around two feet of visibility.
The only ice fishing reports that I have heard of in our area are on the ponds close to Lake Ontario in Greece, but I wouldn't count on that for too long. Reports that I have received say that the perch fishing hasn't been bad on those ponds.
This weekend I will be in Monroeville, Pa. for the Allegheny Sport, Travel and Outdoor Show, so stop by and chat for a while.
From Point Breeze on Lake Ontario, the World Fishing Network's Ultimate Fishing Town USA, and the rest of Orleans County, let's make every day a great fishing day right here in Orleans County.