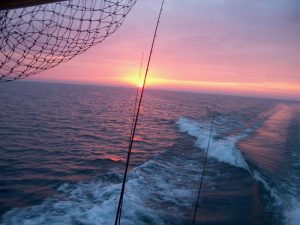 Welcome to Summer
By Mike Waterhouse
Orleans County
Sportfishing Coordinator
Posted July 27, 2017
Just when everyone thought that Mother Nature was going to calm down a bit, she threw us another curve, this time with the wind.
Tuesday ended up being a "blow-off" day, just when the offshore bite was really coming into its own.
It's strange how the close-to-shore bite was mainly on either meat rigs or some type of flasher/fly combination, and yet the offshore bite has been mainly on spoons.
Now, everyone will be back in search mode, trying to figure out where the fish went and what to use.
The LOC Summer Derby wraps up this Sunday, July 30, so there's still time to enter and claim your portion of that big pile of cash that's up for grabs.
August is always a busy month on Lake Ontario, especially in Orleans County, with the Orleans County Rotary Fishing Derby taking place August 5-20 this year. The Fall LOC Derby follows, which runs from August 18 through September 4. And let's not forget the Greater Niagara Fish Odyssey, running August 19-27 this year. Throw in the third leg of the King of the Oak Derby on August 19, and you have a very busy month.
On Lake Alice, muddy water is finally starting to clear, which should start improving the catches.
From Point Breeze on Lake Ontario, the World Fishing Network's Ultimate Fishing Town USA, and the rest of Orleans County, let's make every day a great fishing day right here in Orleans County.